LA PLATA, Md. (Dec. 27, 2013)—The Charles County Sheriff's Office released the following incident and arrest reports.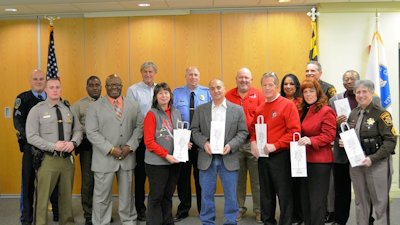 Front Row from left to right: Trooper Todd Newcomer; Guy Black; Ginny Crane; Nick Ferrante, Jr.; Larry Edwards; Pamela Smith; M/Cpl. Judith Thompson. Back Row from left to right: Cpl. Michael Payne; Sgt. Charles Simmons; Eric Best; Chief Carl Schinner; Wayne Magoon; Thomasina Coates; Sheriff Rex Coffey; William Young.
CHARLES COUNTY SHERIFF'S OFFICE JOINS MVA'S DESIGNATE A SOBER DRIVER PROGRAM: The Sheriff's Office cares about keeping impaired drivers off the roadways. Recently, Sheriff Rex W. Coffey and Master Corporal Judith Thompson - the CCSO Alcohol Enforcement Coordinator - joined Chief Carl Schinner of the La Plata Police Department, and representatives from the Maryland State Police, Maryland Natural Resources Police, Charles County Board of License Commissioners, and the Motor Vehicle Administration's Traffic Safety Office to promote the Designate a Sober Driver project which is in full swing for the holidays. Specialty bags were handed out to local liquor and beer retailers and distributors with a special message stamped on the front of the bag: Designate a Sober Driver. The idea is to keep safe and responsible driving in the forefront during holiday celebrations. "Drinking and driving is very dangerous and each year, hundreds of people die in our nation because of impaired drivers. It's important to always designate a sober driver. So, whenever we can keep that message in the forefront, hopefully people will listen and celebrate responsibly," said Sheriff Coffey. Other partners in the project include the State Highway Administration, the Charles County License Beverage Association, Tri-County Council of Southern Maryland, Bob Hall Distributing LLC and Guy Distributing, Emergency Medical Services, local liquor license holders, and numerous prevention, treatment, and healthcare organizations.
MAIL TAMPERING: On Dec. 24, unknown suspect(s) stole mail from two addresses in the 15000 block of Pointe Meadow Court in Brandywine. The mail was found a short time later near Woodville Road. Someone had opened Christmas cards searching for gift cards or currency. Officer R. Walls is investigating.
SOBRIETY CHECKPOINT: On Dec. 20 between 10 p.m. and 12 a.m., officers assigned to the CCSO Traffic Operations Unit conducted a sobriety checkpoint in the 12800 block of Rock Point Road in Newburg. A total of 315 vehicles passed through the checkpoint: six citations, five warnings and eleven equipment repair orders were issued. One person was arrested for driving while impaired.
OFFICERS ARREST THEFT SUSPECT AND RECOVER STOLEN PROPERTY: On Dec. 23 at 9:08 p.m., officers responded to Mall Circle in Waldorf for the report of a theft that just occurred. Witnesses said the suspect fled in a truck and provided a description. Officers spotted the suspect leaving the parking lot and attempted to initiate a traffic stop, but the driver refused to pull over. Instead, the driver fled and was eventually stopped on St. Patrick's Drive. Matthew Allan Prisen, 28, of Waldorf, was arrested without further incident. Officers found numerous tools and a large amount of copper tubing in the bed of Prisen's truck and determined they had been stolen. Officers were able to track down two victims who positively identified the items as theirs. Prisen was transported to the Charles County Detention Center and charged with rogue and vagabond and theft. Sgt. S. Fetterolf is investigating.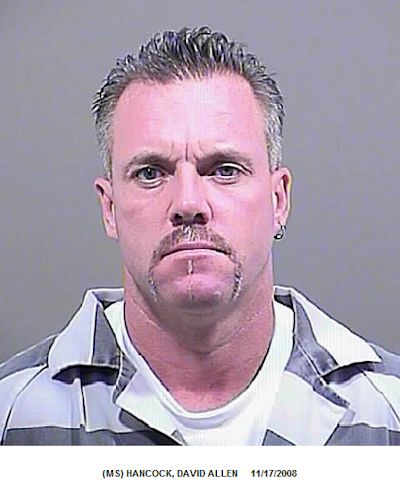 David Allen Hancock, 46, of La Plata.
Charles County Crime Solvers is offering a cash reward for information leading to the whereabouts of David Allen Hancock, 46, of La Plata. Hancock currently has an open warrant for failure to appear in court on a child support charge. Hancock is 6'1", 210 lbs., and has gray hair and blue eyes. Anyone with information about Hancock's whereabouts is asked not to approach him but rather call the CCSO Warrant Unit at (301) 932-2222. Charles County Crime Solvers is offering a cash reward of up to $1,000 for information leading to his arrest. Tipsters wishing to remain anonymous may contact Crime Solvers at 1-866-411-TIPS or Text CHARLES + your tip to CRIMES or visit www.ccso.us to submit a web tip. For additional information about Crime Solvers see www.charlescountycrimesovlers.com.
Disclaimer: In the U.S.A., all persons accused of a crime by the State are presumed to be innocent until proven guilty in a court of law. See: http://somd.me/presumed-innocence. Additionally, all of the information provided above is solely from the perspective of the respective law enforcement agency and does not provide any direct input from the accused or persons otherwise mentioned. You can find additional information about the case by searching the Maryland Judiciary Case Search Database using the accused's name and date of birth. The database is online at http://somd.me/mdcasesearch . Persons named who have been found innocent or not guilty of all charges in the respective case, and/or have had the case ordered expunged by the court can have their name, age, and city redacted by following the process defined at http://somd.me/expungeme .