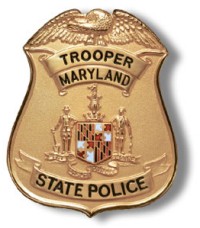 PRINCE FREDERICK, Md. (Dec. 23, 2013)—The Prince Frederick Barrack of the Maryland State Police (MSP) today released the following incident and arrest reports.
DISORDERLY CONDUCT: On 12/19/2013 at 1:59 pm, Trooper Barlow responded to the Calvert County Courthouse for a disorderly subject. Dwaine R. Glenn, 46 of Lusby, became agitated while inside the courtroom. Court personnel escorted him out to the hallway where he became extremely disruptive and loud. Troopers arrived at the courthouse and placed Glenn under arrest. He was incarcerated at the Calvert County Detention Center.
POSSESSION OF MARIJUANA: On 12/20/2013 at 1:48 am, Trooper First Class Oles stopped a vehicle at Rt. 4 and Stoakley Rd. in Prince Frederick for traffic violations. A search of the vehicle revealed marijuana. Johnny R. Jones Jr., 27 of Port Republic was arrested and taken to the MSP Barrack in Prince Frederick for processing.
DESTRUCTION OF PROPERTY: On 12/22/2013 at 12:08 pm, Trooper First Class Oles received a complaint from a victim who advised that something struck and damaged her vehicle as she was driving on Long Beach Rd., in St. Leonard. Several other victims contacted the barrack to report similar incidents of someone throwing an object at passing vehicles. Four suspects have been identified and charges are pending.
FALSE STATEMENT TO POLICE OFFICER: On 12/23/2013 at 04:15 am, Trooper First Class Lewis stopped a vehicle for traffic violations on Rt. 260 at St. Andrews Dr. in Chesapeake Beach. A passenger in the vehicle, when asked to identify himself, gave TFC Lewis a false name and date of birth. The passenger was eventually identified as John Roger IV, of Friendship. Rogers was arrested and incarcerated at the Calvert County Detention Center.
DUI ARRESTS:
Alexander H. Canter, 25, of Lusby, arrested on 12/15/2013 @ 04:04 am by TFC E. West
Tyvie D. Herbert, 24, of Lusby, arrested on 12/21/2013 @ 02:57 am by TFC J. Oles
Adam T. Muffley, 21, of Towson, arrested on 12/22/2013 @ 01:28 am by TPR K. Follin
Harold C. Tyler, 61, of Huntingtown, arrested on 12/22/2013 @ 12:44 pm by TFC W. Costello
You can follow the Prince Frederick Barrack on Twitter at
https://twitter.com/MSP_Prince_Fred
.
Disclaimer: In the U.S.A., all persons accused of a crime by the State are presumed to be innocent until proven guilty in a court of law. See: http://somd.me/presumed-innocence. Additionally, all of the information provided above is solely from the perspective of the respective law enforcement agency and does not provide any direct input from the accused or persons otherwise mentioned. You can find additional information about the case by searching the Maryland Judiciary Case Search Database using the accused's name and date of birth. The database is online at http://somd.me/mdcasesearch . Persons named who have been found innocent or not guilty of all charges in the respective case, and/or have had the case ordered expunged by the court can have their name, age, and city redacted by following the process defined at http://somd.me/expungeme .