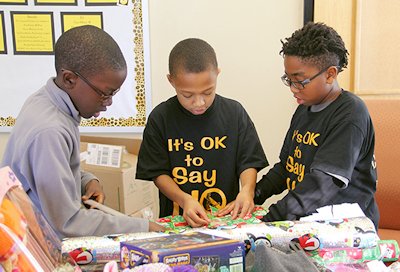 Berry Elementary School fifth graders Reginald Alexander, Michael Parham and Kylin Hertz wrap gifts as part of the school's Five Days of Giving event.
LA PLATA, Md.—Tis the season for giving in Charles County Public Schools.
For Berry Elementary School, tis the season for "Five Days of Giving." Students and staff held a holiday drive by bringing different donated items for five days. The first day was designated to hats and gloves. The second day was earmuffs and scarves. Day three was donated toys. Pajamas were brought in for day four. The final day was designated to socks.
On Thursday, Dec. 12, five fifth graders from the Just Say No Club got together to begin wrapping goodies for families in need. Teamwork was apparent as the students passed the tape, folded the wrapping paper around the donated items and talked about making good choices. "I hope everyone enjoys what they get. Not everyone gets to experience this. I hope they have joy for the holiday season," said fifth-grade student Areini Partis. School Counselors from Berry, Olivia Coffey and Tiara King, helped the students wrap gifts and talked about making positive choices and being positive role models. "Be the difference and the students will be the difference," King said.
This fundraiser is part two of holiday giving for Berry. For Thanksgiving, Berry held a three-week food drive. Each week, staff and students donated a different meal. Berry had enough food to feed families in need and donate to a food bank. "We had three pick-up trucks full of food," Coffey said.
The spirit of giving is also evident in other Charles County public schools. Schools collected money, toys and other necessities and donated food to different organizations and food banks. Some of these schools include: General Smallwood, Piccowaxen and Theodore G. Davis middle schools and Indian Head, Walter J. Mitchell, J.C. Parks, William A. Diggs and Dr. Samuel A. Mudd elementary schools.
Other schools coordinated their own giving events. Some of these events included:
-- Dr. James Craik Elementary School collected "Pennies for Puppies" and planned to take care of four-legged friends through the holiday season. The school raised more than $942 to donate to the Charles County Humane Society.
-- John Hanson Middle School collected items for the relief efforts associated with rebuilding the Philippines after Super Typhoon Haiyan hit in Nov.
-- Dr. Thomas L. Higdon Elementary School created a giving tree to provide additional gifts for families in need and a hat and mitten tree sponsored by a local Girl Scout troop.
-- The Lifelong Learning Center provided for children whose parent(s) have been incarcerated. The children made a wish list and received clothes and a gift. The caregivers were also given assorted gifts. The Lifelong Learning Center has given to children and their caregivers for more than 10 years.
-- Benjamin Stoddert Middle School's faculty and staff, along with Shop with Cops, Toys for Tots and church groups, helped assist families in need. Stoddert's goal is to help 20 to 30 families in need this holiday season.
-- William B. Wade Elementary School staff volunteered at the Our Place Soup Kitchen. Wade staff cooked and served the food and staff donated enough money to serve steak dinners. Wade also collected canned food and had students place gloves and hats on a giving tree which was taken to The Center for Children for donation.
-- Maurice J. McDonough High School collected money to help in the relief efforts of the typhoon victims in the Philippines. The Student Government Association (SGA) matched all donations.
-- Henry E. Lackey High School's sophomore class partnered with the local animal shelter as part of their Student Service Learning project. Students collected items from the Humane Society's wish list. Items included: electric heating pads, kitten formula, hand sanitizer, trash bags, batteries, water hoses, dog crates, dog and cat food, toys, bath towels and blankets.
Throughout the year, Charles County Public Schools students and staff organize donation drives to benefit different communities and organizations. Schools often participate in several donation events annually, and the goal is always the same – to provide support and assistance to those in need.
Source: Charles County Public Schools