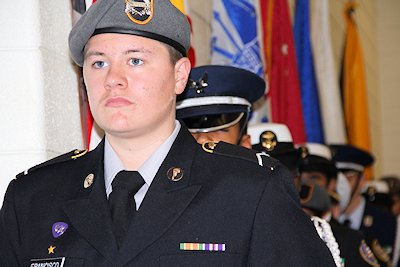 Tyler Francisco, a first year JROTC member from Maurice J. McDonough High School, led the Color Guard at the Joint Services Military Ball held Dec. 6.
LA PLATA, Md.—The Charles County Public Schools Junior Reserve Officers Training Corp (JROTC) program provides student cadets with learning opportunities that are deeply rooted in military traditions. These traditions range from participating in the Color Guard and drill meets to serving as leaders in their school communities. For the 191 senior cadets enrolled in the program at Charles County's six high schools, the Joint Services Military Ball is a tradition held annually to honor and celebrate their participation in JROTC.
This year's ball was held Dec. 6 at North Point High School, and is the seventh annual event coordinated by the school system. As part of the ball, cadets participate in a variety of ceremonial military traditions including the Presentation of Colors by the Joint JROTC Color Guard, a toast to honor military personnel, leaders and ball guests, and the selection of a military court. Senior cadets are also presented with certificates of participation from their program instructors to honor their JROTC commitment.
Thomas Stone High School senior cadet Brianna Allen-Hall and Tierra Marbray, a senior cadet at North Point, served as the mistresses of ceremonies, and guests were welcomed by Board of Education Chairman Roberta S. Wise. The toast portion of the ball featured references to the Air Force, Army, Coast Guard, Marine Corps, Navy, JROTC instructors and to all cadets in attendance. Following the toasts, a celebratory dinner was held and senior cadets were called on to the floor by high school to receive their certificates. After certificates were presented to all cadets, students and guests participated in two other military ball traditions: cake cutting and the presentation of the military court.
The military court consists of a king and queen who are selected from students who have participated in their school's JROTC program each year in during their high school career. La Plata High School senior Anthony Erwin was this year's king, and North Point senior Adia Dobbs was named queen for 2013.
The JROTC program is available at all six county high schools, and teaches students skills, values and good citizenship to the community. Participation in JROTC also provides advanced rank opportunities for students who plan to enter the military after high school. JROTC programs were first introduced in Charles County Public Schools in 1998 at Henry E. Lackey High School. Board member Donald M. Wade is a former JROTC advisor in Prince George's County was instrumental in launching the program for Charles County students.
Both the programs at Lackey and North Point high schools represent the Air Force; the programs at McDonough and Stone represent the Army; and La Plata, as well as Westlake High School, features a JROTC program that represents the Navy. More than 964 students are enrolled in county JROTC programs this school year. These students also participate in a county drill meet, held annually, and co-curricular activities such as Color Guards, Armed and Unarmed drill teams, Armed and Unarmed exhibition drill teams, academic and field competitions.
Source: Charles County Public Schools