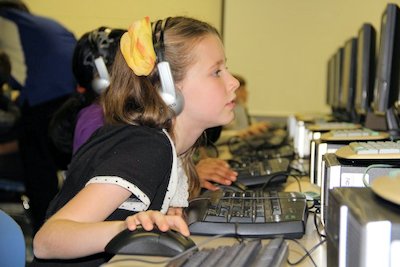 Autumn Clay, a fourth grader at Mt. Hope/Nanjemoy Elementary School, concentrates on coding during participation in the Hour of Code.
LA PLATA, Md.—It was Angry Bird against the pig, and the pig didn't stand a chance with fourth graders from Mt. Hope/Nanjemoy Elementary School controlling the moves. Instead of playing Angry Birds, Sarah Harmon and her classmates were creating the bird's move through computer coding. Harmon plotted how to move her Angry Bird and eliminate the pesky pig. She was creating rather than playing the game as she figured out how many moves and which way the bird would need to turn to get the pig.
Last week in computer lab, all Mt. Hope/Nanjemoy kindergarten through fifth-grade students learned about computer coding through an "Hour of Code," a nationwide campaign to expose students to an hour of computer coding through drag and drop programming. Students learned how to complete steps with video tutorials taught by Microsoft cofounder Bill Gates and Facebook's Mark Zukerberg, and were encouraged by Mt. Hope's Hour of Code Coordinator Lisa Sweeney as she walked around helping children when they got stumped by a code.
"Anybody can learn computer code. That means everybody in this room can learn," Sweeney told the class.
"This is going to be fun," echoed through the class as the Angry Bird maze popped up on computer screens.
During the Hour of Code, taught through free tutorials on Code.org, students learned how to think ahead, figure out which way the bird needed to turn and how many steps it would take to get to the pig. Then they programed the game, dragging and dropping code. With each step, they learned something new. They learned to combine steps and repeat code.
Coding was fun, said Harmon as she reluctantly signed off her computer at the end of the hour. "This was fun. You just keep repeating steps over and over and then you learn one move might move the Bird and you don't have to overdo it," Harmon said.
When they got through enough screens, they were rewarded with the Zombie, a favorite with this fourth-grade class. Student Sierra Simpson was excited to reach the Plants versus Zombie level and said it was fun to learn coding. "It got harder each time, but it is not too complicated," she said as she counted and recounted before dragging and dropping code to help her Zombie get the sunflower without bumping into a Zombie-eating plant.
Sweeney liked the Hour of Code lessons. "These are games the children are familiar with and the lesson makes them think about what steps are needed to get the bird where they want it. This makes children think it out, step-by-step. It combines math at a higher level, and the kids love it," Sweeney said.
Hour of Code offers interactive coding lessons for every age group. At Mt. Hope, Sweeney used the Angry Birds tutorial for the older children and a program called Scratch for younger students that taught how to use code to change a puppy's costume and appearance.
Hour of Code was held in schools across the nation and in several in Charles County Public Schools during the week of Dec. 9-15, which is Computer Science Education Week. Code.org officials estimate more than 11 million students in 167 countries completed an Hour of Code tutorial. Tutorials remain available on the Hour of Code website at code.org, free for anyone to try.
Hour of Code was designed to encourage school systems to teach computer science, a concept Superintendent Kimberly Hill embraces. Hill, along with computer science teachers, has been working to enhance computer science for all students. "We are working on enhancing our computer science classes by creating a K-12 computer science experience for our students. Next year, we will begin offering more computer science classes. In the meantime, we are working to infuse computer science concepts at all levels," Hill said.
Microsoft, LinkedIn, Google and other corporate sponsors, as well as donations from Gates and Zuckerberg, funded the $1 million project.
Source: Charles County Public Schools