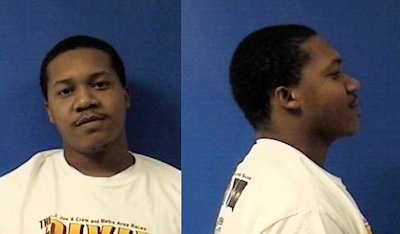 James Devwan Pixley, 23, of Leonardtown. (Arrest photos)
PRINCE FREDERICK, Md.—A 23-year-old Leonardtown man is in jail in Calvert Co. after state police found a collection of illegal drugs in the man's motel room. Police responded to the motel after someone called them to report marijuana odor coming from a room.
Trooper Palumbo, of the Prince Frederick Barrack, arrived at the motel on Thursday around 9:30 p.m. and contacted James Devwan Pixley, the occupant of the respective room. Police say their investigation revealed that Pixley was in possession of a large amount of drugs, which included: 150 grams (5.29 ounces) of Cocaine, 15 grams (0.529 ounces) of Crack Cocaine, Bag containing Xanax pills, and 2.2 grams (0.0776 ounces) of Marijuana.
Pixley was placed under arrest and charged with Possession With Intent to Distribute Cocaine and other related charges. His vehicle was seized and remains in state police custody pending a search warrant.
Pixley was taken to the Prince Frederick Barrack for processing and later incarcerated at the Calvert County Detention Center.