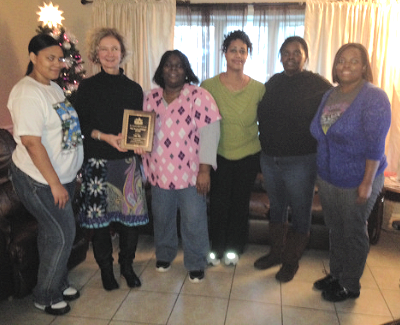 Pictured from left to right: Golda Burrell, Mitzi Bernard, Sharon Bishop Smith, Anita Nelson, Tawny Long, and Markieta Fenwick. (Submitted photo)
LEXINGTON PARK, Md.—Bay Community Support Services, Inc.—a full-service agency which provides support for individuals with disabilities in Maryland—named the Lisa Way Residential Group Home in Charles County its Dare to Care House of the 1st Quarter of FY 2014.
"The Dare to Care Program is a unique competition among BAYCSS residential homes where the values relating to caring are encouraged and quantified," said Mitzi Bernard, Executive Director.
Each quarter, a BAYCSS residential group home is named House of the Quarter after the 14 agency group homes are inspected and awarded points based on cleanliness, basic maintenance, safety, client comfort. The house that wins is given a reception to which family and friends are invited, a plaque to hang on the wall for bragging rights, and bonuses for each of the staff.
About BAYCSS
Bay Community Support Services, Inc. has been proudly providing quality services to people with disabilities in the Southern and Central areas of Maryland since 1986. BAYCSS is a proven leader of personalized services for people with disabilities. For further information, please call, Brandy Blackstone, (301) 863-8870, ext. 44 or visit our website at
www.baycss.org.