By Len Lazarick, Len@MarylandReporter.com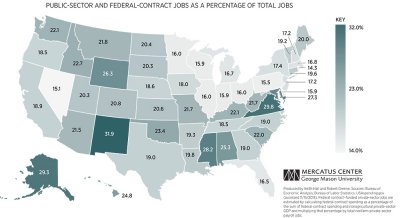 Map of U.S. Taxpayer funded jobs. Click on image for larger rendition.
Maryland and Virginia are among the top five states in the nation in the dubious competition for most government-financed employment, according to a new economic study.
It turns out Virginia, Maryland's closest fierce competitor for business, edges out Maryland in most categories for taxpayer-funded jobs, according to a study conducted by Keith Hall, former commissioner of the federal Bureau of Labor Statistics. He is now a senior research fellow at the Mercatus Center of the George Mason University.
Maryland ranks fifth in the nation for the number of public-sector and federal contract jobs as a percentage of total jobs at 27.3%, but Virginia ranks second at 29.8%, with New Mexico topping the charts at 31.9% due its military bases, defense laboratories and federal lands.
"The combined total of federal contract-funded jobs and public-sector employment serves as more accurate indication of each state's labor market reliance on government spending than direct public sector employment," said Hall and project coordinator Robert Green in a summary.
Turning that number around, "real private-sector jobs" as a percentage of total jobs was 72.7% in Maryland and 70.2% in Virginia. By contrast, two of Maryland's neighbors, Delaware and Pennsylvania, are among the six states with the highest percentage of "real private-sector jobs," at above 84%, and are also the states with the lowest percentage of government-funded employment.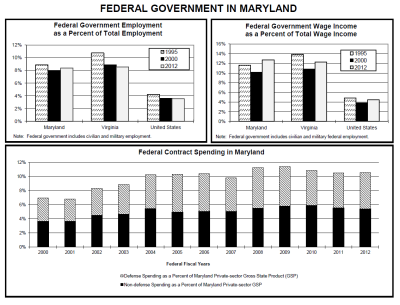 Source: Maryland Department of Legislative Services, Spending Affordability briefing, Oct. 16, 2013. Click on image for larger rendition.
Maryland's economic dependence on the federal government and its contractors has been well known for decades.
It has been a particularly hot topic in recent months as the U.S. government experienced a temporary shutdown and budget cuts through sequestration.
Federal government Maryland's 'natural resource'
Compared to other states with oil, gas and minerals underground, "we've got the federal government, that's our natural resource," Warren Deschenaux, the legislature's chief fiscal advisor, told lawmakers in October.
According to charts prepared by the Department of Legislative Services, federal contract spending in Maryland is down slightly from its highest point in 2008 and 2009, and federal government employment as a percentage of total Maryland jobs is actually down from 1995. But federal government wage income as a percentage of total wage income is higher than it was back then (see chart from Spending Affordability Committee briefing, p. 21).
Both Maryland and Virginia showed losses in real private-sector jobs from 2007 to 2012, but so did all but a handful of states.
The study used U.S. government labor data and contract spending from USASpending.gov to calculate the figures. The Mercatus Center is a free-market oriented think-tank.