By Karen Wathen, St. Mary's County Special Olympics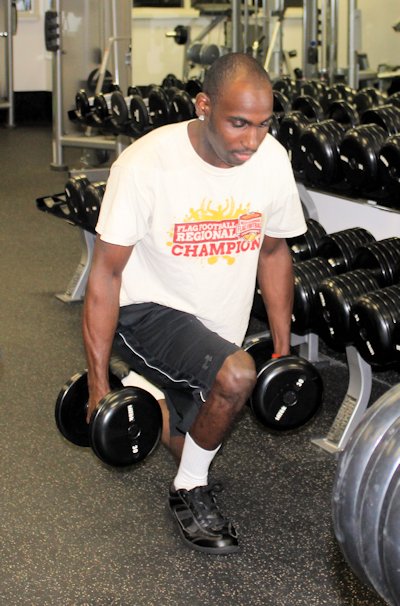 Special Olympics athlete Larry Mills works with free weights at the Medically Oriented Gym.
CALIFORNIA, Md.—St. Mary's County Special Olympics has partnered with The Medically Oriented Gym (M.O.G.) at Gateau Physical Therapy & Sports Medicine to train 19 athletes in their state of the art facility for the upcoming 2014 Special Olympics USA Games. Exercise Physiologist, Keri Ramey, assisted groups of athletes over a short period of time to become adept in the use of exercise machines for their respective training needs according to their sport. The athletes then are able to work out at the M.O.G. with a chaperone or coach who has also been trained on the machines. Ms. Ramey has continued to oversee the training and provides additional assistance to them.
"It has been a pleasure working with these athletes," said Ms. Ramey. "They are giving it their all during our workout sessions together. They all have different goals to reach and it feels good to be a part of that."
The M.O.G. offers a full range of exercise options for all people. Each member receives an initial assessment from the exercise physiologist who then provides them with an individualized exercise program. Assessments are done every 90 days thereafter. Their mission is to deliver a level of service that the member never expected, every day. They are committed to assist all people in obtaining a healthy and fit lifestyle, and have a variety of programs to meet everyone's needs.
The Special Olympics USA Games will be held during the week of June 14, 2014 in New Jersey. St. Mary's County has a talented delegation comprised of 19 local athletes; these athletes will compete as a part of the 200 member Team Maryland delegation. They will be competing in bocce, bowling, cycling, golf, track, and flag football during the national competition.
The athletes representing St. Mary's competing in individual sports during the 2014 USA Games are: Russell Bucci (bocce); Mary Herbert (bowling); Rachel Hicks (bowling); Amanda Lowe (cycling); April Towler (golf); Tyeshia Holt (track); Khadisha Young (track); Jason Swift (track); and Matt Dobson (track). St. Mary's Special Olympics Flag Football team will also be represented within Team Maryland by athletes: Larry Mills; Corey Woodland; Avery Long; Anthony Cyrus; Sam Huffman; Kegan Zimmerman; Shaun Ridley; Thomas Smith; Brandon Chan; and Durrell Scott. In addition to this wonderful line-up of athletes, St. Mary's County also has a large group of adult volunteers attending the 2014 USA Games: John Gallagher (bocce coach); Bill Lowe (golf coach); Jeff Hagen, Sr. (track coach); Wil Ridley (flag football coach); Don Bewick (flag football coach); Lynne Baker (aquatics coach); Kourtney Baker (assistant family coordinator); Ann Marie Goddard (volunteer); Jason Zimmerman (volunteer) and Mary Lu Bucci (team manager). These volunteers will be supporting Team Maryland during the upcoming training season as well as at the June Games.
"The track athletes are going to be entered into the 4x100 with athletes from other counties and we want to make sure St. Mary's County shines and promotes the entire team's capabilities," noted Coach Jeff Hagen. "That is what the opportunity of using this gym will provide to us."
Additionally, Coach Bill Lowe noted that with the generosity of the M.O.G, the athletes will be performing at the top of their game leading into the event. "Team Maryland will be well represented," said Lowe.
St. Mary's County Special Olympics is extremely grateful for the resources which The Medically Oriented Gym at Gateau Physical Therapy & Sports Medicine has been able to provide to these amazing athletes during their preparation for the 2014 Special Olympics USA Games. A special thanks to the owner, Bonnie Gateau, for her overwhelming support of Special Olympics.
The Medically Oriented Gym at Gateau Physical Therapy & Sports Medicine is located at 23123 Camden Way, California, MD 20619. For more information about the gym and GPT please call (301) 866-5444.