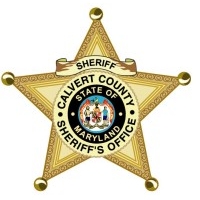 PRINCE FREDERICK, Md. (Dec. 2, 2013)—The Calvert County Sheriff's Office today released the following incident and arrest reports.
WEEKLY SUMMARY: During the week of November 25 through December 1, deputies responded to 1,172 calls for service throughout the community.
COAST GUARD AWARD: On Thursday, November 21, members of the United States Coast Guard Auxiliary (Flotilla 23-06 Drum Point) presented a certificate of appreciation to the Calvert County Sheriff's Office and the Sheriff's Office Special Operations Team for their continued support of the Coast Guard's Recreational Boating Safety Program. Accepting the award was Captain Steve Jones, Patrol Commander, Lt. Dave Payne, S.O.T., and DFC Chris Sloane. Payne and Sloane are both members of S.O.T. and play a crucial part in implementing and adhering boaters to rules of the program.
DESTRUCTION OF PROPERTY CASE #13-69611: Someone broke the door on a barn at the Bennett Hughes Tree Farm on Clay Hammond Road in Prince Frederick sometime between November 22 and 27. It did not appear that entry was made and nothing was taken. Dep. N. Lenharr is investigating.
THEFT CASE #13-69883: On November 28 at 7:40 p.m. Sgt. V. Bortchevsky was advised by a Dunkirk Walmart Loss Prevention Officer that he had observed a woman shoplift a Garmin Nuvi GPS unit valued at over $70. Britny Lee Blankenship, 23 of Bowie, was cited with theft under $100.
THEFT CASE #13-69964: On November 29 at 9:05 a.m. DFC J. Denton responded to the Prince Frederick Safeway for the report of a shoplifter in custody. Three women had been observed leaving the store, two of the women each had a cart full of groceries they had not paid for. One of the women was stopped before she exited. The second woman, Buffy Jo Wilson, 37 of Huntingtown, was detained after she left the store and was cited with theft less than $1,000.
CDS VIOLATION CASE #13-69991: DFC R. Wilson made a traffic stop on November 29 at 12:06 p.m. in the parking lot of the Lusby Giant store. He found the driver, identified as Kevin Delonte Acord, 20 of Lusby, to be in possession of suspected drug paraphernalia. Acord was cited with possession with intent to use drug paraphernalia; a pen tube used to inhale a controlled dangerous substance.
DESTRUCTION OF PROPERTY CASE #13-69997: Unknown suspect(s) shot a dog in the yard of a home on Scenic Way in Port Republic on November 29 between 10:00 and. 10:13 a.m. The owner reports that the dog came back inside bleeding badly and was taken to Prince Frederick Animal Hospital where he was not expected to live. Anyone with information is asked to contact DFC W. Wells at 410-535-2800 or Calvert County Crime Solvers at 410-535-2880 to report information anonymously.
BURGLARY CASE #13-70072: A home in the 1000 block of Adobe Drive in Lusby was burglarized sometime between November 28 and 29 and over $4,000 in property was taken and $1,000 in damage was done. Cpl. B. Gray is continuing the investigation.
CDS, WEAPON VIOLATIONS CASE #13-70226: On November 30 at 9:11 p.m. Cpl. B. Gray conducted a traffic stop on a vehicle on Md. Rt. 4 and Southern Connector Boulevard in Lusby. Cpl. Gray, assisted by DFC R. Kampf, found the driver, Tammy Lisa Gatton, 53 of Lusby, to be in possession of suspected drugs and a weapon. She was arrested and charged with possession of marijuana, possession with intent to use drug paraphernalia; a glass smoking device, and carrying a loaded shotgun.
CDS VIOLATION CASE #13-70720: On December 1 at 1:55 a.m. DFC R. Cress made a traffic stop on a vehicle on Md. Rt. 260 and Mt. Harmony Road in Owings. He arrested and charged the driver, Noel Huston, 41 of Crofton, with possession of a schedule II drug: Methadone, and use of drug paraphernalia; a pill bottle.
Citizens with information on the following crimes or any criminal activity in Calvert County who wish to report it anonymously can now access the Calvert County Crime Solvers website via http://somd.me/calvertcrimesolvers. Information leading to the arrest and conviction of a suspect could result in a $1,000 reward.