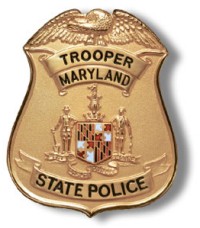 PRINCE FREDERICK, Md. (Dec. 2, 2013)—The Prince Frederick Barrack of the Maryland State Police (MSP) today released the following incident and arrest reports.
PRINCE FREDERICK BARRACK ON TWITTER: The Maryland State Police, Barrack "U" Twitter account following is growing. Follow @MSP_Prince_Fred to be a part of important Maryland State Police activity and information affecting the citizens of southern Maryland. You can also contact us any time with questions or information about crime and other police activity or visit our barrack webpage at
https://www.mdsp.org/.../BarrackUPrinceFrederick.aspx
.
BURGLARY: On 11/25/2013 at 6:57 pm, Trooper Matthews responded to the 900 block of Main St. in Prince Frederick for a reported burglary. Investigation revealed that a door to an enclosed carport was broken into. The suspect then attempted to open a door to the residence but was unsuccessful. Investigation continues.
POSSESSION OF OXYCODONE & MORPHINE: On 11/27/2013 at 2:22 am, Trooper First Class Esnes stopped a vehicle at Dares Beach Rd. and Armory Rd. for traffic violations. A search of the vehicle revealed that Tammy A. Ross, 53 of Lexington Park, was in possession of drugs and drug paraphernalia. Ross was incarcerated at the Calvert County Detention Center.
POSSESSION OF MARIJUANA: On 11/28/2013 at 10:14 pm, Trooper First Class Merkelson stopped a vehicle for traffic violations on Rt. 4 south of Mt. Harmony Rd. in Owings. An odor of marijuana was emitting from inside the vehicle. Kimberly L. Putt, 21 of Laurel, and Mario A. Meza Chavez, 21 of Hanover, were found to be in possession of marijuana. They were arrested and transported to the MSP Barrack in Prince Frederick for processing.
DUI ARRESTS:
Stephen C. Herber, 51, of St. Leonard, arrested on 11/27/2013 @ 07:58 pm by TFC D. Saucerman
Jason M. Beach, 31, of , arrested on 12/01/2013 @ 12:13 am Owings by TPR. J. Palumbo
Disclaimer: In the U.S.A., all persons accused of a crime by the State are presumed to be innocent until proven guilty in a court of law. See: somd.me/presumed-innocence. Additionally, all of the information provided above is solely from the perspective of the respective law enforcement agency and does not provide any direct input from the accused or persons otherwise mentioned. You can find additional information about the case by searching the Maryland Judiciary Case Search Database using the accused's name and date of birth. The database is online at somd.me/mdcasesearch . Persons named who have been found innocent or not guilty of all charges in the respective case, and/or have had the case ordered expunged by the court can have their name, age, and city redacted by following the process defined at somd.me/expungeme .