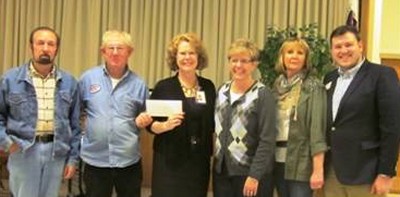 Linda Gottfried, Director of Development accepts contribution from Roger Hamilton, President of the Tri-County Cruisers and additional members of the club. (Submitted photo)
PRINCE FREDERICK, Md.—Chosen as one of the benefiting charities of the 14th Annual Rod and Custom Car Show, Calvert Hospice recently received a $500 contribution from the Tri-County Cruisers Rod and Custom Car Club.
"Tri-County Cruisers had a great year this year and made some money along the way. This year we decided to give to the hospices in the tri-county area. It takes a special bunch of people to do the work of hospice and we are proud to be making this donation to all of you," stated Roger Hamilton, President of Tri-County Cruisers.
"We are so appreciative of this gift from the Tri-County Cruisers," stated Brenda Laughhunn, Executive Director of Calvert Hospice. "Their generosity directly benefits the patients and families we care for in Calvert County."
For more information about Calvert Hospice programs and services call: 410.535.0892 or visit
http://www.calverthospice.org/.