By ROBBIE FEINBERG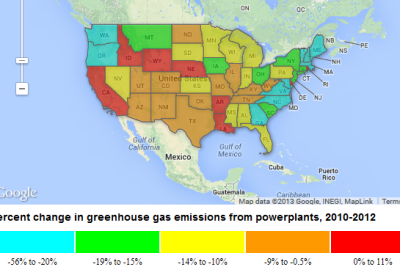 WASHINGTON—Greenhouse gas emissions from Maryland's power plants fell by more than 26 percent from 2010 to 2012, the sixth-largest drop in the nation during that time, according to data from the Environmental Protection Agency.
Only Massachusetts, Virginia, Oregon, Washington state and the District of Columbia saw greater declines, according to the data released last month, with greenhouse gas emissions falling by more than 10 percent nationwide.
Experts attribute the unusually large drop in Maryland to the fact that the state's plants simply generated less electricity, as energy produced by those plants fell by nearly 32 percent over the same period, according to the Energy Information Administration, a government data collection service. The reason for that drop is simple: Maryland's largely coal-powered plants couldn't compete with cheaper natural gas plants in neighboring states.
"What's happened is that since 2008, because of the natural gas markets, natural gas prices fell pretty low" - even below the price of coal, said Sean Williamson, the director of the Climate and Energy program at the University of Maryland's Environmental Finance Center.
With the price of natural gas so low, Williamson added, power providers in the area were more likely to purchase their electricity from natural gas-powered plants than coal-powered ones. That made Maryland's power plants - most of which are coal-powered - less appealing to providers than the natural gas-powered plants in nearby states like Pennsylvania.
"So the way it works is these different plants usually bid into this market based on the most competitive prices," Williamson said. "And they decide, based on the prices, whether they should compete or sit back on the sidelines.
"So what probably happened during this period - from 2010 to 2012 - is some Maryland generators basically decided not to participate in these daily, hourly, or monthly auctions to decide who wants to generate electricity."
Due to its relative efficiency, burning natural gas produces about 50 percent less greenhouse emissions than coal. Those greenhouse gases include carbon dioxide, methane and nitrous oxide, and they restrict heat from leaving the Earth, resulting in rising temperatures.
Williamson said the reduced energy from Maryland's plants was most likely replaced with electricity imported from other states. Data supports that, as electricity imported to Maryland increased from 23 percent of Maryland's energy supply in 2000 to 39 percent in 2011, according to the Energy Information Administration.
While that changing energy market has played a large part in the emissions decline, new state rules have also played a role. State officials point to Maryland's Greenhouse Gas Reduction Act, a 2009 law that set forth a range of policies intended to reduce greenhouse gas emissions in the state by 25 percent by 2020.
The plan calls for power suppliers to use renewable sources, like wind and solar, as 18 percent of their energy mix by 2020, while also reducing average electricity consumption by 15 percent by 2015.
Jay Apperson, a spokesman for the Maryland Department of the Environment, said in an email that those initiatives should reduce emissions into the future.
"These policies will have meaningful impact between now and 2020," Apperson said.
According to recent data from the Energy Information Administration, the state has taken steps to reach those goals. The EIA says energy consumption in the state has fallen by more than five percent in the past three years, while the supply of wind and solar energy in the state grew to 343 megawatt-hours in 2012, an increase from just one megawatt-hour two years earlier.
Karen Palmer, the associate director of the Center for Climate and Electricity Policy at the policymaking organization Resources for the Future, said it's tough to say if those emissions declines will continue into the future.
"Who knows what's going to happen with them? I don't think they'll keep going down," said Palmer. "It depends on the exports of natural gas. It depends on whether there end up being more environmental restraints on fracking. So it's uncertain."
Fracking, also known as hydraulic fracturing, is a process that uses pressurized water and chemicals to extract oil and gas from large shale and rock beds in the ground. The process has grown significantly in the United States, which has led to lower natural gas prices, but many environmentalists oppose it due to potential leaks and possible contamination of groundwater.
Palmer did cite one reason we may see emissions continue to fall in Maryland specifically: the state's membership in the Regional Greenhouse Gas Initiative, a cap-and-trade program among nine Northeast states.
The program launched in 2008 and created a cap on the amount of carbon dioxide emissions allowed to power plants in participating states each year. To enforce the cap, the program creates pollution permits, each allowing power plants to emit a certain amount of carbon dioxide.
Only a certain number of permits are available each year, however, with plants required to bid at auction for the permits if they want to emit more carbon dioxide.
Palmer said the program hasn't had a very significant effect on emissions yet, but that may soon change, as the RGGI states recently proposed to tighten the emissions cap by 45 percent. That would put a serious dent in emissions across the participating states, including Maryland.
"What is fairly likely is that Maryland, and the whole RGGI region, is going to tighten their cap, so that suggests emissions will continue to move in the downward direction," Palmer said.
Power plants account for about a third of U.S. greenhouse gas emissions. The remaining emissions come from sources such as vehicles, businesses and agriculture.
Greenhouse gas emissions from all sources have declined both in Maryland and nationwide over the past few years, falling by 1.8 percent in the state and by 1.6 percent across the country from 2010 to 2011, according to the EPA.
Even with the emissions declines in the United States, however, greenhouse gas levels have continued to increase worldwide. According to the latest report from the World Meteorological Association, worldwide carbon dioxide levels in the air reached approximately 393.1 parts per million in 2012, a new record high.