By Zack Ward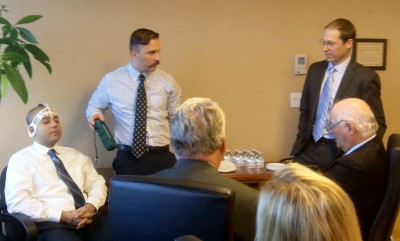 Employees at BrainScope in Bethesda demonstrate their concussion-assessment technology to U.S. Sen. Ben Cardin, D-Md., seated at far right. (Photo: Zack Ward)
BETHESDA, Md.—Imagine if the only way doctors could diagnose injuries was by asking questions about the symptoms.
While fortunately that is not the case for most areas of the body, it is still the case for the brain. But that is something BrainScope in Bethesda is determined to change. According to CEO Michael Singer, the company hopes to one day remove the subjectivity from deciding whether a soldier or athlete can return to their normal activities. BrainScope employees want it to be a doctor's objective decision using their new technology.
But Singer knows that it "is a very significant and difficult problem that won't be solved overnight."
BrainScope focuses mainly on providing the military with technology to help assess traumatic brain injuries, including a seemingly simple white device that hooks around the ears and covers the head with an eight-electrode array. This device is light-weight, low-cost and disposable, according to the BrainScope team. It is connected to a portable device that can show doctors brainwave activity.
It is this type of innovative technology that has earned the praise of U.S. Senator Ben Cardin, D-Md., who recently stopped by BrainScope's Bethesda office. Cardin applauded BrainScope for being a leader in technology.
In addition to helping the military, BrainScope's technology could be used to help professional athletes and everyday citizens with athletic injuries.
"We're very aware of what's going on with CTE [Chronic Traumatic Encephalopathy]," Singer said, referring to the disease that has been discovered in more and more deceased NFL players since former Pittsburgh Steeler Mike Webster was the first to be diagnosed in 2002. "We are a clinical collaborator with Boston University and the Sports Legacy Institute, looking at CTE in retired athletes. And they're using the BrainScope technology as part of the group of tests that they're undertaking on these athletes."
A recent PBS Frontline documentary called "League of Denial," exposed the NFL's attempts to cover up the negative effects of head injuries throughout the 2000s. However, Singer believes the league has turned a corner.
"I think that the NFL is definitively trying to understand the problem, raise awareness and tackle it in a very forward way," Singer said. "And I think BrianScope's very hopeful to be able to work more with the NFL in the future."
Like Singer, Cardin sees a potential positive collaboration between BrainScope and the NFL.
"There's no question the NFL has gone to a new level in awareness on head injuries," Cardin said. "I think what's being done here at BrainScope could help them understand head injuries a lot sooner and a lot quicker. Rather than using a subjective test asking a football player questions, what BrainScope offers is scientific information as to the severity of their injury."
But the question that remains is: how long will it take for medical decisions regarding head injuries to become objective?
"Our technology has been in development, as we talked about, for many years and actually it predates my starting five years ago," Singer said. "I think we're on the right track to provide this objective capability.
"I'm very optimistic that in the foreseeable future we'll start to see this technology unveiled and used in the public realm, and as they use it, it will get better and better," Singer said.