Officers Take Top Place in County Driving Competition
On Wednesday, October 23, the Charles County Sheriff's Office and Charles County Government hosted the 3rd Annual Vehicle Rodeo and Health and Wellness Fair at Laurel Springs Park. Part of the event included a timed, safe driving competition. Three Charles County Sheriff's officers took top place in the law enforcement vehicle cone course skills test:
-- First Place - Pfc. Alexander Sullivan
-- Second Place - Pfc. Matthew Van Horn
-- Third Place - Officer Kevin Makle
The competition challenged drivers to test and enhance their driving skills through various cone courses. Judges evaluated each competition and awarded prizes to those drivers who navigated the courses safely and without error. This is the third year the Charles County Sheriff's Office has participated in the event. Lt. Steve Salvas, Sergeant Charly Baker, Corporal Gary Owen, and Community Organizer Connie Gray volunteered to help with the competition and organize the rodeo with county staff.
CCSO Celebrates With National Night Out Coloring Contest Winners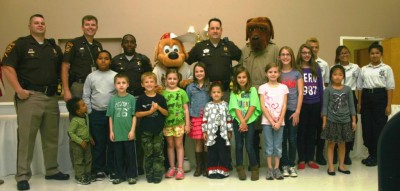 Members of the sheriff's office spent time with some very creative people on Oct. 16 - the winners from the National Night Out coloring contest. Out of 90 applicants, 20 children, ranging from ages 4 - 12, took top prizes. Connie Gray, Community Organizer for the Sheriff's Office, said there were lots of great pictures. "This is such a fun event. All of the artwork was really nice and it's fun to celebrate with the kids." The winners in each age group included:
4-Year-Old Category: Natalie Legge and Kenya Gray
5-Year-Old Category: Sophia Rogers and Eliza Freundel
6-Year-Old Category: Brandon Mattera, Ashton Christley and Shannon Sweeney
7-Year-Old Category: Emma Wang and Nina Hardy
8-Year-Old Category: Juliette Christley and Tessah Good
9-Year-Old Category: Anna Moon, Emily Moon and Jayden Fletcher
10-Year-Old Category: Gabriel Rogers and Aryiana Felder
11-Year-Old Category: Hannah Christley and Angela Rogers
12-Year-Old Category: Melody Hornsby and Shannon Austria.
Everyone celebrated at the Waldorf Jaycees. McGruff the Crime Dog and his nephew, Scruff, were also on hand to congratulate the kids. Winners received a certificate and prizes including coloring supplies and art supplies which were donated by SMECO.
Local Restaurants to Raise Money for CCSO's Zombie Invasion 5K
A zombie invasion is coming to Charles County later this month and the first symptom of the infection—generosity—is already starting to appear at local businesses.
Texas Roadhouse, The Meadows Original Frozen Custard and Buffalo Wild Wings are hosting special events to raise money for the Charles County Sheriff's Office's Zombie Invasion 5K to support Special Olympics Maryland. The following fundraisers are scheduled:
-- Texas Roadhouse, located at 103 Drury Drive in La Plata, on Nov. 14.
-- The Meadows Original Frozen Custard, located at 1276 Smallwood Drive in Waldorf, from 1:30-8 p.m. on Nov. 16.
-- Buffalo Wild Wings, located at 11215 Mall Circle in Waldorf, on Nov. 9. This is the last of the restaurant's three Zombie Invasion 5K fundraisers.
To participate, download the appropriate flier from CCSO's website,
www.ccso.us
, and present it at your visit on the designated day.
The Zombie Invasion 5K, which is also being sponsored by the Charles County Fraternal Order of Police and the Charles County Correctional Officers Association, will be held on Sun., Nov. 17, at Laurel Springs Regional Park in La Plata. During the fun, family-friendly event, participants will transition into zombies and then complete a 5K either by racing competitively using chipped timing or by walking at a more leisurely, zombie-like pace. Competitive and non-competitive zombies alike will receive prizes and gifts. Prizes will also be awarded to the top zombie finishers in several categories. A prize will also be awarded to the winner of the Zombie Beauty Contest.
The cost to register is $25 for adult zombies and $20 for child zombies between 11 and 17 years undead. There is no registration fee for zombies 10 years undead or younger. Zombies may register online at
zombieinvasion5K.com.kintera.org
and those who register before Nov. 8 will receive a T-shirt. T-shirts are available in adult and youth sizes.
CCSO Camp Reminds Students to 'Just Say No'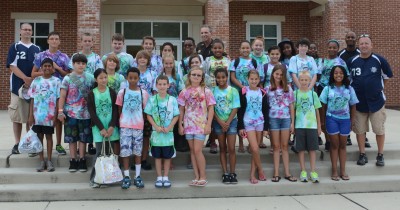 Sheriff Rex Coffey, members of the CCSO School Resource Unit and students in the Just Say No program celebrate the end of the 2013 Just Say No Summer Camp.
The sheriff's office hosted the 25th Annual Just Say No Camp in August at the College of Southern Maryland (CSM).
More than 30 children between the ages of 10 and 13 years old participated in the event, marking one of the program's largest turnouts. The students, who were selected by their teachers, demonstrated good behavior and consistent attendance at their school-sponsored Just Say No Club meetings.
"Programs like Just Say No reinforce some of the most important lessons young people can learn about making good choices," said Sheriff Rex Coffey. "I am proud of these students for being part of this program and for being good role models for their peers."
The Just Say No camp is free. The CCSO's School Resource Unit officers discuss numerous topics with the students including drug abuse, tobacco and alcohol prevention and internet safety and also introduce students to many aspects of police work. The students met with narcotic detectives and Emergency Services Team members and watched an impressive K9 Unit demonstration. Sheriff Coffey also visited with them and discussed making good choices. The students received lunch and had the opportunity to swim in CSM?s pool each day. They celebrated the conclusion of the camp with a trip to the Chesapeake Beach Water Park.
"This camp is a great reward to those children who are doing the right thing throughout the year and showing their peers that it is okay to refuse to participate in dangerous behaviors whether that be smoking or drinking or sending a nasty message over social networking," said Cpl. Kaylor, a school resource officer.
The Just Say No Camp is funded through donations from individuals and businesses. Anyone interested in donating may make checks payable to "Charles County Just Say No Club" and mail them to: Charles County Sheriff's Office, Attn: Cpl. Kaylor, P.O. Box 189, La Plata MD 20646.
The CCSO would like to thank the following businesses and organizations who made the 2013 Just Say No Camp a success: Charles County Board of Education, Charles County Citizens for Substance free youth, KNC Marketing, La Plata Kentucky Fried Chicken, La Plata Little Caesars, La Plata Roy Rogers, Nicks of Clinton and Scheff Bus Company. The CCSO also extends special appreciation to the College of Southern Maryland for allowing the camp to be held on its campus.
National Medication Take Back Day a Success in Charles Co.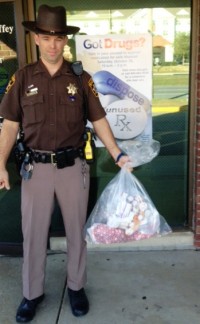 Charles County Sheriff Rex W. Coffey said more than 60 pounds of unwanted, unused and expired medications were collected on Saturday, October 26 as part of the National Take-Back Medications Day sponsored by local law enforcement agencies and the DEA.
Unused medicines that are left inside medicine cabinets can be dangerous because they can get into the hands of people who might abuse them and prescription drug abusers often commit other crimes such as theft and burglary. But getting rid of unused medicines can be tricky because they can be toxic to the environment if they are flushed down the toilet or thrown in the trash.
As a way to help minimize the potential for abuse and in a manner that is environmentally friendly, the sheriff's office is available to dispose of the medicines. Simply bring unwanted medications to any of the CCSO district stations in La Plata or Waldorf, remove the labels on the bottles and place the medicines in a designated, secured box which can be found in the station's lobby. An officer will make sure the medicines are disposed of safely and properly.
Medicines can be dropped off any time, any day. Liquid medications and syringes are not accepted. For more information, please visit the sheriff's office website at
www.ccso.us
or call any of the district stations.