Citizens can rate their encounters with deputies
Individuals who have encounters with deputy sheriffs of the St. Mary's County Sheriff's Office soon will be able to rate how they felt the interactions went as part of the
National Police Research Platform's
Police Community Interaction (PCI) Survey, administered by the University of Illinois at Chicago (UIC).
Beginning in the fall of 2013, the sheriff's office will be offering many of the individuals with whom they come into contact an opportunity to participate in a survey designed to collect information that could help improve police procedures and approaches in not only their local sheriff's office, but also in the state and nationwide.
The goal of the PCI, administered through UIC's Center for Research in Law and Justice, is to collect data that will help establish new benchmarks for excellence in policing and thus help to improve the quality of police services delivered to the community. The St. Mary's County Sheriff's Office is one of approximately 100 agencies participating in this innovative national program. Based on a pilot program, that is part of the National Police Research Platform administered by UIC researchers, participating agencies will be able to use the survey data to monitor their performance and improve their training programs.
Participating in the survey will be simple. As police reports are filed, a letter will be sent to community members asking them to take a survey. The survey is available in Spanish and English and can be taken either online, or by telephone. The online survey can be accessed through a computer or by scanning a QR code with a smart phone or tablet device. The letters will include a special code needed to participate in the survey and to ensure only one survey is completed for each encounter.
According to Sheriff Tim Cameron, no one asked to participate in the survey should be concerned the information could be used in other ways. None of the survey information will be collected by the St. Mary's County Sheriff's Office since all survey responses will be managed by the UIC researchers. The results provided to the agency will not include any information identifying the individual responding to the survey or the deputy involved in the contact.
Police encounters involving traffic accidents and traffic stops, as well as most non-violent crimes, will be part of survey. However, police encounters resulting from domestic violence or sexual assault or involving juveniles will not be surveyed. We sincerely hope anyone who has had interaction with one of our deputies and receives the letter will take the survey and provide us with honest feedback. Only then can we truly understand how our deputies are interacting with the community and implement changes where they are needed.
Deputies graduate bike school
Deputies assigned to the Patrol Division and the Special Operations Division, Lexington Park COPs UNIT attended the Law Enforcement Bicycle Association Basic Mountain Bike Course, hosted by the Charles County Sheriff's Office. Training included accident prevention, safety, emergency breaking, slow speed balance drills, and police technical skills.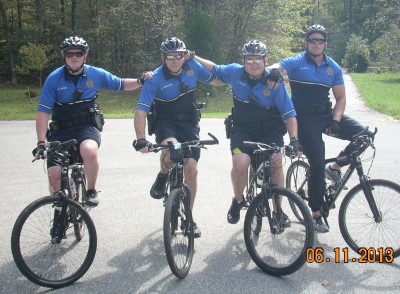 (L-R) Deputy First Class Michael Boyer, Deputy Alvin Beishline, Deputy First Class Timothy Snyder, Deputy William Wood, and Deputy Joshua Krum (not pictured) successfully completed the course and are already making a difference utilizing the unique crime prevention and enforcement tactics mountain bikes bring to the Sheriff's Office.
Sheriff announces RSS feed
Beginning on October 30, citizens and media outlets will have access to an RSS feed which relays information from the Sheriff's Office Computer Aided Dispatch (CAD). Data provided in the feed includes the type of call and town where deputies are called to respond. The information contained in the RSS feed will be on a twenty minute delay.
Sheriff Cameron is providing this information to ensure citizens and media outlets interested in the nature and location of calls for service can receive this information over any internet capable device. The address of the feed is
https://gwweb.co.saint-marys.md.us/coprss.xml
.
New domestic violence coordinator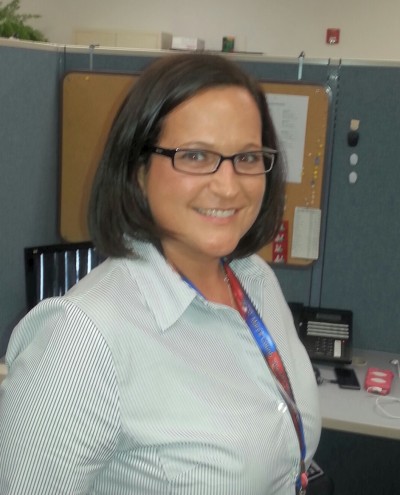 Deputy First Class Melissa Green. (Photo courtesy of St. Mary's Co. Sheriff's Office)
On October 25, Deputy First Class Melissa Green was selected as the new Criminal Investigation Division Domestic Violence Coordinator, replacing DFC Ashley Croyle.
DFC Green is a 2002 graduate from the University of Maryland. She began her career with the St. Mary's County Sheriff's Office in 2003 as the Inmate Services Coordinator (civilian) at the detention center. In 2007 DFC Green was selected and hired as a deputy sheriff. She graduated from the Southern Maryland Criminal Justice Academy in October 2007. Since graduation from the academy, DFC Green has been assigned to the patrol division. Among her many accomplishments, DFC Green was awarded Sheriff's Office Rookie of the Year and Deputy of the Year in 2009.
DFC Green applied for the Domestic Violence Coordinator position and was selected from the pool of applicants. DFC Green is known for possessing a dogged enthusiasm for solving a case coupled with a level of attention to detail necessary to secure a conviction.
"One in every four women will experience domestic violence in her lifetime and almost 1/3 of female homicide victims are killed by intimate partners," said DFC Green in a prepared statement. "I may not solve all the domestic violence problems, but I'm truly hoping to make a difference. I'm looking forward to working with victims of domestic violence and allied agencies in our continued effort to stop the cycle of violence."
Distracted driving assembly conducted
During the week of October 21, Corporal James Stone, the Sheriff's Office Alcohol Enforcement Coordinator, conducted assemblies on the hazards of distracted and impaired driving to 11th and 12th grade St. Mary's County public high school students. Each hour long presentation focused on safely operating a vehicle and the risks associated with texting, talking on a phone, the distraction of occupants in a vehicle, and impaired driving. The presentation also stressed a few poignant factsm including:
-- 16-year-old drivers are more likely to be involved in a car accident than any other age; and
-- Occupants in vehicles 17 years of age are more likely to die in an accident than at any other age.
The primary contributing factors driving these statistics are alcohol, distracted driving, and inexperience. These informational assemblies were conducted in hopes of reducing vehicle accidents thus reducing injuries and deaths of the teenagers in our community.
The deputies of sheriff's office believe education and prevention in partnership with St. Mary's County Public Schools is more likely to reduce vehicle related injuries and deaths than enforcement efforts alone.