By John Joyce, NSWC Dahlgren Division Corporate Communications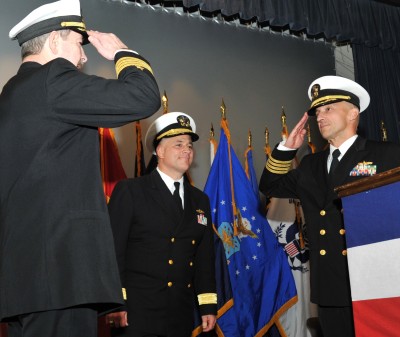 Rear Adm. Lawrence Creevy, center, commander of Naval Surface Warfare Center (NSWC), watches as Capt. Brian Durant, right, relieves Capt. Michael Smith as commander of NSWC Dahlgren Division, during a change of command ceremony at NSWC Dahlgren Division. (U.S. Navy photo/Released)
DAHLGREN, Va.—Naval Surface Warfare Center (NSWC) Dahlgren Division held a change of command ceremony at the base theater Nov. 8.
Capt. Brian Durant relieved Capt. Michael Smith as commanding officer.
"I am honored and humbled to assume command of NSWC Dahlgren," Durant told employees attending the ceremony in person and an audience of more than 6,000 government civilians and contractor personnel with video on demand access to view the event. "The work we do here is vital to our nation's defense and it is imperative that we be ready for whatever challenges lie ahead."
The new NSWCDD commander went on to tell the command's workforce that he will be their most vocal advocate.
"I am here to remove obstacles where possible, allowing you to deliver capability to the warfighter," Durant said. "I am committed to our success, the strengthening of our Navy and our nation. Together we will overcome any and all challenges that lie ahead and emerge a stronger warfare center for the effort."
NSWC Commander Rear Adm. Lawrence Creevy, the event's principal speaker, linked the ceremony's rich heritage with the dedication and sacrifices of Sailors and their families.
"None of us who have the privilege of serving and wearing the Navy uniform can achieve or enjoy our successes without the unconditional love, support and sacrifices of our families," said Creevy.
"Being the commander here has been an absolutely tremendous honor - the pinnacle of my career," said Smith.
The command's technical programs make Dahlgren great, he told the audience, including former NSWCDD commanding officers.
"Aegis (combat systems), Aegis BMD (Ballistic Missile Defense), Tomahawk, strategic systems, electronic warfare, electromagnetic environmental effects, topside design, safety, radars, chemical-biological detection systems, gun systems, unmanned systems - all of those programs are really vital to the Navy," said Smith. "We have a lot of great facilities here - integrated warfare systems lab, Potomac River Test Range, ground plane complex, the gun line, the CBR (chemical, biological and radiological) Defense Laboratory."
Smith commended NSWCDD personnel for their eagerness, honesty and technical excellence, noting that "even with forced days off last summer, they came through in flying colors," passing every assessment. He also remarked on their volunteering, mentoring of new employees and local students, and their willingness to go into harm's way in theater to perform missions in support of the warfighter.
"It's not just the programs and facilities that are great, it's the people here that have made the difference," said Smith. "The employees here are at least as dedicated and patriotic as anybody in uniform. I'm incredibly proud of all of the employees here. In the three and a half years that I've been here, I've just been absolutely awestruck at what they do."
The NSWC commander credited Smith for improvements made under his leadership to make NSWC Dahlgren a more effective and efficient organization.
"You took on a full range of daunting challenges head on and delivered great things for this organization," said Creevy, recounting accomplishments, including 64 patents and a myriad of advancements in ship capabilities and new technical products and solutions for the Navy, Marine Corps, and Department of Defense.
Among the technological developments he attributed to Smith's leadership:
-- Griffin Missile System for Patrol Coastal class ships.
-- Battle Management System for special operations forces' gunships.
-- The 30mm gun module for Littoral Combat Ships.
-- Electromagnetic Railgun prototype launcher's muzzle energy of 32 mega joules while advancing pulsed power from single to multi-shot capable designs.
-- More than 700 computer program installations, including software supporting Ballistic Missile Defense and Aegis weapons systems.
-- Chemical, biological and radiological collective protection systems in ships, including more than 100 installations of biological agent detection and diagnostic systems.
-- Construction of an unmanned aerial vehicle runway.
-- Weapon system for the Precision Strike Package for Dragon Spear - 12 aircraft delivered within 36 months.
-- High energy laser systems including the Laser Weapons System.
-- Rapid counter improvised explosive device capability.
The admiral also recognized Smith for his leadership in expanding science, technology, engineering and mathematics (STEM) outreach to local middle and high schools with 60 NSWC Dahlgren science and technology STEM mentors actively engaged with students and educators.
Durant reports to NSWC Dahlgren Division following his tour as Standard Missile Program Office deputy program manager from September 2010 to September 2013.
"With your dynamic leadership and program management experience, I look forward to you taking the NSWC Dahlgren Team even farther in delivering cutting-edge science and engineering to our 21st century warfighters," Creevy told Durant.
Durant's career began in 1992, first serving as ordnance officer, main propulsion and damage control assistant aboard USS Jarrett (FFG 33). He graduated from Rensselaer Polytechnic Institute with a Bachelor of Science in physics. Durant attended the Naval Postgraduate School earning a master's degree in mechanical engineering while also satisfying the curricular requirements for applied physics.
For more news from NSWC Dahlgren, visit
www.navy.mil/local/NSWCDD/
.