By JOSHUA AXELROD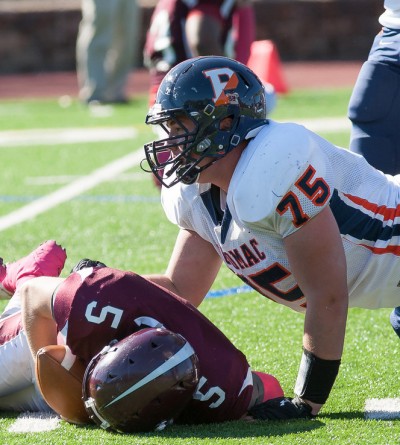 The 280-pound Colton Haney looms over his opponent after a sack. Photo courtesy of Colton Haney.
WASHINGTON—Colton Haney stands an intimidating six-feet-four-inches and weighs 280 pounds. The former nose tackle for The Potomac School and native of McLean, Va., also happens to be openly gay.
"I really don't fit the stereotype of the gay man," said the Cornell University freshman, who turns 19 Saturday. "Everyone thinks of small, quiet, really skinny. I'm large, loud, everything else."
Haney is part of a subgroup that is often overlooked when discussing ways to ensure safe high school environments for all: the lesbian, gay, bisexual and transgender athlete.
While bullying has always been a problem in high schools, harassment of LGBT students in particular has become a national issue following a few high-profile cases like that of Kenny Wolf, an openly bisexual 14-year-old freshman at Old Mills High School in Millersville who hanged himself last year after being bullied about his sexual orientation.
Maryland activists and policymakers do not have much data on LGBT athletes, but they are trying to learn more in order to understand the issues these students face.
"This is a fast evolving and recently emerging issue," said Ned Sparks, executive director of the Maryland Public Secondary School Athletic Association. "At this point in time, I don't think all coaches and athletic directors have had an opportunity to digest all the nuances involved in these issues."
LGBT athletes have been garnering more attention recently as more professional players have begun coming out publicly. In April, NBA player Jason Collins became the first openly gay athlete in one of the four major sports leagues (though he has not signed with a team since he came out).
In August, World Wrestling Entertainment's Darren Young came out, as well. And in October, the Portland Trail Blazers became the first NBA franchise to publicly back gay marriage.
Akil Patterson—an out athlete and director of programs for Athlete Ally, an outreach group for LGBT youths—said he did not feel comfortable enough to come out during his time at Frederick High School and the University of Maryland. He eventually left Maryland to play football at California University of Pennsylvania, where he first came out to his coaches and teammates.
"I wanted to live my truth and ultimately help save the next person's life," he said.
According to a 2011 Centers for Disease Control and Prevention study of sexual identity and health-risk behaviors in high schools across six cities, a median of 44.6 percent of gay or lesbian students and 39.1 percent of bisexual students played at least one school-sponsored sport.
"I think there is a growing awareness and sensitivity to issues involving LGBT youth," said David Esquith, director of the Office of Safe and Healthy Students in the U.S. Department of Education. "I think we're encouraged but we know there's a lot of work to do. There are a lot of instances out there that are still going on that need to be addressed."
In 2010, the U.S. Department of Education's Office of Civil Rights sent out a "Dear Colleague" letter highlighting its commitment to ending bullying in schools. When it came to sexual orientation, which is not a legally protected form of bullying, the letter read:
"And, of course, even when bullying or harassment is not a civil rights violation, schools should still seek to prevent it in order to protect students from the physical and emotional harms that it may cause."
Not everyone who is concerned with high school bullying thinks that singling out one group will do much good in the larger context of putting an end to the problem.
"Our perspective is we want to keep children safe," said Elliot Hopkins, director of educational services at the National Federation of State High School Associations. "If they have the ability and desire to participate in an athletic team or performing arts program, we want them to. We want to increase participation. To single out or just to focus on one type of student, we have not done that."
Haney said he was never a victim of bullying after he came out in December 2011, and that he was surprised by how supportive just about everyone in his life was of his decision.
"I felt uncomfortable at the beginning," he said. "But after I came out I noticed a lot of it was judgments I had made in my head. You think they're thinking things about you. It was like I created this unaccepting culture in my head that didn't exist."
That said, Haney was not surprised to hear about the NFL bullying controversy between Miami Dolphin offensive linemen Jonathan Martin and Richie Incognito.
"I think it's a shame," he said. "I find it sad but I'm almost not surprised that it happens in a football setting. I think it's a shame that I'm not surprised by it."
Fear of not being accepted by friends, family, teammates and coaches is why some LGBT athletes choose to keep their true selves hidden.
Transgender athlete Kye Allums said he also received a ton of support after coming out in high school. He eventually became the first openly transgender athlete (he is biologically female but identifies as a male) in NCAA Division I college sports history, playing for three seasons on George Washington University's women's basketball team.
"I feel like the world that we live in makes it hard for you to pick one thing," Allums said. "When you're someone who doesn't belong in a box, people pressure you to pick something."
Allums said he has become sort of a "LGBT youth superman" while educating high school and college students about the importance of LGBT acceptance in areas not known for their tolerance.
"I see more and more LGBT youth who are out, more so than I knew when I was in high school," he said. "There are still people who are struggling to be themselves, especially in areas that are very rural and conservative. I'm hopeful that those places are seeking help and education."
Esquith said his department is looking into ways to collect data to help it better understand issues surrounding bullying of LGBT high school students. He also mentioned stopbullying.gov, a Department of Education-run website that outlines policies regarding bullying and creating safe environments for LGBT youth.
"We want to create safe environments for all children including LGBT youth," he said.
Some school districts have already acknowledged the need to further protect LGBT students. For example: Montgomery County Public Schools directly lists sexual orientation (which falls under the category of "actual or perceived personal characteristic") as part of its definition of bullying, harassment and intimidation in its official anti-bullying regulations.
Patricia Daley, executive director of special education and student services for Howard County Public Schools, said that though her district does not have a policy specifically pertaining to the treatment of LGBT students, their rights are covered under an anti-bullying initiative called Vision 2018: Fulfilling the Promise of Preparation.
"We're really invested in creating a climate where all of our youth feel supported and respected regardless of sexual orientation," she said.
Patterson, who is on the advisory board for Athlete Ally, said he is trying to change the perception and educate coaches and kids on how to make LGBT students feel secure.
"We have to be as comfortable as we are in the space that we're at," he said. "Live to make sure you are protected and safe. I want the youth of Maryland to know they have an ally wherever they're at."