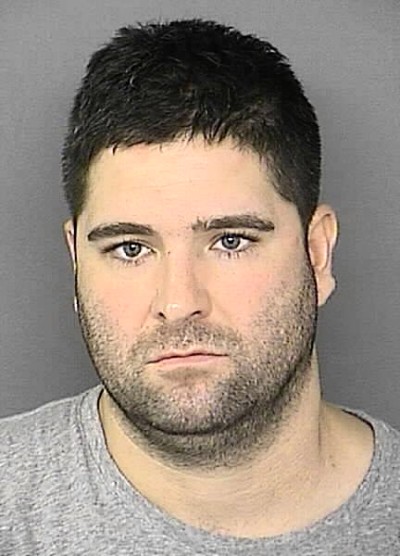 Sean Ross Alpert, age 37, of Brandywine, Md. Alpert has a very long arrest record dating back to at least 1994. (Arrest photo)
LEONARDTOWN, Md. (Oct. 27, 2013)—Police have identified and arrested the man who allegedly attacked and injured three other men outside the Charlotte Hall WAWA on Saturday night, October 5. Sean Ross Alpert, age 37, was transported to the St. Mary's County Detention Center, charged with 2 counts of 1st Degree Assault, 3 counts of 2nd Degree Assault and 1 count of Reckless Endangerment. Alpert is currently being held without bond. The District Court currently lists Alpert's town of residence as Port Tobacco, however, police maintain that he was residing in Brandywine at the time of arrest.
On October 5 at 9:29 p.m., sheriff's deputies responded to the Charlotte Hall WAWA for the report of a stabbing which occurred in the parking lot of the business. Deputies discovered two victims suffering from stab wounds and a wrist injury. A third victim was located and complained of a head injury. One victim was flown by Maryland State Police helicopter to Prince George's County Hospital Shock Trauma Center for treatment. The other two victims were treated locally and released.
Detectives from the Criminal Investigations Division (CID) assumed the investigation and were subsequently able to identify Alpert as the person who had inflicted the injuries to the victims. An arrest warrant was obtained by detectives, however, Alpert's whereabouts were unknown at the time. Information was later obtained through investigation that Alpert was staying at a residence in Brandywine and a search warrant was obtained for the residence.
On October 25 at 6:00 a.m., CID detectives, with the assistance of the Prince George's County Police Emergency Services Team, detectives from the Prince George's County Police Department, and agents from the Charles County Parole and Probation Division executed the warrant at a residence on Danville Road in Brandywine and took Alpert into custody without incident.
His case has been assigned number 6Q00056657 in the District Court for St. Mary's County. A search of the Maryland Judiciary database reveals Alpert has a long history of criminal charges dating back to at least 1994, which would account for his no bail status. Charges are too numerous to list, but include many instances of assault, burglary, robbery, and indecent exposure, among others.