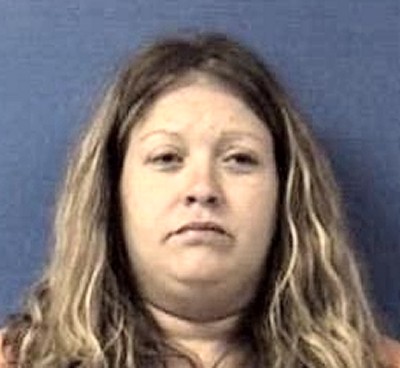 Melissa Schrae Bowen, age 33, of Prince Frederick was just indicted in connection with the death of two of her infant children. One was discovered in a trash bag in the trunk of a car at her address in Prince Frederick and the other was found in a suitcase in the attic of a residence in La Plata. (Arrest photo)
PRINCE FREDERICK, Md.—A Prince Frederick woman has been indicted for the deaths of two newborn infants. Melissa Schrae Bowen, age 33, was just indicted by a Calvert County grand jury on 1 count of 2nd degree murder and 2 counts of man slaughter. The deaths are believed to have happened at different times between October of 2011 and December of 2012.
On March 08, 2012 at approximately 5:45 p.m., a telephone call was placed to the Calvert Control Center about a deceased newborn infant found in a trash bag within the trunk of a vehicle located at 5442 Hallowing Point Road in Prince Frederick. Police determined that the infant was that of Melissa Schrae Bowen, who resided at that address. The infant was born between October 2011 and January 2012.
On November 16, 2012, officers of the Charles County Sheriff's Office located a deceased newborn infant in a suitcase in the attic of a residence located in La Plata. Police determined that the infant died in Huntingtown in Calvert County and was subsequently transported by Bowen to the La Plata residence. Police believed that the infant was born between January 2007 and December 2007.
The case was investigated by Detective Michael Mudd of the Calvert Investigative Team.
According to the Maryland Judiciary database, Bowen has had minimal run-ins with the law. She was charged with writing bad checks under $500 in 2004 and 2006. Both cases were placed on the Stet Docket, meaning that prosecution would be dropped if the defendant kept out of legal trouble for a period of time prescribed by the prosecutor.
In June of this year she was charged for not wearing her seat belt and failing to notify the state of an address change within 30 days in regards to her driver's license. She was fined $25 and $50 respectively.
Just a few years ago, in 2008, a Calvert County woman with a similar name--Renee D. Bowman--murdered her two daughters and froze them in a freezer in her home.