By Len Lazarick, Len@MarylandReporter.com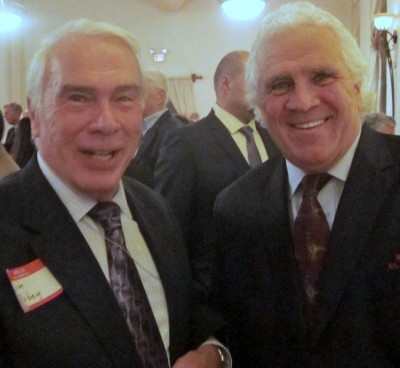 Senators Jim Robey, left, and Mike Miller. (Photo: MarylandReporter.com)
Democratic Senate President Mike Miller announced Wednesday night that Howard County Sen. Jim Robey will become majority leader of the Senate for Robey's final year. He replaces Sen. Rob Garagiola who resigned in August.
In the surprise announcement at a fundraiser for the man running to succeed Robey in District 13 — Del. Guy Guzzone — Miller also said that Guzzone would fill Robey's seat on the Senate Budget and Taxation Committee in 2015.
Miller was presuming not only that Guzzone would win the office — no other candidate is running at the moment — but that Miller himself would get reelected next year to his District 27 seat for an 11th term and continue his unprecedented reign as the Senate's presiding officer since 1987. At 26 years, Miller, 70, is already the longest serving Senate president in Maryland history and in the United States as well. All the men are Democrats.
Robey, 72, is finishing his second four-year term in the Senate. Before that the Howard County native served two terms as county executive, after rising through the ranks of the Howard County police force during a 32-year career, serving as police chief for his last seven years.
Several hundred people at the Savage Mill were on hand to help Guzzone, a second term delegate, kick off his race for the Senate seat. But the evening began on a somber note with a moment of silence for a Howard County police officer who had been seriously wounded just two hours beforehand less than two miles away near Route 1.
Howard County Sen. Ed Kasemeyer had served as majority leader before Garagiola, and now chairs the Senate Budget and Taxation Committee.
Changing a vote on speed cameras
Miller said he chose Robey "to honor Senator Robey's service," and because "he's the best."
Before making the announcement, Miller described an incident that showed how much he respected Robey's judgment.
Miller said there was a bill on the Senate floor to allow speed cameras, and the law Robey supported failed by one vote. He said Robey, the ex-cop, came up to Miller and said, "I need you to change your vote" so the bill could pass.
"I changed my vote," said Miller, "and the rest is history."