By John J. Joyce, NSWC Dahlgren Division Corporate Communications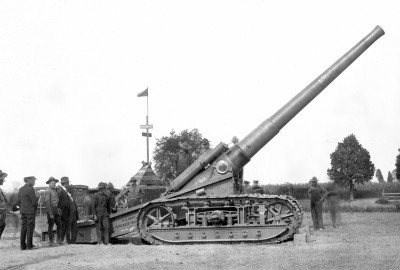 Navy military and civilian personnel celebrated the 95th Anniversary of the Dahlgren Naval base and Diversity Day on Oct. 16. The World War I era seven-inch 45 caliber tractor mounted gun (pictured in 1918) that fired the first test shot over the Potomac River Test Range marked the establishment of Dahlgren as a naval proving ground on Oct. 16, 1918. The gun was on static display throughout the combined Diversity Day and anniversary event. (U.S. Navy file photo/Released) [
Click here or on image for larger rendition
]
DAHLGREN, Va.—Navy scientists and engineers, famous for building the future fleet, looked back at their history while celebrating the 95th Anniversary of Dahlgren Naval base on Diversity Day Oct. 16.
Naval weapons technology artifacts, including the first gun tested at Dahlgren 95 years ago, bring history to life.
The World War I era seven-inch 45 caliber tractor mounted artillery gun on display seemed to relish its role in igniting the command's history, as Naval Surface Warfare Center Dahlgren Division (NSWCDD) Commander Capt. Michael Smith spoke to personnel gathered on the parade field.
"The game-changing technology developed here is truly amazing," said Smith. "From the first shot fired over the Potomac River Test Range in 1918, to today's testing and development of the electromagnetic railgun and everything in between, we have used our scientific and engineering expertise to impact our nation's defense at home and abroad."
Volunteers from groups such as the National Society of Black Engineers and the Hispanic Association interacted with government civilians, contractors and military members as diverse jazz, rhythm and blues, and African-Puerto Rican (Bomba) bands played music in support of the event's theme: "Reflecting the Past... Building the Future."
Many of the NSWCDD scientists and engineers in attendance routinely take their technical expertise to sea aboard ships and into war zones to ensure U.S. warfighters can fight, win and come home safely.
Today's leaders in pulsed power and directed energy were also among those who listened intently while Smith and the command's new technical director, Dennis McLaughlin, recounted the history of the base now known as Naval Support Facility Dahlgren.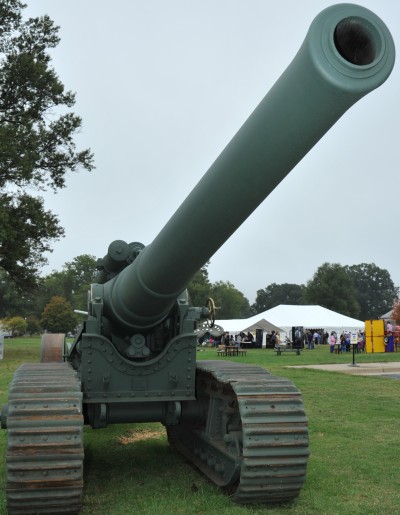 The seven-inch 45 caliber tractor mounted gun as it is today. (U.S. Navy Photo by Mike Fitzgerald/Released) [
Click here or on image for larger rendition
]
"Throughout the decades, the Dahlgren Naval Laboratory has been a leader in naval weapons technology," said Smith. "Looking back on the many achievements of the past helps us to plan for the scientific and engineering advancements that will propel the Navy into the future."
Smith and McLaughlin reflected on the impact of Dahlgren's diversity on the command's rich technological history.
"I have seen first-hand the benefits of hiring disabled veterans," said McLaughlin, who led the Navy's Disabled Veteran Outreach efforts and later served as director of the Naval Sea Systems Command Wounded Warrior Program. "I salute the Dahlgren Division human resource office and Equal Employment Opportunity office for your success in hiring wounded warriors and making sure they are assured of their value to the division and the greater Navy mission."
"We are indebted to men and women who came here from universities and labs all across the country bringing their diverse ideas and their fervor for advancing science, technology engineering and mathematics as well as operational support skills," said Smith. "We are also grateful to the many members of the local community who invested their futures in supporting the Navy at NSWC Dahlgren. Their diversity of thought coupled with their diversity of cultures and backgrounds have been key to our mission success."
Throughout its history, Dahlgren scientists and engineers provided the Navy's core technical capability for the integration of sensors, weapons, and their associated weapon and combat systems into surface ships and vehicles.
"What makes the warfare center here at Dahlgren particularly effective is our co-location with our sister commands," said Smith later in the day at another 95th Anniversary Celebration sponsored by the Dahlgren Heritage Foundation at the University of Mary Washington-Dahlgren Campus.
"By working together in partnership, we support the full spectrum of Navy defensive combat systems needs to counter the threats from ballistic missiles, to aircraft, to cruise missiles as well as providing strike capabilities and Naval Surface Fire Support," he said.
NSWC Dahlgren works closely with Aegis Ballistic Missile and Naval Air and Missile Defense Commands to provide everything from initial requirements to delivered products. For example, the command's scientists and engineers train Sailors from the Aegis Training and Readiness Center on how to use those products.
"Analysis of what is going on in the world is part of what another sister command here at Dahlgren does," explained Smith. "The Joint Warfare Analysis Center ensures optimal employment of our systems and leads to new requirements and new systems as the world changes. Through our collaborative efforts, we are providing innovative enhancements, analysis and designs that are making a difference to ensure optimal support for our warfighters and the Fleet."
The NSWCDD commander emphasized that it takes a diverse, multi-talented workforce to meet the needs of today's warfighters and provide innovation solutions for the demands facing our future Fleet. The command's ability to bring together the best and brightest professionals from a broad spectrum of backgrounds and cultures is critical to address today's challenges and ensure our readiness for the Navy's future mission needs across the globe.