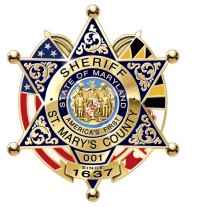 LEONARDTOWN, Md. (Oct. 19, 2013)—The St. Mary's County Sheriff's Office released the following incident and arrest reports.
DEATH OF INMATE AT ST. MARY'S COUNTY DETENTION CENTER: On October 13 at approximately 5:55pm, Melissa Mae Benton, age 37, was found unresponsive in her cell by detention center staff. Lifesaving efforts were immediately initiated until Leonardtown Volunteer Rescue Squad and Advanced Life Support personnel arrived and transported Benton to Medstar St. Mary's Hospital in Leonardtown. Benton was subsequently pronounced dead by Emergency Room staff.
Detectives from the St. Mary's County Sheriff's Office Criminal Investigation Division and the Office of Professional Responsibilities are conducting a joint investigation. An autopsy was conducted and the results are pending the completion of the Medical Examiner's report. No apparent signs of foul play were present inside Benton's cell. Benton's next of kin have been notified.
TRAFFIC ENFORCEMENT OPERATION - 38 STOPS IN 3 HOURS: On October 17 between 3:00pm and 6:00pm, a comprehensive traffic enforcement operation was conducted by officers assigned to the Special Operations Division and the Patrol Division. The funding for the operation was provided by the Maryland Highway Safety Office under the Traffic Safety Grant. The operation focused on speed enforcement, occupant protection, distracted driving, and pedestrian safety and concentrated in the Charlotte Hall area of St. Mary's County. Four officers conducted 38 traffic stops, which resulted in 28 traffic citations, 16 warnings, and 1 alcohol violation.
DUI/DWI Arrests:
9/27/2013 Recoberto NMN Baez, 29, of no fixed address, by Deputy Beishline
10/03/2013 Patricia Josephine Fields, 22, of Leonardtown, by Deputy First Class Rogers
10/04/2013 Edward Joseph Vause, 49, of Leonardtown, by Corporal Moritz
10/11/2013 Daniel Paul Miller, Jr., 30, of Greenbelt, by Corporal Moritz
Disclaimer: In the U.S.A., all persons accused of a crime by the State are presumed to be innocent until proven guilty in a court of law. See: http://somd.me/presumed-innocence. Additionally, all of the information provided above is solely from the perspective of the respective law enforcement agency and does not provide any direct input from the accused or persons otherwise mentioned. You can find additional information about the case by searching the Maryland Judiciary Case Search Database using the accused's name and date of birth. The database is online at http://somd.me/mdcasesearch . Persons named who have been found innocent or not guilty of all charges in the respective case, and/or have had the case ordered expunged by the court can have their name, age, and city redacted by following the process defined at http://somd.me/expungeme .