By ZAINAB MUDALLAL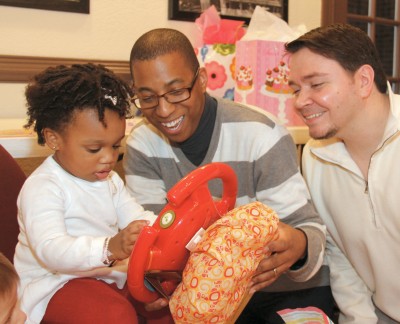 Chris Maulden-Locke (center) and Doug Maulden-Locke (right), a same-sex couple, adopted their daughter Mya (left) in Montgomery County in February. (Photo courtesy of the Maulden-Lockes)
COLLEGE PARK, Md.—It took Doug and Chris Maulden-Locke eight months to get through pre-adoption background checks and an extensive home study and just 10 days to find a baby to adopt. But the same-sex couple wasn't sure what would happen when they went before a Montgomery County judge in February.
"We were in suits, [our future daughter Mya] was in a dress, the birth mother was there, and the judge said, 'I reviewed the paperwork and I see no other choice but to approve this adoption,'" said Doug Maulden-Locke, 38. "It was the happiest words we heard all year."
The couple may not have heard those words in a Montgomery County courtroom a few years earlier.
Until recently, it was rare for judges to approve same-sex adoptions anywhere in Maryland but Baltimore city. But courts in other jurisdictions have recently become more open to approving adoptions for same sex couples, said Janice Goldwater, director of Adoptions Together, an adoption agency and resource for families in Maryland, Virginia and Washington, D.C.
"It used to be judge-by-judge, but that's changed," she said, pointing to the broader cultural acceptance of gay and lesbian families and the legalization of same-sex marriage as contributing factors. "As a society we have moved towards a lot more recognition where we see many different forms of stable, functional and healthy family systems, and we see legal protections now following."
In Maryland, there is no explicit prohibition on same-sex couple adoptions, which led courts to interpret their legality differently. For years, Baltimore City Circuit Court was the only court consistently approving same-sex adoptions, legal experts said.
"[The Baltimore City Circuit Court] was a very gay friendly jurisdiction," said Jennifer Fairfax, an adoption attorney in Silver Spring who used to encourage her clients to file same-sex adoption cases only in Baltimore city. "It was just understood among legal professionals that Baltimore city would accept these cases."
Michelle Zavos, a Maryland adoption attorney for 27 years, said the Baltimore City Circuit Court became a same-sex friendly jurisdiction after it used its discretion to waive a home study for second parent adoptions — the adoption of a child by the second parent in the home who is not married to the legal parent of the child.
"[The court] said it seemed unreasonable to do an additional home study because the couple lives together," Zavos said.
Baltimore city is no longer the only same-sex friendly adoption jurisdiction. Harvey Schweitzer, an adoption attorney at Schweitzer & Scherr, LLC, said he can't think of a judge turning these cases down in any of the counties he regularly practices in.
"I think those days are gone," he said. Schweitzer, along with Fairfax and Zavos, said successful same-sex adoptions are happening across the state in counties that were reluctant in the past.
Doug and Chris Maulden-Locke were aware of this growing acceptance when they decided to adopt a child in 2010. The couple was living in Centreville, Va., where an adoption by an unmarried same-sex couple wouldn't be recognized. So in 2010, they moved to Rockville. Maryland law allows any person to adopt and courts have found that unmarried couples have the right to adopt.
The Maulden-Lockes didn't have to wait long for a birth mother to choose them after they passed a background check and a home study.
"We had been told that a biracial, same-sex couple should expect to wait two to three years," to find a willing birth mother, Doug Maulden-Locke said. "But it was just 10 days later, which is unheard of."
And the courts were just as efficient in completing their adoption. In fact, Chris Maulden-Locke said, the judge was happy to grant the unmarried, same-sex couple the adoption of their now 2-year-old daughter, Mya.
"I don't get a lot of happy occasions in court," the judge said, according to Chris Maulden-Locke.
The Maulden-Lockes are part of a surge of same-sex couples seeking adoption. The proportion of same-sex couples who have adopted children nationally increased nine percentage points between 2000 and 2009, according to the Williams Institute, which specializes in sexual orientation and gender identity law.
"I think in the past two years, with same-sex marriage passing, it's certainly become much more acceptable, much more understood," said Chris Maulden-Locke, 37. "I'm just amazed. We've never had any sort of discomfort or made to feel awkward in preschool or daycare."
In Maryland, more than 20 percent of same-sex couples are raising children, the 12th highest rate in the country, according to the 2010 U.S. Census.
Schweitzer said that heterosexual parents interacting with a growing number of gay parents at schools is one subtle factor contributing to their acceptance as parents.
"They're seeing that gay people have a great track record of parenting," he said.
Gay and lesbian parents are just as likely as heterosexual parents to provide supportive and healthy environments for their children, according to statistical data from the American Medical Association and American Psychological Association.
When she started working as an adoption attorney 27 years ago, Zavos said that around 10 percent of her same-sex clients were raising children together. Now, it's about 80 percent.
The recognition of same-sex marriage in Maryland has given families an additional level of legal security, legal experts said.
"I think more and more gay people are raising children and [their] building families is more and more accepted," Zavos said. "The fact of marriage coming along is a reflection of that."
Chris and Doug Maulden-Locke, who have moved back to Virginia, said they are planning to legally get married. And if it didn't require them to leave Virginia, they would adopt again.
"Virginia is in the process of changing, but it's about 20 years behind Maryland," Goldwater said. "We're seeing instances in Virginia just like how Maryland started in Baltimore City a number of years ago. It's a reflection of changing social times."