By KATE ANDRIES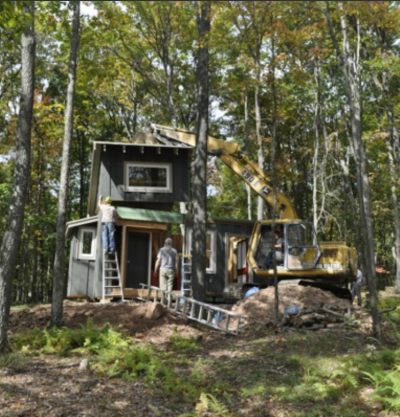 Making the install of the hob more difficult is Blue Moon Rising's rule that no trees be disturbed in the installation process. Trees are only removed to fit hobs as a last resort and, if removed, are worked into the design of the cabin. (Photo: Kate Andries)
OAKLAND, Md.—In an age when homes include four car garages, media rooms and man caves, one western Maryland company is bucking the trend.
Hobbitat
, a construction company not affiliated with "The Lord of the Rings," specializes in tiny houses made of reclaimed and reused materials. Each of their houses—called hobs—are around 250 square feet and can sleep up to four people. Each hob takes between six and eight weeks to build and can be moved to its new site in a single day.
The only design rule: the structure must be able to fit out the door of their shop.
"It takes a special kind of person to live in a tiny house," said Sue Thomas, co-founder of Hobbitat.
Over the last 30 years, the size of single-family homes have risen dramatically, driven by rising incomes and low mortgage rates. After the 2007 housing crash, the median size of a U.S. home dipped as homeowners could no longer afford to live as largely.
But the median home size quickly rebounded to pre-crash levels, 2,315 square feet in 2012, as the economy recovered, according to the National Association of Home Builders.
Bill Thomas, co-founder of Hobbitat and Sue Thomas' husband, said he is building for people who more interested in eco-friendly living than in big spaces. He is hopeful that more people will come around to the idea that smaller is better — especially as energy and land costs continue to rise.
"People have these crazy homes," Bill Thomas said. "Two people in like 14,000 square feet."
The Thomases decided to think smaller, moving their operation to an old storage lot outside of Oakland and bringing the entire construction process indoors. This extended construction time year-round and helped avoid the traditional pitfalls of building outdoors in a harsh winter.
The Hobbitat team travels from Buffalo, N.Y., to Charlottesville, N.C., to find materials for their micro-cabins, buying wood from old railways and salvaging doors from old Baltimore neighborhoods. Anything can be repurposed in a hob. Old air horns and buckets are turned into light fixtures, stained glass from old buildings is rescued and installed in windows.
"We started in historic restoration, that's where our heart was," Bill Thomas said. "This is the perfect application."
When asked where the best place to find materials for the hobs, Bill Thomas said it would be like divulging his best fishing spots.
Every hob is made from completely salvaged or repurposed materials (save for the flooring of companion outdoor showers, which is water-resistant faux wood). Reusing old materials ensures that nothing is wasted and that the environment isn't disturbed by new construction.
The hobs are about 11 percent of the size of the median house size in the U.S., meaning less energy is required to heat and cool them.
And while the bigger-is-better trend doesn't appear to be slowing nationwide, sustainable and eco-friendly techniques are gaining momentum with homeowners and builders.
Despite the fact that a smaller house is one of the best ways to shrink energy costs, this new focus on sustainability doesn't necessarily translate to reduced square footage. People are concentrating on making the most energy efficient home possible without consideration for size, said Carri Beer, senior associate at Brennan Architects.
"The trend is that people want to be ultra sustainable," Beer said. "People want to do more than just be LEED silver."
LEED, or Leadership in Energy & Environmental Design, provides a framework for implementing green design in new and existing buildings. Most green architects are LEED certified and apply their standards to projects.
A Sustainable Getaway
With a background in historical restoration and more than 30 years in the building industry, the Thomases were always interested in using reclaimed materials, but an interest from local ecotourism project Blue Moon Rising launched the company into a very niche market.
"Blue Moon Rising was the catalyst to moving toward all sustainable building," Sue Thomas said.
Established in 2008 with the hope of providing Garrett county with an entirely eco-friendly vacation destination, education center and meeting place, the Blue Moon Rising project enlisted Hobbitat to construct 13 cabins for the property in 2011.
Tucked into 15 acres of land just off Deep Creek Lake, Blue Moon Rising operates with three main ideas in mind: reclaimed, recycled, or recyclable. This ensures that every material used has the smallest impact on the Earth or can be reused or recycled.
Living roofs—made of succulents and grass—cover two of the retreat's main buildings while each cabin is constructed of salvaged materials. Cars are left near the front building of the compound and guests are issued an electric golf cart, charged with solar panels, to drive to their cabins.
With three more hobs to build for the resort, Hobbitat and Blue Moon Rising hope to have the campus fully operational by Memorial Day. Currently, stays can only be booked from September through March.
The Thomases plan to open their services to anyone interested in owning a hob once the Blue Moon Rising project is completed. Ideally, they said, they'd like to see clusters of hobs sprout up throughout western Maryland.
While no two hobs are alike, the Thomases look forward to the puzzle each cabin presents from both a design and building aspect.
"Each time it's a bit of a challenge," Sue Thomas said of building the hobs. "It's like a rebirth."