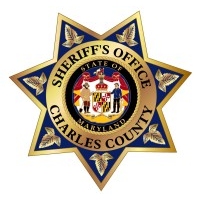 LA PLATA, Md. (Oct. 8, 2013)—The Charles County Sheriff's Office released the following incident and arrest reports.
FATAL CAR CRASH: On October 8 at 8:40 a.m., Sharon Marie Sams, 30, of La Plata, was driving a Buick Regal in the 9300 block of Parkway Subdivision Road in La Plata when her car suddenly left the roadway and struck a tree. Sams and her two children—a 6-year-old boy and a 5-year-old girl—were flown to area hospitals. Sams died a short time later as a result of her injuries. Her two children were admitted to the hospital with serious injuries which do not appear to be life-threatening. At this time, it is not clear why Sams lost control of her vehicle. Pfc S. Stanley of the CCSO Traffic Operations Unit is investigating.
CCSO CONTINUES TO SEEK IDENTITY OF ROBBERY SUSPECT/ADDITIONAL SURVEILLANCE PHOTOS OBTAINED: The Charles County Sheriff's Office is releasing additional surveillance photos of the man wanted in connection with the robbery of a bank. Crime Solvers is offering a cash reward for the identification and arrest of the suspect. On Friday, Oct. 4 at 11:51 a.m., a man approached a bank teller in the 3200 block of Crain Highway in Waldorf. He man passed a note indicating a robbery and demanded money. The teller complied and the suspect fled. Forensic investigators collected evidence and also obtained surveillance photos of the suspect.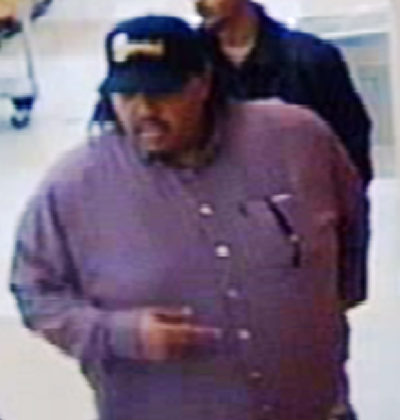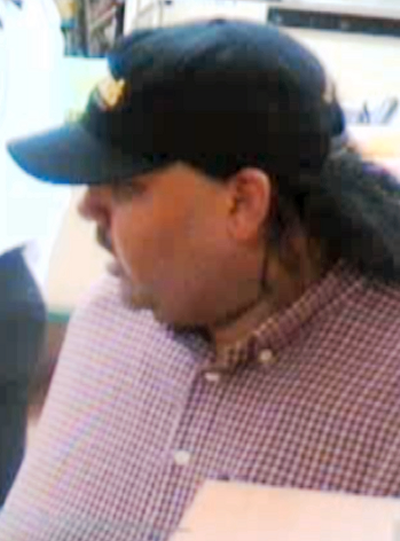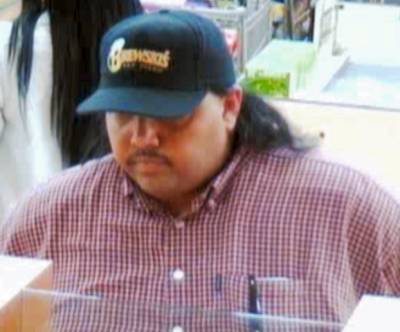 The suspect is described as a Hispanic male, 5'8"-5'10", approximately 300 lbs., with long black hair, and a mustache. At the time of the robbery, he was wearing a red plaid shirt, gray pants, black shoes and a baseball cap with the word "Brewskies" on it. Anyone with information about the suspect's identity is asked to call Detective Celia at (301) 609-6518. Callers wishing to remain anonymous may contact Crime Solvers at 1-866-411-TIPS or Text CHARLES + your tip to CRIMES or visit
http://www.ccso.us
to submit a web tip. A cash reward of up to $1,000 is being offered.
DESTRUCTION OF PROPERTY: On Oct. 6, during the overnight hours, unknown suspects destroyed mailboxes on Maxwell Drive, Barney Drive, Gallant Lane and Bryantown Drive in Hughesville. Officer D. Arends is investigating.
CAR CRASH: On Oct. 5 at 8:10 p.m. officers responded to Strauss Avenue near Woodland Drive in Indian Head for the report of a single motor vehicle car crash. When officers arrived, they observed a pick-up truck had crashed into a tree. The driver, a 55-year-old man from Virginia, was found inside the truck with multiple injuries. He was transported to a hospital where he was admitted in serious condition. Cpl. S. Stanley of the CCSO Traffic Operations Unit is investigating.
CAR CRASHES INTO SCHOOL BUS: On Oct. 4 at 8:37 a.m., the driver of a Nissan passenger car was on Prince Frederick Road (Route 231) near the intersection of Brandywine Road (Route 381) in Hughesville when she struck the back of a school bus carrying 19 elementary school students. The driver of the Nissan - a 42-year-old woman - was transported to Charles Regional Medical Center by ambulance and the students were transported to CRMC by a second bus. No one had serious injuries. The cause of the crash is under investigation. Cpl. M. Clark of the Traffic Operations Division is investigating.
TWO CHARGED WITH ASSAULT ON POLICE OFFICERS AND THEFT: On Oct. 3 at 6:57 p.m., officers responded to Mall Circle for the report of a shoplifting. Officers located the suspects fleeing the area in a car and initiated a traffic stop. A male occupant fled the car on foot but was apprehended by Officers J. Morales and R. Kimble. As they tried to arrest him, the suspect resisted and assaulted the officers. During the arrest, a female occupant in the car jumped on one of the officers and struck him with her knee. Both suspects were eventually subdued. Randolph Eugene Woodland, 20, and Maryann Noreen Taruc, 19, both of Waldorf, were arrested and charged with two counts of second-degree assault on a police officer, resisting arrest, failure to obey a lawful order, theft, and destruction of property. Officers J. Morales and R. Kimble made the arrests.
CCSO TO HOST ZOMBIE INVASION 5K: The zombie apocalypse is coming to Charles County, but fear not: These zombies will have hearts of gold.
The Charles County Sheriff's Office (CCSO), Charles County Fraternal Order of Police (FOP) Lodge 24 and Charles County Correctional Officers Association (CCCOA) are hosting a Zombie Invasion 5K on Sun., Nov. 17, at Laurel Springs Regional Park in La Plata to raise money for Special Olympics Maryland. The invasion is a fun, family-friendly event in which participants "transition" into zombies before completing the 5K. It is not to be confused with a zombie chase, in which participants run from zombies.
Registration will be open between 8 and 10 a.m. During the registration period, volunteer makeup artists from the Port Tobacco Theater and local high school drama clubs will help the participants make the transition into zombies by applying zombie makeup. Participants may also "zombie-fie" themselves. The 5K begins at 10 a.m.
The zombie participants can choose to run the 5K as a race or to take a more leisurely, family-friendly, zombie-like pace. Strollers are welcome. The start times will be staggered to allow faster zombies to lead the way. The race portion for runners will be conducted using chipped timing. The runners may obtain their registration packets from the FOP Lodge located at 10285 Rosewick Road in La Plata on Nov. 15 from 6-8 p.m. or on Nov. 16 from 10 a.m.-1 p.m.
The cost to register is $25 for adult zombies and $20 for child zombies between 11 and 17 years undead. There is no registration fee for zombies 10 years undead or younger. Zombies may register online at
http://zombieinvasion5K.com.kintera.org
and those who register before Nov. 8 will receive a T-shirt. T-shirts are available in adult and youth sizes. Only a limited supply of T-shirts will be available during the race-day registration so zombies who want to secure a commemorative T-shirt are encouraged to register early. Zombies may register as individuals or as zombie teams.
A light lunch will be served when the zombies return to the park. After the 5K, the CCSO, FOP and CCCOA will present awards for the 5K race to the top zombie finisher in each age category, the overall top female zombie finisher, the overall top male zombie finisher and the top fundraising zombie team. They will also hold a zombie beauty contest.
The CCSO has a map of the infected area – the 5K route – on its website. The right westbound lane of Rosewick Road will be closed to traffic during the race to protect the runners and walkers. It is not expected to significantly impact traffic. Zombie police officers will provide traffic direction.
Citizens with questions about the event may contact Sgt. Proctor at 240-299-5207 or proctora(at)ccso.us. Those who would like to make a monetary donation in lieu of participating in the 5K may mail it to Charles County Sheriff's Office/Attention Sgt. Proctor/PO Box 189/La Plata MD 20646; be sure to indicate the donation is for Special Olympics Maryland. Local businesses interested in donating services may also contact Sgt. Proctor. For more information about Special Olympics Maryland, visit
http://www.somd.org
.
Disclaimer: In the U.S.A., all persons accused of a crime by the State are presumed to be innocent until proven guilty in a court of law. See: http://somd.me/presumed-innocence. Additionally, all of the information provided above is solely from the perspective of the respective law enforcement agency and does not provide any direct input from the accused or persons otherwise mentioned. You can find additional information about the case by searching the Maryland Judiciary Case Search Database using the accused's name and date of birth. The database is online at http://somd.me/mdcasesearch . Persons named who have been found innocent or not guilty of all charges in the respective case, and/or have had the case ordered expunged by the court can have their name, age, and city redacted by following the process defined at http://somd.me/expungeme .