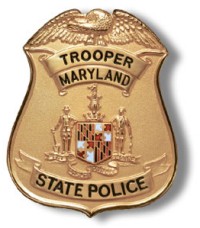 PRINCE FREDERICK, Md. (Oct. 7, 2013)—The Prince Frederick Barrack of the Maryland State Police (MSP) today released the following incident and arrest reports.
PRINCE FREDERICK BARRACK HIRING DISPATCHER: The Maryland State Police Barrack in Calvert County is currently seeking to hire a dispatcher, known as a Police Communications Operator (PCO). The job of PCO entails monitoring police radio communications, dispatching Troopers to calls for service, checking records through police databases, answering telephone calls and other related responsibilities. The job requires the ability to type and multi-task. PCO's work rotating shifts (7am-3pm, 3pm-11pm, 11pm-7am). The salary range is $29,000 to $45,000 per year, with access to various health benefits. If interested, go to
http://www.jobaps.com/MD/sup/bulpreview.asp?R1=13&R2=002703&R3=007
. Read the job announcement carefully and follow the steps to apply. The hiring process involves a typing test, interviews, background investigation, polygraph exam, and other steps. Please note that the closing date is October 18, 2013 at 4pm.
DESTRUCTION OF PROPERTY: On 9/30/2013 at 9:03 pm, Trooper First Class Esnes responded to the 1500 block of Walters Lane in Prince Frederick for a reported destruction of property. A deck on the rear of the residence was damaged. There was an area on the floor of the deck where burn marks were present. It appears that a firework of some other incendiary device was ignited on the deck. The Fire Marshal's Office is assisting with the investigation. Investigation continues.
THEFT FROM VEHICLE: On 10/2/2013 at 9:12 pm, Trooper Barlow received a theft complaint. The victim's unlocked vehicle was parked at World Gym in Prince Frederick. A wallet was stolen from the vehicle. Investigation continues.
THEFT: On 10/3/2013 at 1:28 pm, Trooper First Class Casarella responded to the Food Lion in Prince Frederick for a reported theft. The victim noticed that his wallet was missing after exiting from the public bus. Investigation revealed that Amber M. Camp, 33 of Prince Frederick, had found the wallet and activated the debt card found inside to make various purchases. Investigation continues and charges are pending.
THEFT FROM VEHICLE: On 10/3/2013 at 3:29 pm, Trooper First Class Casarella responded to Radcliffe Dr. in Huntingtown for a reported theft from a vehicle. The victim's unlocked vehicle was entered and a wallet and sunglasses were stolen. Investigation continues.
POSSESSION OF COCAINE: On 10/4/2013 at 8:04 pm, Trooper First Class Lewis stopped a vehicle on Rt. 2 south of Mt. Harmony Lane in Sunderland for traffic violations. A strong odor of burnt marijuana was emitting from inside the vehicle. A search of the vehicle revealed that the passenger, Daniel M. Thompson, 33 of Owings, was in possession of marijuana, crack cocaine and drug paraphernalia. He was arrested and incarcerated at the Calvert County Detention Center.
POSSESSION OF MARIJUANA: On 10/6/2013 at 2:09 am, Trooper First Class Esnes was performing a premise check at the Fastop in Lusby and observed an unattended vehicle with the engine running. When the driver returned to the vehicle he was contacted and the Trooper observed Marijuana inside the vehicle. Bronson L. Easton, 24 of Lusby, was arrested and taken to the MSP Barrack in Prince Frederick for processing.
DUI ARRESTS:
Efrain D. Ayala Iraheta, 36, of Lexington Park, arrested on 10/02/2013 @ 01:00 am by TFC W. Costello
Royce L. Woods, 69, of Ft. Washington, arrested on 10/02/2013 @ 05:00 pm by TPR. S. Barlow
Tyrone M. Gibson, 49, of Bowie, arrested on 10/07/2013 @ 12:16 am by TPR. S. Matthews
Disclaimer: In the U.S.A., all persons accused of a crime by the State are presumed to be innocent until proven guilty in a court of law. See: http://somd.me/presumed-innocence. Additionally, all of the information provided above is solely from the perspective of the respective law enforcement agency and does not provide any direct input from the accused or persons otherwise mentioned. You can find additional information about the case by searching the Maryland Judiciary Case Search Database using the accused's name and date of birth. The database is online at http://somd.me/mdcasesearch . Persons named who have been found innocent or not guilty of all charges in the respective case, and/or have had the case ordered expunged by the court can have their name, age, and city redacted by following the process defined at http://somd.me/expungeme .