Two Motorcyclists Dead After Inattentive SUV Driver Turns in Front of Bike
On Sunday, October 6, at approximately 12:45pm, members of the Calvert County Sheriff's Office Patrol Bureau and Crash Reconstruction Team responded to Plum Point Road (MD 263) in the area of Twin Oak Lane in Huntingtown for a report of a motor vehicle collision involving a motorcycle. Upon arrival on the scene, units located a silver 2013 Ford Escape partially in the westbound lane of Plum Point Road. A 2012 Harley Davidson motorcycle was located on its side in the center of the westbound lane of Plum Point Road. The vehicles were involved in an apparent head-on collision. Motorcycle operator and passenger were both ejected from the motorcycle and were found in the westbound lane of Plum Point Road to the west of the area of impact.
Preliminary collision investigation revealed the following:
A 2012 Harley Davidson motorcycle, operated by Bruce Monteith, of Mechanicsville, was traveling westbound on Plum Point Road. The motorcycle was also occupied by Gloriana Beauvais, of Hughesville. As the motorcycle approached the intersection of Plum Point Road and Twin Oak Lane, a 2013 Ford Escape, operated by Sherry Horseman of Chesapeake Beach, was traveling eastbound on Plum Point Road. In an attempt to enter a private drive, the 2013 Ford turned left in front of the motorcycle causing the Harley Davidson to collide with the Ford. During the collision both occupants of the Harley Davidson were ejected. The area of impact was located in the center of the westbound line of Plum Point Road.
Sherry Horseman sustained minor injuries during the collision and was treated on the scene and released. Bruce Monteith was pronounced dead while en route to Calvert Memorial Hospital by the emergency medical personnel. Monteith was transported to the Office of the Chief Medical Examiner where an autopsy will be performed. Gloriana Beauvais was transported to Calvert Memorial Hospital where she was pronounced dead by the emergency room staff.
Driver inattention and failure to yield the right of way are the factors which contributed to this collision. The final cause of the collision is under investigation.
Calvert County Sheriff's Office Crash Reconstruction Team is conducting a complete investigation into the events that led up to the collision and is requesting that any information related to this investigation to be forwarded to DFC. R. Wilson of CRT at wilsonrs@co.cal.md.us or 410-535-2800.
Suspect DUI Driver Hits Tractor-Trailer Truck Head-on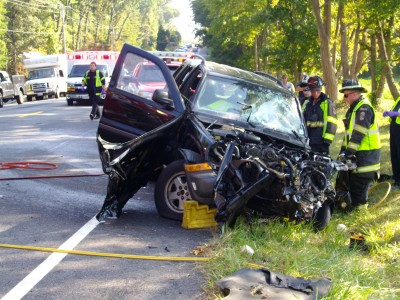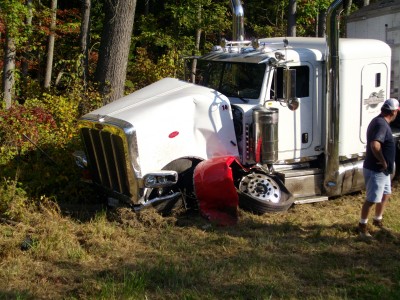 The Jeep Liberty in the top photo drove into the path of the pictured tractor trailer, causing severe damage to both vehicles. Police say the Jeep driver, Karen Ann Yarbrough Boyce, 39 of Barstow, has a charge pending against her for driving while under the influence of alcohol and/or drugs pending toxicology results. (Photos courtesy of Calvert Co. Sheriff's Office)
On Saturday, October 5 at 9:44 a.m., units from the Calvert County Sheriff's Office responded to Md. Rt. 231 at Hallowing Point Park for the report of a serious motor vehicle crash. DFC W. Wells determined that a 2005 Jeep Liberty being driven by Karen Ann Yarbrough Boyce, 39 of Barstow, had been traveling east on Md. 231 toward Prince Frederick and, for unknown reasons, crossed into oncoming westbound traffic. Boyce's vehicle traveled into the path of an eighteen-wheel truck that had been going westbound.
Boyce was determined to be at fault. She was flown by Trooper 7 to Prince George's Hospital Center Shock Trauma Unit in Cheverly for treatment of non-life-threatening injuries. The driver of the truck was not injured.
A charge against Boyce of driving while under the influence of alcohol and/or drugs is pending toxicology results. Additional charges are forthcoming.
Anyone with information is asked to contact DFC Wells at 410-535-2800.