Award Benefits Southern Maryland Food Bank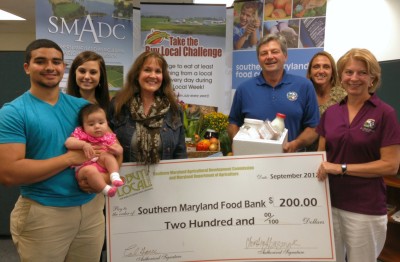 Left to right: Ricky Echeona, son-in-law and Layla, grandaughter (baby); Emma Echeona, daughter; Desiree St. Clair Glass – BLC Contest Winner; Buddy Hance – Maryland Agriculture Secretary; Brenda Di Carlo – Director, Southern Maryland Food Bank; Christine Bergmark – Executive Director, SMADC. (Submitted photo)
HUGHESVILLE, Md—Agriculture Secretary Buddy Hance and Christine Bergmark, Ph.D., Executive Director of the Southern Maryland Agricultural Development Commission (SMADC) recognized Desiree St. Clair Glass of St. Mary's County, as the winner of the 2013 Buy Local Challenge competition "Take the Challenge Outdoors" at a presentation held recently at the SMADC office in Hughesville. The Buy Local Challenge photo contest, co-hosted by SMADC and the Maryland Department of Agriculture, encouraged participants to find creative ways to prepare local foods and beverages 'outdoors', and share their experience on-line.
St. Clair Glass's winning entry included a variety of photos of her family and friends enjoying meals made with all-local ingredients purchased from farms and farmer's markets close to her home in Chaptico. Photographs featured a delicious picnic spread for two, an ice cream social, simple outdoor suppers and family snack times. "A week of shopping at local shops, produce stands, and farms was so much fun," said St. Clair Glass. "I have to say, everything I ate was delicious!"
St. Clair Glass received a prize basket filled with locally produced farm products valued at $200. In addition, a $200 check was presented in the winner's name to The Southern Maryland Food Bank, received by Food Bank director Brenda Di Carlo. The donation will be used to buy fresh produce for families in need in Southern Maryland. "We are pleased to be able to help the Food Bank gain more access to fresh farm foods for the community," commented Bergmark.
The Buy Local Challenge was conceived and launched in 2007 by SMADC to highlight the benefits of buying local to Maryland's economy and environment. Each year, the Buy Local Challenge enjoys tremendous popularity across Maryland, thanks in part to signature events by Governor Martin O'Malley and the Maryland Department of Agriculture. "We hope that the increasing consumer demand for local products continues to generate excitement and support for our local farms," said Secretary Hance. "Buying locally preserves farmland, protects the environment, bolsters local economies, and provides wholesome, nutritious, great-tasting fresh food."