215 Students, 76 Scholarships, Southern Maryland Generosity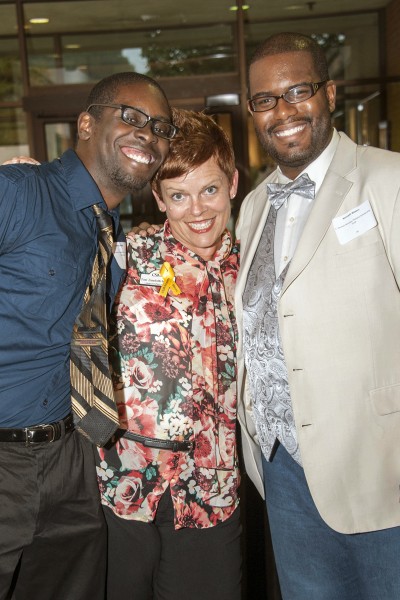 Among the 215 CSM students receiving scholarships for the 2013-14 academic year are Jeremy Hunter, left, and Kenneth Waters Jr., right, who joined CSM Advancement Lead Executive Assistant Toni Zanelotti Kruszka, center, at the scholarship reception Sept. 12 in the Fine Arts Center on the La Plata Campus. Hunter received the Jerome A. Zanelotti Sr. Memorial Scholarship named for Kruszka's father. Waters received the C. Emmitt Woodey Theatre Scholarship. (Photo: CSM)
LA PLATA, Md.—The College of Southern Maryland celebrated the 2013-14 academic year scholarship awardees and donors on Sept. 12 during a reception at the Fine Arts Center on the La Plata Campus.
"The CSM scholarship program is one of the most important tools we have to help [students] fulfill their dreams," CSM Board of Trustees Chair Michael Middleton told those attending the reception. "The scholarship program is about someone who you probably don't know, or probably never even heard about, let alone actually met. It's someone who believes in you and who believes that you can, and will, make a difference in this world. Your efforts helped you qualify for a scholarship and what we, the donors, want is that you remember the reason a scholarship was created for you. We want you to remember so that someday, you can help someone else achieve their dreams," Middleton said to students.
Speaking on behalf of the scholarship recipients was CSM theater major Jeremy Hunter of La Plata. "Like many of my fellow students, college is a challenge financially as well as academically. Most students, like me, work several jobs to support themselves while going to school full time. These scholarships allow us to focus on classwork-and for me rehearsing for a show. I don't know if you realize it or not, but when you award a scholarship, you are not only providing a financial commitment but you are also telling us that you have faith in our abilities.
"This scholarship tells me that you have faith in me as a student and as an actor. And the best way to thank you for this scholarship is to show you that I am indeed worthy of it, which is exactly what I plan to do," Hunter said.
CSM President Dr. Brad Gottfried recognized the individuals and organizations that provide scholarships. "This evening I am honored to recognize the partners and supporters who have wisely invested in their college and its students to help keep education affordable and accessible within Southern Maryland. This in turn enhances the health and welfare of our local economy," Gottfried said.
Referencing the multiple pages listing scholarships and students who received them, Gottfried said, "CSM benefits from the most generous people in Southern Maryland, who are all willing to establish scholarships so that students can afford college and finish with no or low debt." Gottfried cited statistics that indicate that 30 percent of the students who take out college loans never finish college and have nothing to show for that debt. Student loan debt is exceeding $1 trillion which is more than consumer loan and credit card debt, and that costs for higher education at four-year colleges have increased more than healthcare costs. "What does that mean for our future," Gottfried asked.
CSM is taking great strides to educate students, their spouses and parents about the opportunity and wise decision to save more than $29,000 by starting college at CSM rather than a public or private university, said Gottfried.
"We are your gateway to the University of Maryland, UMBC (University of Maryland Baltimore County), Penn State, Johns Hopkins, Towson, University of Vermont and thousands of other great colleges and universities. Our students start here and transfer to colleges in more than 40 states. And, we want students to commit to finish here, too. By earning an associate's degree or certification before transferring or going into a specialized career field, students can walk away as an alum with a credential that means something for your time and money," Gottfried said.
A 1975 alumnus of CSM and chair of the CSM Foundation, Jay Lilly told scholarship recipients that he has firsthand knowledge of the support of the Southern Maryland community because, "Just like you, I received my start here, too, with a scholarship years ago."
Lilly went on to graduate from CSM, and transfer to Georgetown University where he earned a bachelor's degree.
The following are scholarships awarded for the 2013-14 academic year
Adjunct Faculty Scholarship (Merit): Hannah Arnold, Lisa Kreps
Adjunct Faculty Scholarship: Christine Beatty, Abreellen Brown
Albert L. Elder Jr. Family Memorial Scholarship: Christal Andrews, James Rhine, Jr.
Alpha Phi Alpha Fraternity, Inc., Sigma Alpha Lambda Chapter Scholarship: Christopher Graham
Anna Mae Ziencik Hess Memorial Scholarship: James Byrnes, Lori Matsudaira
Brad and Linda Gottfried Against All Odds Annual Scholarship: Kiara Leer
Brad and Linda Gottfried Art Scholarship: Ryan Murray
Brock Nikolas Guerrieri Memorial Scholarship: Brittany Bowen
C. Emmitt Woodey Theatre Scholarship: Kenneth Waters
Calvert Chamber of Commerce Annual Scholarship: Juana Davidson, Kenneth Howard, Gregory Orr
Calvert Chamber of Commerce Endowed Scholarship: Noelle Swann
Calvert County 350th Anniversary Celebration Endowed Scholarship: Sarnair Butler
Castles and Foundations Scholarship: Jordan Alvey, Tiffani Blackwell, Helga Hertlein, Rani Irvin-Brady, Cynthia Murphy
Charles County Nursing and Allied Health Programs Scholarship: Jennifer Beard, Carrie Catalan, Melissa Morgan, Heather Santimays, Jennifer Young
Charles County Woman's Club Scholarship: Laquita Ames
Charles Robert Posten Memorial Scholarship: Florencio Torres
Chiaramonte Hope Scholarship: Jessie Adkins, Brittany Bowen, Christina DeNeale, Rochelle Douglas, Kimberlyn Grant, Henry Harris, Colleen Newsome, Demetra Rice, Lindsey Thurman, Jason Williams
Christopher Chinault Scholarship: Tara Arnold, Carrie Catalan
Coldwell Banker Jay Lilly Real Estate Scholarship for Construction Trades & Industrial Training: Eric Wheeler
Concerned Black Women of Calvert County - Women in Transition Scholarship: Valerie Dowell
Connie Kite Memorial CSM Nursing Scholarship: Valerie Dowell
Country Inn & Suites Hospitality Scholarship: Kristen Smith
Cove Point Natural Heritage Trust Ruth Mathes Scholarship: Lindsey Thurman
CSM Alumni Association Scholarship: Elizabeth LaGoy
CSM Foundation - Realize Your Potential Scholarship: Dillon Banis, Andrew Boone, Dana Brown, Jenna Courville, Wendy Currie, Erica Dispenza, Stephen Dodson, James Hawkins, Rachel Hoffman, Kellee Johnson, Kristen Keefer, LaShonna Patterson, Alisa Roberts, Danea Spriggs, Jordan Stearns, Christina Thompson, Bonnie Warring, Joseph Welch, Ashley Yonek
CSM Foundation Scholarship for Returning Adults: Lahquisha Brooks, Meghan Crout, Cynthia Duck, Nichole Estep, Melissa Fenwick, VonCeal Foote, Kenneth Howard, David Maines, Lori Simpson, Bobby White
CSM Prince Frederick Campus Student Association Scholarship: Shelly Brentlinger
Dennis Lake Smith Memorial Scholarship: Daniel Chaloux, Liza Dalrymple
Dr. Nallan Ramakrishna Scholarship: Anila Howard, Tre Wilburn
Ethelmae M. Lilly Nursing Memorial Scholarship: Tyler Hayden
Fanny Louise Sullivan Sine Henderson: Kristin Herman, Jamie Moore, Angel Young
Gary D. Smith Memorial Scholarship: Annabel Russell
Hank Willoughby Foundation, Inc. Scholarship: Michelle Downs, Pia Evans, Wendy Gray, Michelle Khan, Jennifer Loveless, William Sweeney
Harland and Lula Cravat Scholarship: Nieda Billard, Erin Brown, Shannon Gilroy, Ayana McWillis, Harsh Patel
Helen and Henry Lawlor Scholarship: Joseph Beard, Mandi Ransome
Helen and Mickey Todd Scholarship: Carrie Catalan, Farrah Proctor-Darbo, Ayanna Surratte
Home Towne Real Estate Scholarship: Sarnair Butler, James Eppley, Amanda Foster, Oscar Navarro, Cory Russell, Deveraux Smith, Tytiana Thomas
Jack Love Sprague Scholarship: Elizabeth Gaston
James C. Mitchell Nursing Scholarship: Crystal Garner, Melissa Morgan
Jane Hale Sypher Scholarship: Tikisha Hall, Ann Jenkins, Katie Wathen
Jaye S. Ives Freedom Scholarship: Denise Collins
Jerome A. Zanelotti, Sr. Memorial Scholarship: Jeremy Hunter
Joanne Zwick Nursing Scholarship: Natasha Terry
Joseph F. Rice & Mae Irene Fauth Memorial Scholarship: Emily Brooks
Joseph H. Morton Memorial Fund for Construction Trades and Industrial Training Scholarship: Ronald Griffin
Joseph W. Patak Annual Memorial Scholarship: Ajibade Adedoja, Hailey Allen, Sara Farahani, Nikki Fasula-Conklin, Zakary Monin
Kavetsky Family Foundation Endowed Scholarship: Robert Gomez
L.K. Farrall III Memorial Scholarship: Diamone Hailstock-Williams, Lena Sciarratta, Alaina Wall, Keishla Williams, Sherwannah Young
La Plata Lions Club/Milton M. Somers Scholarship: Matthew Bellerose, Alysha Goldsmith, Tyler Lee, Shanara Lucas, Carly Wedding
LaVerda Francis and Richard Blair Scholarship: Christopher Graham, Alison Meador, Emily Quade
Louis P. Jenkins, Sr. Endowment Scholarship: Melissa Lauber, Markel Saunders, Heather Thomas
Marguerite Cox Family Memorial Scholarship: Marquita Chambers, Sean Frost
Maurice J. McDonough Scholarship: Nicholas Bears, Portia Collins, Brandi Dade, Kelly Dingess, Rochelle Douglas, Kiera Evans, Carley Flowers, Chad Goodrich, Andrea Muschette, Petra Ruffin, Rebecca Stone, Jamie Willett
McNelis Family Scholarship: Monica Jones
McWilliams Family Endowed Scholarship: Erin Lanham
Neale Chaney Slater Memorial Endowed Scholarship: Elizabeth Jenkins, Lenyk Scott
NRL Federal Credit Union - Southern Maryland Blue Crabs Strikeout Scholarship: Brian Linder
NRL Federal Credit Union Scholarship: Candice Cook
Nu Zeta Omega Scholarship of the Alpha Kappa Alpha Sorority, Inc.: Amanda Barber, Jtrenee Bryant, Brittany Hall
Old Line Bank Business Program Annual Scholarship: Kimberly Bailey, Alexander Colaciello, James Day, Raymond Drayer, Sarah Farmer, NeShea Jenifer, Dakota Johnson, Solimar Rivera, Carla Swann, Jessica Wonneman
Patty Schwier and Norma LeFleur Scholarship: Keirstynn Romero-Willie
Professor Debra L. Wyvill Teacher Education Scholarship: Megan Alexander
Rebekah Compton Boone and Vivian Bounds Edelen Scholarship: Lauren Kogok
Russell Gordon Croft Endowed Scholarship: Rachel Eaton, Brittany Fallin, Grant Homan, Alexis Proctor, Brittany Young
St. Mary's County Government Endowed Scholarship: Kimberly Dubinsky, Ann Jenkins, Leonard Valley, Audra West, Lauren Young
St. Mary's County Government Health/Medical Scholarship: Denise Collins, Dawn Drury, Elizabeth Gaston, Corey Hayden, Tyler Hayden, Lindsay Herington, Shelby Jacobs, Carlos Jelinek, Erica Kittrell, Alexandra Knott, Danielle Niblett, Sarah Oakley, Michael Rice, Yhamira Santiago, Sunny Schemery, Miranda Stauffer, Molly Stine, Christina Terry, Natasha Terry, Bryant Thomas
Sidney John Francis Waugh, Sr. Memorial Scholarship: Grant Homan
Southern Maryland Women's League Scholarship: Kellee Johnson, Monica Jones, Natasha Terry
Susan N. Behmke Legacy Scholarship: Melissa Sager
Tau Lambda Lambda Chapter Omega Psi Phi Fraternity Scholarship: Daniel Ledbetter
The Arc of Southern Maryland Communication/Media Studies Scholarship: Annabel Russell
The Arc of Southern Maryland Nursing Scholarship: Pamela Douglas
Thomas F. Goldsmith, III Endowed Scholarship: Jennifer Street, Jamie Willett
Thomas J. Murray Memorial Scholarship: Crystal Leon
Tony Hungerford Memorial Art Scholarship: Joanna Espiritu, Helga Hertlein, Timothy Hodge, Ashley Saldana
Tri-County 40 and 8 Nursing Scholarship: Angela Pedone
Tri-County Maryland Alumnae Chapter of Delta Sigma Theta Sorority, Inc. Scholarship: Anastasia Saldana
Veterans Educational Endowed Scholarship: Chad Goodrich
Virginia B. Darrow Memorial CSM Nursing Scholarship: Kristen Mills
Walter B. Grove II Memorial Scholarship: Ashley Saldana
Western Charles County Community Association, Inc. Scholarship: James Linkous
WFA Cancer Survivors and Friends Cancer Scholarship: Melissa Sager
Wigberto "Willie" Martinez, Jr. Memorial Scholarship: Doralee Kusztos
William D. Bauer Memorial Pre-Engineering Scholarship: Viviana Diaz
Zonta RAVE Walk Scholarship in Memory of Gayle A. Cooke: Four scholarships awarded
For information on contributing or creating a scholarship at the college, visit
http://www.csmd.edu/foundation/
.
To see a complete listing of scholarships, visit
http://www.csmd.edu/Financial/awards.html.