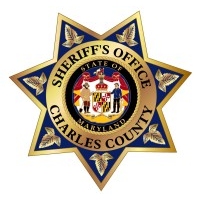 LA PLATA, Md. (Oct. 4, 2013)—The Charles County Sheriff's Office released the following incident and arrest reports.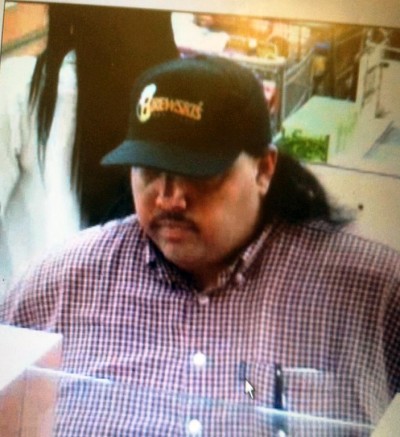 If you know this alleged robber, please contact Crime Solvers at 1-866-411-TIPS.
CRIME SOLVERS OFFERING CASH REWARD FOR IDENTITY OF ROBBERY SUSPECT: The Charles County Sheriff's Office is seeking the public's assistance in identifying a man responsible for a robbery. On Friday, Oct. 4 at 11:51 a.m., a man entered a grocery store in the 3200 block of Crain Highway in Waldorf and approached a teller at a bank branch located inside the store. The man passed a note indicating a robbery and demanded money. The teller complied and the suspect fled. Forensic investigators collected evidence and also obtained a surveillance photo of the man.
The suspect is described as a Hispanic male, 5'8"-5'10", approximately 300 lbs., with long black hair, and a mustache. At the time of the robbery, he was wearing a red plaid shirt, gray pants, black shoes and a baseball cap with the word "Brewskies" on it. Anyone with information about the suspect's identity is asked to call Sgt. T. Miner at (301) 932-2222. Callers wishing to remain anonymous may contact Crime Solvers at 1-866-411-TIPS or Text CHARLES + your tip to CRIMES or visit
http://www.ccso.us
to submit a web tip. A cash reward of up to $1,000 is being offered.
ACCIDENTAL SHOOTING INVOLVING 4-YEAR-OLD CHILD: On Oct. 3 at 5:50 p.m., officers responded to the 10800 block of Hopewell Place in La Plata for the report of an accidental shooting involving a child. When officers arrived, they spoke with the child's grandmother who said she was outside watching her grandson play. He got into a car which was parked in the driveway and suddenly she heard a gunshot. The child ran to her and she noticed he had an injury to his head. Emergency personnel arrived and the child was flown to a hospital where it was learned he had a graze wound; his injury is not life-threatening. Detectives assigned to the Criminal Investigations Division responded and recovered the gun inside the car. A computer check revealed the gun - a 9mm semi-automatic handgun - is registered to a member of the child's family. At this point, it is not clear why the gun was in the car and the investigation is continuing. For clarification, the owner of the gun is not a law enforcement officer.
WHEEL AND RIM THEFT: On Oct. 3 at 2 a.m., unknown suspects stole the wheels and rims from a Chevy Trailblazer in the 700 block of Barrington Drive in Waldorf. The victim heard his dogs barking and as he investigated he saw a dark-colored truck speeding away from the area. He found his vehicle resting on decorative landscaping stones taken from his yard. Pfc J. Clagett is investigating.
THEFT OF AIR CONDITIONER: Between Oct. 1- Oct. 3, someone stole an air conditioner from a vacant house in the 6700 block of Amherst Road in Bryans Road. Pfc K. Burger is investigating.
BURGLARY: On Oct. 2 at 4:45 a.m., someone broke into a business in the 2500 block of Old Washington Road in Waldorf and stole a small amount of cash. The scene was processed and evidence was collected. Officer B. Clark is investigating.
ALCOHOL AND DRUG VIOLATIONS: On Oct. 1 at 9:30 p.m., officers were conducting foot patrols in the Huntington area in Waldorf. One person was charged with alcohol violations and another person was charged with possession of marijuana. Cpl. J. Burroughs, Cpl. G. Barnhart and Sgt. A. Schwab issued the citations.
Disclaimer: In the U.S.A., all persons accused of a crime by the State are presumed to be innocent until proven guilty in a court of law. See: http://somd.me/presumed-innocence. Additionally, all of the information provided above is solely from the perspective of the respective law enforcement agency and does not provide any direct input from the accused or persons otherwise mentioned. You can find additional information about the case by searching the Maryland Judiciary Case Search Database using the accused's name and date of birth. The database is online at http://somd.me/mdcasesearch . Persons named who have been found innocent or not guilty of all charges in the respective case, and/or have had the case ordered expunged by the court can have their name, age, and city redacted by following the process defined at http://somd.me/expungeme .