By JASON RUITER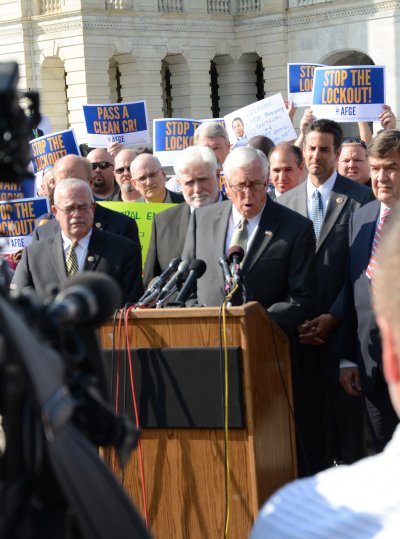 House Minority Whip Steny Hoyer, D-SoMd, speaks outside the U.S. Capitol Tuesday. Hoyer and his fellow congressmen are responsible for putting the United States of America in debt to the tune of
$16,747,478,675,335.18
as of Oct. 1, 2013,
according to the Treasury Dept.
Others place the debt as high as $100-200 Trillion Dollars when unfunded obligations for Social Security and Medicare are factored into the equation. (Photo: Jason Ruiter)
WASHINGTON (Oct. 2, 2013)—Federal employee unions and members of Congress from Maryland, D.C. and Virginia—all Democrats—denounced House Republicans and lamented the financial pain of federal employees caused by the government shutdown during a press conference outside the Capitol Tuesday afternoon.
In a political game of chicken, congressional Republicans sought this week to pass a spending bill that also defunded the Affordable Care Act, known as Obamacare. Because Democrats refused to budge and Republicans held fast on the legislation to defund Obamacare—parts of which went into effect Tuesday—nearly 800,000 federal employees were furloughed from work.
"We're here because we're concerned about the operation of the United States government," said House Minority Whip Steny Hoyer, D-Mitchellville. "We represent a lot of federal employees" in our districts.
Hoyer called Republicans "irrational" and "unreasonable" and said that if members of Congress were a board of directors in a public corporation, "stockholders would fire us."
In addition to Hoyer, Rep. Elijah Cummings, D-Baltimore; Rep. John Delaney, D-Potomac; Democratic D.C. Delegate Eleanor Holmes Norton, and Rep. Jim Moran, D-Va., were surrounded by members from several unions carrying signs that read "We Want To Work!"
"Many see this is as a beltway issue" which is not true, said Colleen Kelley, president of the National Treasury Employees Union. "Eighty percent (of federal employees) work outside the beltway."
Polling conducted by Quinnipiac University last week shows that although Americans are ambivalent about Obamacare, three-fourths disapprove of using a government shutdown as political leverage.
"Republicans have dug themselves a hole," Cummings said.
Rep. Andy Harris, R-Cockeysville, Maryland's lone Republican member of Congress, could not be reached for comment Tuesday. The voicemail in his Washington office had a message saying: "In case of a lapse of appropriated funds…normal operations of the United States government would be suspended until funding is restored...we may not be able to answer the phone."
Harris released a statement Monday saying he'd vote in favor of a resolution which would delay an individual mandate to purchase an Obamacare health insurance package.
Octavia Hall, president of the American Federation of Government Employees Local 1401 at Joint Base Andrews Naval Air Facility in southern Maryland, showed up to work Tuesday, opened a letter, and read that she wasn't needed.
"To be honest, they always threaten to do something like this. We were kind of in disbelief," Hall said. Hall, who lives in Hoyer's district in Waldorf and has worked for the federal government for 20 years, lives paycheck to paycheck.
"That means I have no savings account. Nothing set aside," she said. "It really hit in reality. It changed the way I think about life and how I spend my money and how I need to save more."
Including Tuesday, Hall has been furloughed seven days this year. She plans to look for a second job to offset the costs and says her co-workers are in similar situations.
According to the Quinnipiac University poll, 58 percent of Americans blame both parties for the gridlock in Washington. Twenty-eight percent blame Republicans and 10 percent blame Democrats.
"I think everybody played a part in this," Hall said. "We're just like pawns."