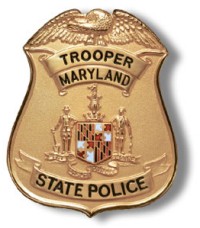 PRINCE FREDERICK, Md. (Sept. 30, 2013)—The Prince Frederick Barrack of the Maryland State Police (MSP) today released the following incident and arrest reports.
POSSESSION OF MARIJUANA: On 9/24/2013 at 12:25 am, Trooper First Class Casarella stopped a vehicle for traffic violations on Rt. 4 near HG Trueman Rd. in Lusby. While speaking with the driver a strong odor of marijuana was detected emitting from inside the vehicle. A probable cause search revealed marijuana. Anthony A. Smalls Jr., 23 of Lusby, was arrested and transported to the MSP Barrack in Prince Frederick for processing.
MOTOR VEHICLE THEFT: On 9/25/2013 at 12:00 pm, Trooper Palumbo responded to Bunky's Charter House in Solomons for a reported vehicle theft. The victim advised that his vehicle was stolen while parked for several days near the establishment. The vehicle was later located parked in another area of Solomons. Investigation continues.
UNAUTHORIZED USE OF MOTOR VEHICLE: On 9/28/2013 at 9:12 pm, Trooper First Class Esnes took a report for an unauthorized use of a motor vehicle. The victim allowed an acquaintance to use her vehicle and the vehicle has not been returned. Several contacts have been made with the acquaintance and he refused to surrender the vehicle back to the victim. Investigation continues.
THEFT/SHOPLIFTING: On 9/28/2013 at 11:08 pm, Trooper First Class Logsdon responded to the BP gas station in Dunkirk in reference to a reported theft. A heavy set white male wearing a black t-shirt and gray shorts entered the store and stole two bottles of Grey Goose Vodka. A short time later the Sheriff's Dept. responded to a similar incident at the Fast Stop in Chesapeake Beach. A suspect has been identified as Ryan C. Grogan, 18, and a criminal summons has been applied for charging him with theft.
POSSESSION OF HEROIN: On 9/29/2013 at 5:42 pm, Trooper First Class Merkelson, while assigned to work at the Calvert County Fair, was alerted by a concerned citizen that a subject was possible using drugs in the parking lot inside a vehicle. TFC Merkelson approached the vehicle and contacted the driver, Rhonda J. Wilkerson, 35 of Chesapeake Beach. The Trooper observed a hypodermic syringe in the passenger seat. A search of the vehicle revealed Heroin and other drug paraphernalia. Wilkerson was arrested and incarcerated at the Calvert County Detention Center.
DUI ARRESTS:
Christopher R. Brick, 29, of Middleburg, Florida, arrested on 09/25/2013 @ 01:38 am by TFC B. Wiesemann
Unnamed Juvenile, 16, of Lusby, arrested on 09/27/2013 @ 09:32 pm by TFC J. Oles
Disclaimer: In the U.S.A., all persons accused of a crime by the State are presumed to be innocent until proven guilty in a court of law. See: http://somd.me/presumed-innocence. Additionally, all of the information provided above is solely from the perspective of the respective law enforcement agency and does not provide any direct input from the accused or persons otherwise mentioned. You can find additional information about the case by searching the Maryland Judiciary Case Search Database using the accused's name and date of birth. The database is online at http://somd.me/mdcasesearch . Persons named who have been found innocent or not guilty of all charges in the respective case, and/or have had the case ordered expunged by the court can have their name, age, and city redacted by following the process defined at http://somd.me/expungeme .