By SYDNEY PAUL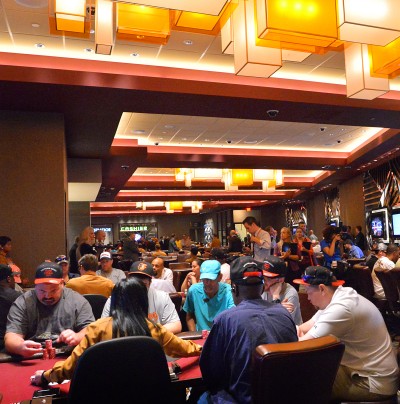 Casino patrons play at Maryland Live Casino's new poker room. (Photo courtesy of Maryland Live Casino)
COLLEGE PARK, Md. (Sept. 25, 2013)—The new poker room at Maryland Live, one of the East Coast's largest, is allowing more local poker pros to find high-stakes games close to home, contributing to the development of a strong poker scene in the state.
"Maryland players have been waiting to call somewhere home," said Baltimore resident and professional player Matthew Pecker. "It's awesome that's there's a casino in our backyard."
Working as a professional poker player in the U.S. once required residing in Las Vegas or Atlantic City. But the spread of online poker and the emergence of casino poker rooms in 36 states has given professionals a chance to establish a base of operations elsewhere.
And professionals who hail from Maryland said the new 52-table Maryland Live poker room, which opened in August, has made it easier to earn a living close to home.
The new poker room is a great place to earn easy money because many players aren't as experienced, said North Potomac resident and semi-professional poker player Mikey Stotz.
"It's much better than Charles Town where at 10-person tables, maybe eight of the players were pros," he said of the West Virginia's Hollywood Casino at Charles Town Races. "At Maryland Live, you're more likely to be the better player."
Maryland Live designed the poker room for both professionals and amateurs, the casino's director of poker Mike Smith said in an emailed statement. The casino offers both low-stakes and high-stakes cash games and tournaments.
"We always need to pay attention to all player concerns, whether professional or pleasure player because without one, we wouldn't have the other," he said. "Our intention is to make The Poker Room a place for everyone to play and feel comfortable."
The quality of service is better than many other high stakes poker rooms, Stotz said. In interviews, professional poker players listed complimentary drinks, a high-stakes poker lounge, and a team of masseuses as items that set it apart from other high profile casinos.
The features and atmosphere that have drawn in local professional players has also brought out people who usually play online or in home games. Professional players from as far away as Indiana and Alabama have also come to check out the poker room, Pecker said.
"It's going to be one of the most popular casinos in the country," he said.
Maryland is already home to several high profile poker players. Last year, Laurel resident Greg Merson won $8.5 million in the 2012 World Series of Poker's Main Event. North Potomac native Phil Galfond also won a World Series of Poker bracelet in 2008. And Odenton resident Scott Palmer is a rising star in Pot Limit Omaha among high stakes online players, according to Poker.org, which tracks professional poker players.
Maryland Live's success with the local community poker is coming at the expense of other poker rooms in the region, like the ones at Hollywood Casino at Charles Town Races and the Casino at Delaware Park, professional players said.
Stotz said he often played at Hollywood Casino at Charles Town Race's poker room and 45 out of 50 tables would be full during prime playing times. Since Maryland Live's room opened, he's only seen around 11 tables in play at the Charles Town casino during the same time period.
A spokesperson for the Hollywood Casino at Charles Town Races declined to comment.
"To be honest, they are going to slowly fade away, because Maryland Live has a state-of-the-art facility," Pecker said.