By John J. Joyce, NSWC Dahlgren Division Corporate Communications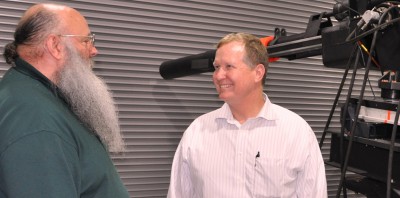 DAHLGREN, Va. - (Sept. 12) - Walter 'Bud' Reel, Naval Surface Warfare Center (NSWC) Dahlgren Division engineer, left, briefs NSWC Chief Technology Officer Kirk Jenne on the 105mm trainable gun system's capabilities during the Navy Warfare Center Command Technology Team's visit to Dahlgren Sept. 12-13. The gun is a highly accurate computer controlled mount that is part a suite of weaponry enabling aircraft to provide fire support to warfighters who are in close contact with the enemy. Jenne leads the 21-member Command Technology Team chartered to enrich collaboration that solves warfighter problems and meets critical naval, joint, national and coalition needs. (U.S. Navy photo by John Joyce/Released)
WASHINGTON—Top Navy technology leaders anticipate a myriad of new collaboration opportunities will arise to impact technical innovation and combat systems aboard ships as a result of their visits to Naval Warfare Center divisions across the nation, the officials announced Sept. 20.
The Naval Warfare Center Command Technology Team - 10 chief technology officers and 11 lead customer advocates - have been brainstorming with scientists and engineers across the country from Naval Surface Warfare Center (NSWC) Corona Division in California to NSWC Dahlgren Division in Virginia to determine where collaboration opportunities exist.
"The Command Technology Team is getting out to the warfare center labs with eyes and hands on the different capabilities that our divisions have," said Capt. Mike Graham, NSWC headquarters staff member. "These site visits will help us improve our ability to rapidly innovate in response to complex technical problems warfighters are facing. Visiting in person gives us a better understanding of our true capabilities than a technical capability report's wording can convey."
NSWC Commander Rear. Adm. Creevy chartered the 21-member team - representing eight Naval Sea Systems Command (NAVSEA) Warfare Center Divisions - to enhance collaboration that solves warfighter problems and meets critical naval, joint, national and coalition needs.
"The breadth of support that the warfare centers provide to the warfighter is very impressive when you take the time to understand its impact," said NSWC Chief Technology Officer Kirk Jenne, the Command Technology Team Lead. "Our Command Technology Team is looking at the technologies the Navy is supporting and we are gaining insight at the warfare centers where unique solutions reside for challenging warfare environments."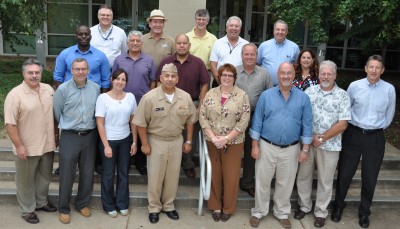 DAHLGREN, Va. - (Sept. 13) - Members of the Navy Warfare Center Command Technology Team break for a group photo during their visit to Naval Surface Warfare Center Dahlgren Division Sept. 12-13. The team is visiting with scientists and engineers at eight warfare center divisions across the country to enhance collaboration that improves the Navy's ability to rapidly innovate in response to complex technical problems warfighters are facing. (U.S. Navy photo by John Joyce/Released)
So far, the Command Technology Team collaborated with warfare center division scientists and engineers at NSWC Carderock in Maryland and Philadelphia, Pa., NSWC Crane, Ind., NSWC Port Hueneme, Calif., NSWC Corona, Calif., Naval Undersea Warfare Center (NUWC) Newport, R.I., and NUWC Keyport, Wash., in addition to NSWC Dahlgren.
"The initial visit schedule will provide a baseline for the team's overall understanding of each warfare center's capabilities, its major customer base, and its strategic direction," said Andrew Horne, NSWC Dahlgren Division Lead Customer Advocate during the team's Sept. 12-13 Dahlgren visit. "This understanding will provide the underpinning of the team's focus and capacity as we share resources across the warfare centers in support of the warfighter."
At Dahlgren, scientists and engineers briefed Jenne, Graham and the technology team on technical programs and technologies, including Aegis Ballistic Missile Defense combat support; chemical, biological and radiological defense; electronic warfare integration and architecture; directed energy, unmanned systems, electromagnetic railgun, metamaterials, and cyber warfare defense.
"We are getting smarter on solving fleet problems in a collaborative fashion," said Graham. "That's our impetus. We are looking for opportunities to collaborate across divisions for the right knowledge and skills to address fleet problems."
The Command Technology Team is scheduled to conclude its tour of the warfare centers with visits to NSWC Divisions at Indian Head, Md., and Panama City, Fla., in addition to sites in Norfolk and Virginia Beach, Va., in October and November.
The NAVSEA Warfare Centers, comprised of NSWC and NUWC, supply the technical operations, people, technology, engineering services and products needed to equip and support the fleet and meet the warfighters' needs. The warfare centers are the Navy's principal research, development, test and evaluation assessment activity for surface ship and submarine systems and subsystems. Moreover, the warfare centers provide depot maintenance and in-service engineering support to ensure the systems fielded today perform consistently and reliably in the future.