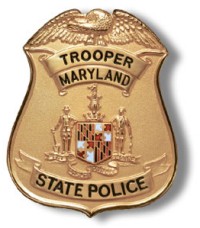 PRINCE FREDERICK, Md. (Sept. 23, 2013)—The Prince Frederick Barrack of the Maryland State Police (MSP) today released the following incident and arrest reports.
SEPTEMBER 2013 IS "HUNGER ACTION MONTH" IN MARYLAND: The Maryland State Police and the State Highway Administration have teamed up with the Maryland Food Bank to promote and assist with a Food Drive Drop Off. Every Maryland State Police Barrack in the state and various SHA locations are dedicated food collection sites during the month of September. In Calvert, donations may be brought to the Prince Frederick Barrack at 210 Main Street in Prince Frederick. For a list of specific items that are accepted, please visit
http://www.mdfoodbank.org
or
http://www.mdsp.org
. You may also pick up a brochure containing this information at the Prince Frederick Barrack. The Maryland Food Bank is a 501©3 non-profit organization and donations are tax deductible.
THEFT: On 9/15/2013 at 5:58 pm, Trooper Matthews responded to the 7000 block of Broomes Island Rd. in St. Leonard for a reported theft. A black Ipad Mini Tablet was stolen from the victim's residence while workers were in the home. A suspect has been developed and the investigation continues.
THEFT FROM VEHICLE: On 9/20/2013 at 12:10 pm, Trooper Follin responded to the 3600 block of Harlequin Ct. in Huntingtown for a reported theft. An unlocked vehicle was entered and a black/chrome colored 120 gigabyte Apple Ipod and some coin change were stolen. Investigation continues.
DESTRUCTION OF PROPERTY: On 9/21/2013 at 11:05 am, Trooper First Class Esnes responded to the Food Lion in Lusby for a reported destruction of property. An electrical box owned by SMECO was defaced with spray paint. Investigation continues.
POSSESSION OF MARIJUANA: On 9/21/2013 at 02:39 pm, Trooper First Class Esnes stopped a vehicle for traffic violations on Western Shores Blvd. off Rt. 4 in St. Leonard. While speaking with the driver, the odor of burnt marijuana was emitting from within the interior of the vehicle. A probable cause search revealed marijuana. Pieter J. Traas, 52 of Solomons, was arrested and transported to the MSP Barrack in Prince Frederick for processing.
THEFT: On 9/21/2013 at 6:58 pm, Trooper First Class Oles responded to the 4400 block of Virginia Avenue in Prince Frederick for a reported theft. The victim reported that quantities of prescription medications were stolen from a purse inside the home. A possible suspect has been developed. Investigation continues.
DUI ARRESTS:
Kathy D. Gateau, 57, of Ft. Washington, arrested on 09/16/2013 @ 10:55 pm by TFC S. Casarella
Rory T. Jones, 24, of Huntingtown, arrested on 09/20/2013 @ 10:49 pm by TFC B. Wiesemann
Shawnte S. Hall, 36, of Prince Frederick, arrested on 09/21/2013 @ 02:01 am by TFC D. Saucerman
Disclaimer: In the U.S.A., all persons accused of a crime by the State are presumed to be innocent until proven guilty in a court of law. See: http://somd.me/presumed-innocence. Additionally, all of the information provided above is solely from the perspective of the respective law enforcement agency and does not provide any direct input from the accused or persons otherwise mentioned. You can find additional information about the case by searching the Maryland Judiciary Case Search Database using the accused's name and date of birth. The database is online at http://somd.me/mdcasesearch . Persons named who have been found innocent or not guilty of all charges in the respective case, and/or have had the case ordered expunged by the court can have their name, age, and city redacted by following the process defined at http://somd.me/expungeme .