By SARAH POLUS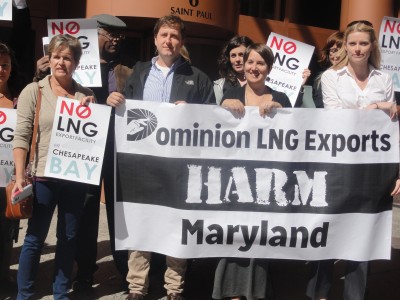 Environmental and community coalition members in Baltimore protest Dominion's Resources Inc.'s proposed liquefied natural gas facility in Calvert County. (Photo: Sarah Polus)
BALTIMORE—A broad coalition of lawyers, homeowners, organizations and businesses came together Tuesday to present their arguments opposing the construction of a liquefied natural gas export facility on the Chesapeake Bay in Calvert County.
Dominion Resources, Inc., a Virginia-based power company, plans to build the export facility in Lusby.
The U.S. Department of Energy granted approval to Dominion to export natural gas to non-Free Trade Agreement countries from their Cove Point facility on Sept. 11, according to Dominion.
The coalition cited environmental and residential concerns, and drafted a letter signed by 120 organizations, to Gov. Martin O'Malley asking for full disclosure of potential impacts of operating the facility.
According to the Chesapeake Climate Action Network's Diana Dascalu-Joffe, the plant would "emit more carbon pollution annually than Maryland's oldest and dirtiest power plants." Any gains would come at Maryland's expense, since the plant wouldn't provide any kilowatt-hours of electricity to Maryland's grid.
According to Jocelyn D'Ambrosio, an attorney for Earthjustice, an environmental nonprofit law firm, the facility would hurt the health of the Chesapeake, as transport ships would dump ballast water into the bay, which could alter salinity and oxygen levels in the bay. It would also increase emissions of methane, which is more potent than carbon in terms of air pollution, she said.
The facility would also share the same section of the Chesapeake as Calvert Cliffs Nuclear Power Plant, according to Jean Marie Neal, a member of the Cove of Calvert Homeowners Association.
Neal said community members were worried about the potential for fire or explosion, transportation issues, destruction of wetlands and proximity to their communities.
According to Josh Tulkin, the director of the Sierra Club's Maryland chapter, Dominion's plan violates a 30-year-old legal contract between them, which banned construction of a liquefied natural gas facility for export purposes. Courts will issue a ruling on the contract sometime this year, Tulkin said.
According to Dan Donovan, a Dominion spokesman, the company is building on the same spot they've already had facilities for 40 years. Donovan said the company has worked to analyze all potential environmental and residential impacts, including the creation of a 12,000-page application that examines every aspect of environmental and safety related issues the facility may bring. Company officials are also working with the Maryland Department of the Environment and local counties to minimize transportation issues and air quality issues, he said.
Donovan said that despite concerns, Dominion's liquified natural gas plant would bring many benefits such as jobs and government revenues.
"Exports bring wealth into the country," he said.
Dominion has taken many steps to secure local support, Donovan said, such as talking to the Maryland Watermen's Association, showing community residents their plans, holding public meetings and getting county permits to make sure they adhere to local government standards. Dominion has seen considerable support from local communities in return, he added.
Donovan said in his experience, Dominion has worked more closely with the local community on this project than any other he's worked on.