Cycle for Food, Farms, and Fun at the 2013 Crop Hop
Register today for the 2013 Crop Hop—a cycling tour of Southern Maryland farms. This event is hosted by the Southern Maryland Agricultural Development Commission and the Charles County Board of Commissioners. The Crop Hop highlights the connection between local farms, fresh food, and good nutrition while raising money for the Southern Maryland Food Bank.
This year's 2013 Crop Hop will be held on Saturday, Oct. 19 in historic and picturesque Charles County. All rides begin and end at Gilbert Run Park (13140 Charles Street, Charlotte Hall). Riders cycle to local farm stops to experience farm tours, interact with farmers, and enjoy locally-sourced snacks.
This year's routes include: the Silo Century (62 miles) for serious riders, the Harvest Hop (33 miles), the Barnstormer (15 miles), the Barnstormer Lite (for those less inclined to ride the hilly terrain), and the Sprout Route (an in-park family ride). Farm stops include turkeys, cattle, horses, goats, produce, agritourism, and more. The Sprout Route features a three-mile in-park walk and ride with stops highlighting rabbits, goats, dogs, seed planting, and exercise.
After the ride, cyclists will enjoy a locally-sourced picnic lunch at Gilbert Run Park, complete with entertainment and educational opportunities including farm animal demonstrations, Cornelia and Couch Potato skits, fitness activities, and other fun, educational activities.
The cost per rider ranges from $20-$60. Riders registering before Monday, Sept. 30 are guaranteed a complementary lunch and event T-shirt.
Non-cyclists and community members are welcome to join the festivities at Gilbert Run Park. Join us for the picnic lunch from 11:30 a.m. - 2 p.m. Cost for lunch is $10 per adult and $5 per child (aged six and under).
Profits from this event will go to the Southern Maryland Food Bank to purchase fresh food for hungry families.
More information and registration opportunities for the event can be found at
www.CropHop.com
.
Commissioners Honor Local Veterans during "Forget-Me-Not" Month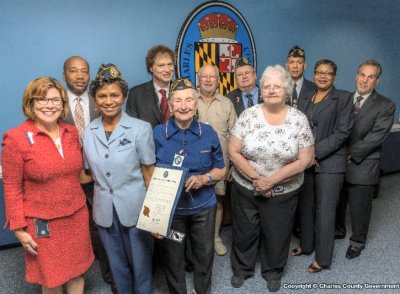 Pictured with Charles County Commissioners: Ms. Joan Sabree, Commander of Disabled American Veterans (holding proclamation); and Disabled American Veterans representatives. (Photo: Charles Co. Government)
On Tuesday, Sept. 10, the Charles County Commissioners proclaimed September as "Forget-Me-Not" month. The proclamation recognized and supported those who have fought for our country in military service. During September, the Charles County Disabled American Veterans will conduct the annual sale of simulated Forget-Me-Nots to honor those who served in our wars for the maintenance of freedom.
CCSO Graduates D.A.R.E. Instructor Training Program
PFC Amy Upshaw to teach program at General Smallwood Middle School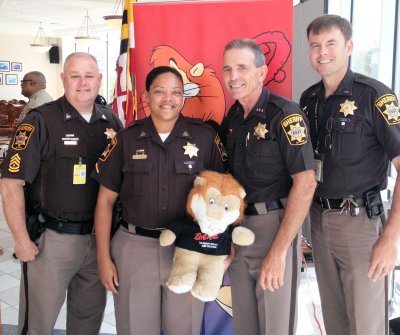 Amy Upshaw's DARE graduation, pictured with Sgt. Rye, Sheriff Coffey and Lt. Salvas. (Photo: CCSO)
Charles County Sheriff Rex W. Coffey is pleased to announce the graduation of PFC Amy Upshaw from Drug Abuse Resistance Education (DARE) instructor training held Aug. 19 – Aug. 30 at the Public Safety Education and Training Center in Sykesville, MD. PFC Upshaw was among 20 other officers from across the region to complete the two-week certification course to become one of the nation's newest DARE instructors.
DARE is a community based program which links law enforcement, schools and parents in a partnership for children. The class is taught by uniformed police officers who present information to children in a classroom environment providing resistance skills and building resiliency. DARE instructors are certified to deliver programs at the K-4, Elementary and Middle School level, as well as a selection of lessons regarding bullying, gangs, internet safety, cyber-bullying, Rx/OTC drugs, and other issues.
PFC Upshaw is a school resource officer assigned to General Smallwood Middle School. With her graduation, there are a total of 14 DARE instructors with the Charles County Sheriff's Office. For more information, visit
www.ccso.us.