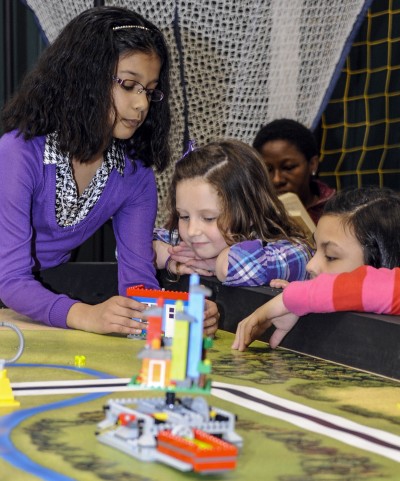 Through robotics competitions such as the CSM Robotics Challenge held last winter at CSM's La Plata Campus, CSM robotics programs coordinator Professor Bernice Brezina wants to make certain that Southern Maryland students have a clear understanding of what engineers of all types do. (Photo: CSM)
LA PLATA, Md.—As one of seven children, College of Southern Maryland Professor Bernice Brezina was thrust into the hard reality early on of how to pay for college when her father passed away when she was 15. Her mother, working as a waitress, knew that education was the key to her children's success and implored those who were still living at home to get into college by any means necessary, Brezina said.
"We were living in Bryans Road and I was going to high school when I heard about an engineering program that offered scholarships. Without really knowing what a mechanical engineer did, I chose that track because it sounded pretty generic," said Brezina.
In the second year that the Navy co-op was offered, she was one of several students to begin the program while a student at the community college. "It was so new that the college had to scramble to designate a program coordinator so that the Navy would allow us to join the co-op," Brezina said.
Brezina went on to earn an associate's degree from CSM, and bachelor's and master's degrees from the University of Maryland College Park (UMD).
Now, as CSM's Engineering Technology program coordinator, Brezina is happy that she made that leap of faith to pursue a degree in a program that she didn't fully understand. She doesn't want students to miss out on a career just because engineering may be a mysterious field to them. So, as the CSM robotics programs coordinator and faculty advisor for the collegiate robotics team, Brezina is on a mission to make certain that Southern Maryland students of all ages have a clear understanding of what engineers of all types do.
"All the different aspects of engineering are experienced through robotics clubs and competitions," said Brezina. "By exposing children to engineering at a young age, we can pull back the curtain on a field that is often misunderstood. By using robotics to introduce elementary students to engineering, they get to see all the components that go into making machines work. Robotics is the intersection of mechanics, computer programming and electronics."
When Brezina was in middle school and high school there were no programs or clubs that allowed girls to explore technology. "Looking back, I see the divide between kids that had exposure and opportunity to explore STEM (science, technology, engineering and mathematics) fields in school and those that didn't," said Brezina.
In 2008, 26 years after Brezina signed up for the Navy co-op, CSM entered into a partnership with the A. James Clark School of Engineering at the University of Maryland (UMD), the Southern Maryland Higher Education Center and the Naval Air Warfare Center Aircraft Division (NAWCAD) to enable students to pursue and complete a degree in engineering without leaving Southern Maryland.
The Southern Maryland Co-op Partnership Program in Engineering offers a seamless pathway to a bachelor's degree in mechanical engineering and includes up to $4,900 scholarship per semester for tuition and books, a paid internship during summer and semester breaks at NAWCAD, transfer with junior status to UMD and opportunity for full-time, permanent employment as an engineer with NAWCAD or Department of Defense following graduation.
For information on the co-op partnership, visit
http://www.csmd.edu/istem/events_internship.html
or contact CSM Pre-engineering Coordinator Shadei Jones at 301-934-7747 or sjones3@csmd.edu.
For information on robotics at CSM, visit
http://www.csmd.edu/stem/.