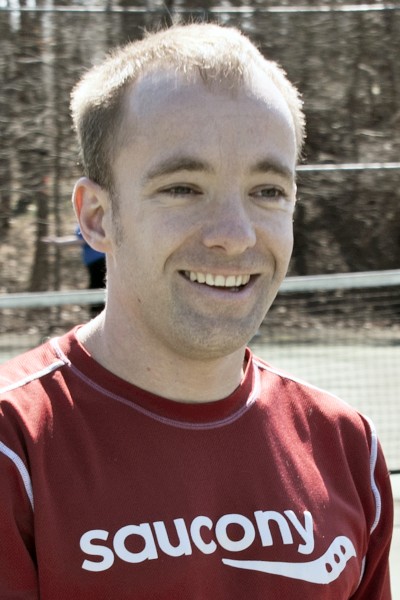 Christopher Tuttle coaches CSM's new women's cross-country team. A lifelong runner, Tuttle holds several cross-country records from his time as a student-athlete at the State University of New York (SUNY) at New Paltz. Tuttle was named Academic All-American and cross-country National Champion at SUNY Delhi. (Photo: CSM)
LA PLATA, Md.—The College of Southern Maryland welcomes the addition of women's cross-country as an athletic program beginning this fall. The sport joins men's lacrosse as one of two new athletic teams at CSM.
"Competing in athletics at the collegiate level is a great opportunity for students," said Christopher Tuttle, first-year women's cross-country head coach. "Not only do student athletes have the opportunity to excel competitively, but the program also serves to set them up for academic success."
In addition to competing, student-athletes are expected to place their studies first. The program includes a required study hall period of three hours each week, during which time class assignments are students' sole focus.
The program is open to full-time students taking at least 12 credit hours, and no experience is required. In addition to being a competitive sports team itself, cross-country provides a great way for athletes to keep in shape during the off-season from other sports, said Tuttle.
"Running is the baseline of any sport, in terms of physical fitness. Whether it's volleyball, whether it's basketball or soccer; whatever it is, you're going to be running, [so] we're encouraging athletes from other sports to participate," Tuttle said.
Working with Assistant Coach Josh Trice, Tuttle has made progress during the summer in promoting the program by reaching out to high schools within the Southern Maryland Athletic Conference (SMAC); his goal is to increase awareness of the program to potential college student-athletes.
"Most high schools already have cross country teams, so I think it's a great thing for the college now to have a team," said Tuttle. The coaches have attended local 5K races and have begun building relationships with local businesses who may want to sponsor the team.
Cross-country athletes do not run on a track, but rather on trails, gravel or in open fields. For this reason, Tuttle hopes to see the development of an on-campus course for the program.
"One of [our] goals in future years would be to start developing a home course, so we can have meets here," he said. "That would generate great exposure for our school as well." Tuttle noted that there are currently close to two miles of running area at the La Plata Campus.
Tuttle earned an associate's degree in recreation management from State University of New York (SUNY) Delhi where he received Academic All-American and National Champion cross country honors. He received a bachelor's degree in liberal arts/geography from SUNY New Paltz where he served as captain of the men's cross-country and track and field team, earned All-Region honors, and set-and still holds-several school records. He has maintained his competitive edge as a top-200 finisher in the 2008 Marine Corps Marathon and competitor in 5K, 10K, half-marathon and warrior-type events. Tuttle has been sponsored by the running apparel company Saucony for the past three years.
Participation in cross country serves to boost students' professional prospects, said Tuttle, because potential employers seek qualities required of athletes. "Employers do look at those things. They can relate to what goes into [cross-country]; the ability to balance sport and school. That goes far," he said.
Tuttle added that cross-country has long been a staple on his resume. "It shows that discipline. It shows that potential for leadership."
Practices will be held at 4 p.m., Monday through Friday during the fall semester, with the team meeting at the Indian Head Rail Trail one to two days per week. Competitive team meets will occur on Saturdays starting in September.
CSM's newest team will compete in Division I of the National Junior College Athletic Association (NJCAA). For information on women's cross-country, visit
http://www.csmd.edu/athletics/womens/womenscrosscountry.html
.
Source: CSM