First-ever authentic Diamond Jim captured in Maryland Fishing Challenge history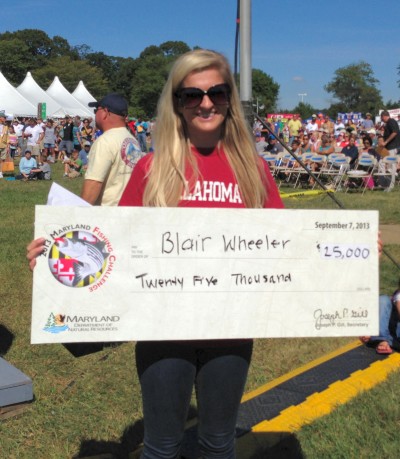 $25,000 Diamond Jim Winner, Blair Wheeler, 25 of Herndon, Va. (Photo: Md. DNR)
ANNAPOLIS (Sept. 7, 2013)—Today marked an exciting day in the nine-year history of the Maryland Fishing Challenge as Blair Wheeler, 25 of Herndon, Va., became the first person to win a $25,000 cash prize. After confirming her August catch was the real deal—tagged with the randomly selected winning number—Wheeler walked off stage with a prize package that also included a pair of one-carat diamond earrings from Zachary's Jewelers of Annapolis, and $6,000 in gift cards from participating Maryland tackle shops.
"I'm in kind of a shock!" said Wheeler. "Who thinks they're going to win $25,000?"
Wheeler caught the winning striper while fishing aboard the charter, Hook Mash out of Deale, as part of a birthday celebration for her brother and husband. The fish was hooked off Tracys Landing, weighing in at 19 pounds.
"They got the trip, I got the fish," she said. "Even if we hadn't won anything we were going to go fishing again next year. Charters are great. You don't have to be a fisherman to be able to enjoy it." This was Wheeler's first time fishing in the Chesapeake Bay, and she had only been fishing 10 times total.
"With Maryland's dynamic landscapes and waterways it's no wonder fishing has long been a tradition in our State, helping friends and families create memories and enjoy the great outdoors," said DNR Secretary Joseph Gill. "Congratulations to Blair on being the first, and only, angler to catch Diamond Jim."
Nearly 2,000 people, including sponsors, anglers and their guests attended the celebration of fishing, held in conjunction with the Maryland Seafood Festival at Sandy Point State Park in Annapolis. In all, the Maryland Department of Natural Resources (DNR) presented more than $70,000 in cash, prizes and merchandise to lucky anglers at the 2013 Maryland Fishing Challenge Finale this morning.
Through the Angler Award component, those who caught a qualifying species of fish above a certain size were eligible for the grand prizes. During the past year, more than 1,000 anglers qualified to participate in grand prize drawing. Additionally, the 53 people who caught Diamond Jim imposters received $500 and a five-carat blue topaz charm, courtesy of Zachary's.
Walking away with today's grand prize of a boat, motor and trailer from Bass Pro Shops and Tracker Boats, was Roy Easter, Jr. of St. Mary's County. Easter caught an Angler Award qualifying 48.5-inch Striped Bass in the Indian Head area of the Potomac River in late April.
"I was just glad to get the T-shirt," said Easter, a Department of Defense employee. "I had a boat and I sold it, and I've missed it ever since. This will work. Now that I have a boat I'll be taking some kids fishing."
Cary Murray, of Essex, won an all-expense paid fishing trip to the Bahamas from the World Fishing Network, with his 23-inch Brown Trout from the Gunpowder River in March.
"I can't even talk," he said. "It was my first time on a stage and my first time winning something."
Debbie Walbert of Levittsville, Va.; Noah Tomasik, of Lusby; and Michael Remmell, of Baltimore all won Bill's Outdoor Center grand prize fishing gear/tackle packages.
"I don't think my mom's car is big enough for all the gear I won," said Tomasik, a student at Calvert Middle School.
"I would like to extend a sincere thank you to our generous sponsors who, for nearly a decade now, have made this contest a reality," said DNR Deputy Secretary Frank Dawson. "These partners understand the importance of keeping the joy and excitement of fishing alive in Maryland for citizens and visitors, and especially our youth – the stewards of tomorrow."
Bill's Outdoor Center at Deep Creek Lake returned as a premiere sponsor with three grand prize packages of tackle and fishing gear. AllTackle, Angler's Sports Center, Clyde's Sport Shop, Fishbone's Bait and Tackle, Herb's Tackle Shop, and Marty's Sporting Goods donated the $1,000 gift cards and youth tackle packages. All contestants received commemorative shirts, courtesy of Under Armour.
"Each year hundreds of thousands of anglers fish Maryland waters -– with good reason," said Maryland Fisheries Director Tom O'Connell. "We are very proud of the diverse fishing opportunities available here—from the coldwater streams in the mountains of western Maryland, to the magnificent Chesapeake and Coastal Bays, to the Atlantic Ocean."
The 2013-14 edition of the Maryland Fishing Challenge has begun. The contest has three components: the Angler Award program; the youth component, where young people are chosen from sponsored activities across the State to win exciting trips and prizes; and Diamond Jim, which returns next summer. More information on the Maryland Fishing Challenge including a list of winners is available at
dnr.state.md.us/fisheries/challenge/
.
In the search for Diamond Jim, three batches of specially tagged striped bass—three genuine Diamond Jims and 597 imposters -– were released into the waters of the Chesapeake Bay and its tributaries this summer. Diamond Jim's value increased each month: from $10,000 in June, to $20,000 in July, and $25,000 in August. The imposters were worth at least $500 each for the duration of the contest.
The fun continues this weekend at the festival, where the Maryland Seafood Marketing tent is featuring local chefs preparing their favorite Maryland Seafood dishes—and handing out free samples—Saturday and Sunday from 11 a.m. to 4 p.m.
More photos of the event are available on Flickr at
flickr.com/photos/accessdnr/sets/72157635422785000/
Source: Maryland Dept. of Natural Resources