By Austin Rick, College of Southern Maryland Student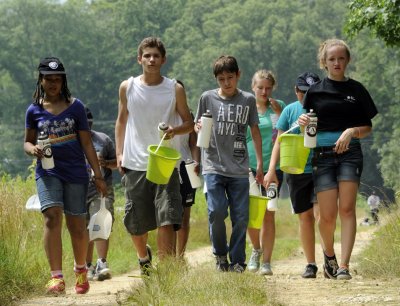 As members of the CSM Kids' and Teen College "Summer Serve" community service program, Southern Maryland teens came together in a team effort to better the community on June 27. Jacob Middleton-Day, second from left, leads a group of fellow "Summer Serve" volunteers as they take a hydration break from the searing heat. Equipped with bug spray and sunscreen, volunteers embrace the opportunity to lend a helping hand. Teens spent the day pouring buckets of gravel to fill potholes, removing weeds from flowerbeds and carrying lumber as they built new friendships while making a positive difference. The program was founded in 2006 and runs over the course of one week each summer. Pictured with Middleton-Day, from left, are Bianca Wheeler, Michael Fialkowski and Gabrielle Deen. (Photo: CSM)
LA PLATA, Md.—From a distance, the sight of 20 teenagers shoveling and pouring gravel to fill potholes during summer vacation may have seemed like a mirage, but upon closer inspection, not only were they working, but they were happily working.
"I'd tell my buddies I've enjoyed this experience greatly," said Jacob Middleton-Day, a 13-year-old Kids'/Teen College student preparing to enter ninth grade this fall. "They might think it sounds silly, but I really like it. Helping others just makes me feel good."
Each year the College of Southern Maryland's Kids' and Teen College offers a community service-oriented program focused on providing teenagers with the opportunity to lend a helping hand and actively engage with their peers while out of classes for the summer.
The week-long program, called "Summer Serve," is supported through Volunteer Southern Maryland, a CSM program focused on placing volunteers in various opportunities throughout the community. Summer Serve allows children and teenagers to come together and volunteer locally. Participants spend time serving those in need, reflecting on community issues and building relationships with other youth from the area. Projects range from serving meals at assisted living homes to gardening and outdoor beautification.
This year's team of 20 volunteers ranging in age from 11 to 14 years old was one of the largest turnouts since the program began in 2006.
"I see the community service camp as a way to expose young people to the importance of giving back to their community in a way that is very hands-on and fun," said Emily Mudd-Hendricks, program assistant for Volunteer Southern Maryland.
Rudee Ruthers is a third-year returning volunteer at the camp. Only 13 years old, she is already a veteran to community service. She began donating her time before she was 10. "Before my first year of this program I was volunteering at the Humane Society of Charles County, my school and some other non-profit organizations," she said. "I didn't want to just sit around on the couch watching TV all the time, and I find it fun to help the less fortunate."
Mudd-Hendricks explained that the 40-hour camp provides opportunities for participants to learn more about their own capabilities and about the importance of reaching out a helping hand. Mudd-Hendricks serves as a camp counselor and oversees activities throughout the week.
At Summer Serve, the first day of camp typically involves "icebreakers," or activities designed to build a team-like atmosphere and to help prepare participants for what lies ahead. "Some of our volunteers may never have entered a shelter or a nursing home before," said Mudd-Hendricks. "Sometimes work settings aren't always the easiest, and so we aim to ensure the children know what to expect before they arrive."
Multiple events are incorporated during the week to help participants weather what can often be uncomfortably hot temperatures. Activities include water balloon fights and even impromptu dancing competitions. "The teens here have a ton of fun throughout the entire experience," Mudd-Hendricks added.
"Not only do we help others," said Middleton-Day, "but we help ourselves. Community service can serve as high school credit or even help us to get started in a career path."
Mudd-Hendricks explained that the camp offers a unique experience for each participant. "The week is very concentrated on serving a variety of populations, [so] every teen gets a new and exciting experience related to service and volunteerism."
By the time Friday arrives, teens are usually exhausted. What makes it all worthwhile, they say, are the new friends, memories and the knowledge that they've positively influenced the lives of others.
For information regarding the Kids' and Teen College, visit
http://www.csmd.edu/KidsCollege/
.