Former Redskin Lineman Tre' Johnson Rallies Golfers, Encourages Students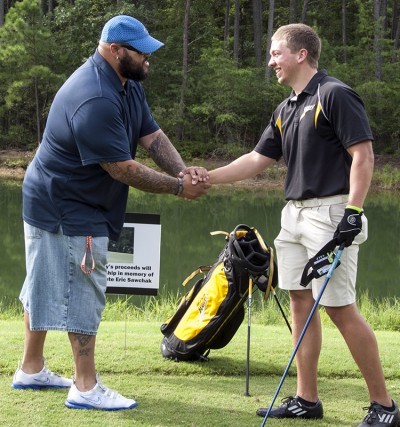 Retired Redskin offensive lineman Tre' Johnson, left, shakes hands with CSM sophomore and golf team member George Bowie at the sixth hole at Swan Point Yacht and Country Club on Aug. 15. The hole was dedicated to the memory of Eric Sawchak, a CSM student-athlete, who lost his battle with cancer during the CSM golf team's 2013 season. CSM President Dr. Brad Gottfried announced that $1,000 of the Golf Classic's proceeds would fund the Eric Sawchak "Longest Drive" Memorial Scholarship to support future student-athletes attending CSM. Bowie, who graduated from McDonough High School was on the school's 2011 state champion golf team. (Photo:CSM)
LA PLATA, Md.—Community members from around Southern Maryland gathered at Swan Point Yacht and Country Club on a picture-perfect August day to raise more than $40,000 for the College of Southern Maryland Foundation's 22nd Annual Golf Classic. Funds raised support 'Support CSM Strong' initiatives for student success including athletics, trades, lacrosse and foundation scholarships.
"Over the past 20 years, this tournament has become a signature event for the College of Southern Maryland and has raised more than $600,000 for our students and programs," said CSM President Dr. Brad Gottfried. "We are grateful to the many sponsors and players who participate year after year, among them Marrick Homes which has been the tournament's grand sponsor for the past 12 years."
Prior to tee off, CSM student Carley Flowers, of Waldorf, thanked participants for their generosity. "Receiving scholarships has not only taken a financial load off of my parents but it has helped me reach my full academic and non-academic potential. Many students often overlook the qualities of community colleges, but in my eyes community colleges offer challenging academic experiences with a more personal touch," Flowers said. As a high school and collegiate student-athlete Flowers said that she had suffered several injuries and was so impressed with the care and attention she received during her recoveries she developed a passion for helping people. She is a certified EMT with the Waldorf Volunteer Rescue Squad and is studying to become a radiographer and ultimately a radiologist.
This year's event welcomed retired Washington Redskin offensive lineman and Pro Bowler Tre' Johnson as a guest golfer.
"It may not appear that Tre' and I have anything in common," said Gottfried during the post-tournament reception. "It turns out that we are both passionate about education and history." Following his football career Johnson earned a master's degree from Temple University and for the past nine years he has taught history at the Landon School in Bethesda.
"There's a wonderful marriage between athletes and education. I tell students that athletics is the vehicle to get you where you want to be-it is not the destination," Johnson said.
Student-athletes from the men's lacrosse as well as men's and women's soccer, and volleyball were on-hand as volunteers and to provide a rousing send-off as golfers took off in their carts for the start of play. Athletics is one of the many programs that receive funding from proceeds from the Golf Classic.
"We'd like to thank the many sponsors, golfers and volunteers for their generous support. It is through their generosity that the CSM Foundation is able to provide CSM students with the resources and educational opportunities needed to succeed," said CSM Development Director Martina Arnold.
The sixth hole was dedicated to the memory of Eric Sawchak, a CSM student-athlete who lost his battle with cancer during the CSM golf team's 2013 season. Eric's parents Catherine and Michael Sawchak attended the Golf Classic with Michael Sawchak joining Johnson's foursome during the tournament. Gottfried announced that $1,000 of the Golf Classic's proceeds would fund the Eric Sawchak "Longest Drive" Memorial Scholarship to support future student-athletes attending CSM.
The tournament's winning team was McDonald & Eudy Printers, Inc., with players Kim Dickerson, Cas Dickerson, Mike McDonald and John Bowling.
The second place team was Community Bank of Tri-County with players Greg Cockerham, Gordon O'Neill, Diane Hicks and Chris Simpson.
The third place team was Donnie Hardy, Vance Welch, Tommy Stine and Chuck Crist.
Awards were also given to George Bowie and Dianne Proctor for the Longest Drive Contest sponsored by St. Charles Communities; Jeff Larsen and Dottie Crecelius for the Closest to Pin Contest sponsored by the Aughinbaugh family, and Dr. and Mrs. John Sine; and Matt Martin for the Straightest Drive Contest sponsored by Charles County Commissioners.
In addition to Marrick Homes as Grand Tournament Sponsor, other sponsors included corporate sponsor Southern Maryland Newspapers, CSM Strong Community Partner Sponsors Community Bank of Tri-County, DRN Environmental Solutions LLC, Facchina Construction Co., Inc., Ferguson Enterprises, Inc., Mark Posten Excavating, McDonald & Eudy Printers, Inc. and NRG Energy, Inc.-Morgantown.
Breakfast sponsors included BJ's Wholesale Club of Waldorf, Burger King of Charles & St. Mary's counties, Costco Wholesale of Brandywine and Safeway of La Plata. Lunch was provided by Chick Fil-A of La Plata and beverages sponsors included Bozick Distributors, Inc. Rita's of La Plata and Royalle Dining Services, Inc.
To view photo gallery of Foundation Golf Classic, visit
csmphoto.zenfolio.com/22golfclassic
.
To see a listing of scholarships awarded for the 2012-13 academic year, visit
www.csmd.edu/news/archive/2012/..
. The foundation manages more than 100 scholarships that help provide financial assistance for merit and for students in need. Scholarship categories include nursing, business, childcare, criminal justice, communications, fine arts, engineering hospitality, social sciences, teacher education and nuclear engineering technology as well as general studies programs. In addition, students can apply for scholarships geared toward cancer survivors, returning adults and veterans as well as for non-credit trades and continuing education programs. For information on the CSM Foundation or to make a contribution to scholarship funds, visit
www.csmd.edu/Foundation/
.