Sees Navy technological capabilities while meeting Sailors and scientists during tour of Virginia Navy base
By John J. Joyce, NSWC Dahlgren Division Corporate Communications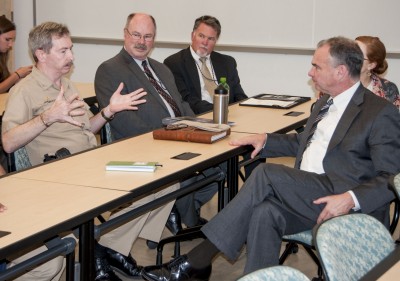 Capt. Michael Smith, Commander Naval Surface Warfare Center Dahlgren Division (NSWCDD), explains the capabilities of the range at Naval Support Facility (NSF) Dahlgren to Senator Tim Kaine. The Virginia senator received a command overview and toured several facilities including the main range, the directed energy facility and the Aegis Training and Readiness Center. Kaine serves on the Senate Armed Services Committee. (U.S. Navy photo by Elliott Fabrizio/Released)
DAHLGREN, Va.—Sen. Timothy Kaine, D-Va., interacted with Sailors, scientists, and five commanding officers during his tour of Naval Support Facility (NSF) Dahlgren Aug. 27.
The senator—a member of the Senate Armed Services, Foreign Relations and Budget committees --- saw first-hand how Naval Surface Warfare Center Dahlgren Division (NSWCDD) scientists and engineers sustain today's Navy and are developing weapons and systems for the future Navy.
"It's great to be back at Dahlgren," said Kaine. "NSF Dahlgren is an impressive facility that brings together research and development, training, and testing facilities to help strengthen our national security. It is a unique installation that pairs highly specialized skill sets with systems that are integral to developing the most technologically advanced military in the world."
The five commanding officers updating Kaine on their respective command's mission and work in support of the warfighter included four Navy captains—Capt. Peter Nette, NSA South Potomac; Capt. Michael Smith, NSWCDD; Capt. Ian Hall, ATRC; and Capt. Chandler Swallow, Joint Warfare Analysis Center (JWAC)—in addition to Air Force Capt. Roland Rainey, 614th Air and Space Operations Center Detachment 1.
"This was a great opportunity to share the 614th Air and Space Operations Center's situational awareness mission at Dahlgren," said Rainey.
"Sen. Kaine now has a better idea about the Navy's directed energy work and our test range capabilities in support of the Fleet of today and tomorrow," said Smith.
Smith's update included the capabilities of the Potomac River Test Range observed by Kaine during his first visit to the base as a senator.
The testing of naval guns and ammunition at the test range began in 1918. A proposed expansion of testing will enable NSWCDD to meet current and future mission-related warfare and force-protection requirements by providing research, development, test and evaluation of surface ship combat systems, ordnance, lasers and directed-energy systems, force-level warfare, and homeland and force protection.
While Kaine received classified briefings at the Directed Energy Warfare Center, an NSWCDD directed energy expert reviewed directed energy capabilities and resources with civilian news media.
Chris Reichart, NSWCDD Pulsed Power & Radio Frequency Systems Branch Head, cited examples of NSWCDD's directed energy work such as the Navy's Laser Weapon System (LaWS) Program. He pointed out that this laser weapon system has successfully detected, tracked, engaged, and destroyed threat representative unmanned aerial vehicles while in flight.
NSWCDD designed, developed and integrated the LaWS capability and demonstrated it on a guided-missile destroyer last year.
The Office of Naval Research sponsored this NSWCDD demonstration of high-energy lasers aboard the moving ship against remotely piloted aircraft. Through careful planning of such demonstrations and by leveraging investments made through other Department of Defense agencies, researchers have been able to increase the ruggedness, power and beam quality of lasers, more than doubling the range of the weapons.
Officials consider the solid-state laser a revolutionary technology that could potentially give the Navy an extremely affordable, multi-mission weapon with a deep magazine and unmatched precision, targeting and control functions. Because lasers run on electricity, they can be fired as long as there is power and provide a measure of safety as they don't require carrying propellants and explosives aboard ships.
The options that directed energy technologies can bring to future Sailors is unlimited.
"We are hoping the senator will have a chance to come back to see the electromagnetic railgun," said Smith.
When fully developed, the electromagnetic railgun will give Sailors a dramatically increased multimission capability. Its increased velocity and extended range over traditional shipboard weapons will allow them to conduct precise, long-range naval surface fire support for land strikes; ship self-defense against cruise and ballistic missiles; and surface warfare to deter enemy vessels.
At ATRC, Kaine saw how the training center uses a blended learning solution of instructor-led classrooms, simulation and hands-on training labs to efficiently train Sailors who enter the service with little or no experience to become surface combat weapons systems operators and technicians.
"It's important to show our elected leaders how students are trained," said Hall. "We were able to show him how our instruction is delivered 24 hours a day, five days a week through instructor-led classrooms and simulators."
Kaine discussed the Joint Warfare Analysis Center's products with senior leaders at JWAC, a part of U.S. Strategic Command.
The senator's stop at the Potomac River Test Range, focused on its unique testing and evaluation capabilities that are crucial to NSWCDD's mission - providing research, development, test and evaluation, analysis, systems engineering, integration and certification of complex Naval warfare systems related to surface warfare, strategic systems, combat and weapons systems.