By Len Lazarick, Len@MarylandReporter.com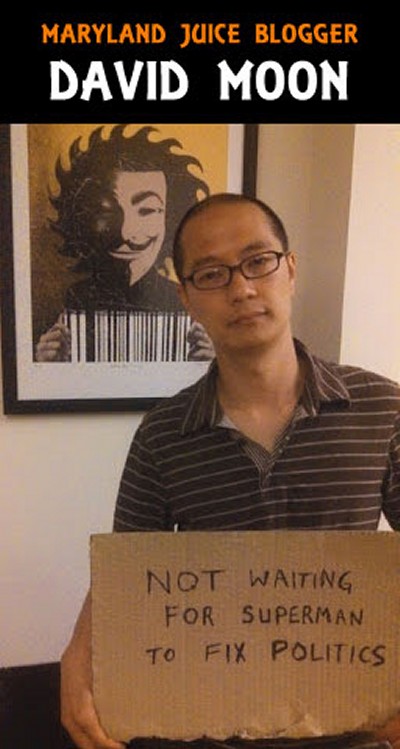 David Moon poses in front of an artwork depicting a character wearing a Guy Fawkes mask and holding a bar code. The Guy Fawkes mask was recently brought into the public consciousness via the 2005 film
V for Vendetta
and is a symbol of citizens fighting back against state tyranny.
David Moon, the man behind the Maryland Juice political blog in Montgomery County, made it sort of official Saturday on the back patio of his Takoma Park home. He's running for the House of Delegates, with a formal announcement to come later.
Moon has been a progressive activist, campaign manager and consultant, and helped elect folks such as Sen. Jamie Raskin, Montgomery County Council members Nancy Navarro, Valerie Ervin and Hans Riemer, and the District 18 Democratic slate. A few of these folks showed up at the event.
"I really believe he would be amazing," Navarro said. "We also need to recreate and reorganize our campaign strategies," and Moon can do that.
"There's a real opportunity to add more progressive choices," said Del. Al Carr, D-18.
Moon is actually seeking to replace one of the most left-leaning voices in the Maryland General Assembly, Del. Heather Mizeur. She is running for governor.
Moon, who works for the federal advocacy group Demand Progress, said, "I never saw myself doing this thing." As an Asian-American growing up in Montgomery County, "I never saw [running for office] as viable option for me."
But then he was taken by the Obama story, and the Obama counsel to "Be the change."
Among the changes Moon wants to bring on economic justice issues is removing the heavy hand of corporations in politics, promoting women's pay equity, providing universal child care, and demolishing "mass incarceration and the failed war on drugs."
"We have an opportunity to show that there's a new way forward," said Moon.
Moon has achieved a wide following with Maryland Juice. Like Tom Coale in Howard County who is running for delegate in district 9B but continuing his popular blog HoCoRising, Moon is not quite sure what's he going to do with his blog that is clearly tapped into insider sources in Maryland Democratic politics.