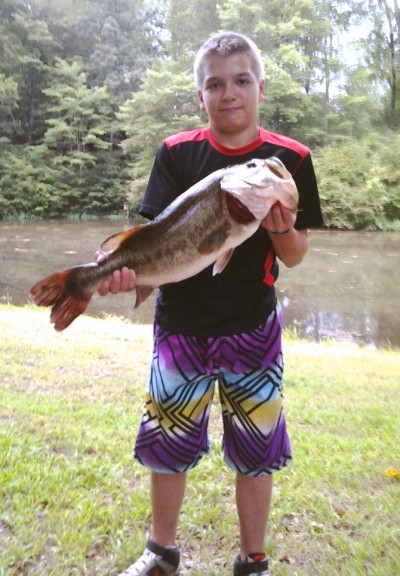 Colton Lambert, 12, of Huntingtown, Calvert Co., now holds the state record for catching this Largemouth Bass.
ANNAPOLIS—Colton Lambert, 12, caught a Maryland record Largemouth Bass while fishing at a farm pond in his hometown of Huntingtown on July 31. The fish was 11 pounds, 6 ounces, 26 inches long and 18 inches around.
Lambert was fishing with his father and younger brother at approximately 7:30 p.m. when he thought his line was caught on something. "All of a sudden something started to move very quickly and broke the surface and took off, peeling line off the reel," he said. "It was really hard to control and reel in; when I finally slid it up on the shallow bank, my dad started getting all excited."
His father said he knew this was the biggest Largemouth Bass he had ever witnessed. They put the fish in a large bucket of water and the next day took it to Tyler's Tackle in Chesapeake Beach, an Award Center for the Maryland Fishing Challenge. It was weighed on the certified scale of the store's adjoining seafood market. Lambert caught the fish using a spinning rod loaded with an 8-pound test line and a plastic worm, rigged weedless and without a weight.
Fisheries biologist Keith Lockwood verified proper procedures were followed and identified the fish as the new Freshwater Largemouth Bass State Record. Lockwood said that the fish could have easily weighed more if it had been in a fattened condition.
The previous record of 11 pounds, 2 oz. was held for nearly 30 years by Rodney Cockrell.
Lambert will be recognized as a State record holder at the 2013 Maryland Fishing Challenge Finale on September 7 at the Maryland Seafood Festival at Sandy Point State Park in Annapolis.
The Maryland Fishing Challenge is a year-round contest for all anglers in Maryland. Anglers who catch and register any of the more than 80 Maryland Angler Award eligible sport fish species receive certificates of achievement and invitations to the Grand Finale. This year's celebration will include chances to win a Tracker Marine boat package, a tropical vacation package from the World Fishing Network, tackle packages from Bill's Outdoor Center and Bass Pro Shops, Under Armour gear and gift cards from various sponsors.
Now in its 9th year, the Challenge showcases Maryland and the Chesapeake Bay as a premier sport fishing destination with accessible, affordable, diverse and high quality fishing for anglers of all ages—from mountain streams, to the central Maryland lakes and the Potomac River, down to Chesapeake Bay, the Coastal Bays and the Atlantic Ocean.
The Maryland Department of Natural Resources maintains State records for sport fish and awards plaques to those who catch a record sized fish.