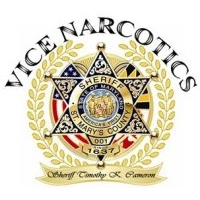 LEONARDTOWN, Md. (Aug. 15, 2013)—The St. Mary's County Sheriff's Office Vice Narcotics Division today released the following incident and arrest reports. The Division is an investigative team comprised of detectives from the St. Mary's County Sheriff's Office and Federal Drug Agents (HIDTA Group 34). The Division was established on September 1st, 2007.
ILLEGAL OXYCODONE AND MARIJUANA SALES: Vice/Narcotics detectives indicted Diane Rachel Conway, 43 of Lexington Park, for various felony drugs charges to include Distribution of Oxycodone, Possession of Oxycodone with the Intent to Distribute, and Manufacturing Marijuana. Detectives observed Suspect Conway operating her vehicle and requested a patrol officer to arrest her on the open warrant. While waiting for the patrol deputy, Suspect Conway made contact with a second suspect, later identified as Annette Unkle, 47 of Callaway. Detectives observed a drug transaction and both suspects were stopped. Seized from Suspect Conway were 76 Methadone tablets, 109 Oxycodone tablets, 86 Muscle relaxers, and a cellular phone. The street value of the pills seized was more than $3,000. Suspect Unkle was found to be in possession of 10 Oxycodone tablets in a piece of plastic and another 6 Oxycodone tablets hidden in a small flashlight. The street value of the pills seized from Suspect Unkle was $240.00. In addition to all of the evidence seized, detectives also seized Suspect Conway's 2001 Chevrolet Suburban. Additional charges are pending a State's Attorney's Office review.
Disclaimer: In the U.S.A., all persons accused of a crime by the State are presumed to be innocent until proven guilty in a court of law. See: http://somd.me/presumed-innocence. Additionally, all of the information provided above is solely from the perspective of the respective law enforcement agency and does not provide any direct input from the accused or persons otherwise mentioned. You can find additional information about the case by searching the Maryland Judiciary Case Search Database using the accused's name and date of birth. The database is online at http://somd.me/mdcasesearch . Persons named who have been found innocent or not guilty of all charges in the respective case, and/or have had the case ordered expunged by the court can have their name, age, and city redacted by following the process defined at http://somd.me/expungeme .