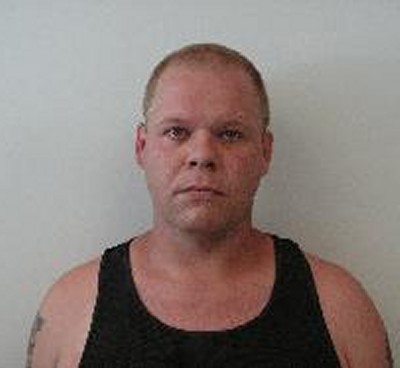 John Morris Quade, Jr., age 31, of Lexington Park, was today arrested for last week's murder of Moneta Jo Strickland, age 32, of Mechanicsville. (Arrest photo)
CALLAWAY, Md. (Aug. 13, 2013)—Police today arrested John Morris Quade, Jr., age 31, of Lexington Park, for last week's
murder of Moneta Jo Strickland
, age 32, of Mechanicsville. Quade is a registered sex offender.
Police say Quade became a primary suspect in the case after they reviewed video surveillance from a business in the area which revealed a suspicious vehicle and person in the area during the time frame of the homicide. Detectives identified the vehicle's owner and knew him to be a registered sex offender. Quade also matched the description of a suspicious person observed on the trail by a citizen prior to the incident.
Police say detectives today executed a search and seizure warrant at Quade's residence and recovered evidentiary items linking Quade to the homicide.
Quade was taken into custody without incident while leaving his residence and transported to the Leonardtown office of the St. Mary's Bureau of Criminal Investigations (BCI) where he was interviewed by detectives. Upon completion of the interview, Quade was transported to the St. Mary's County Detention Center and charged with First Degree Murder, First Degree Assault and Robbery. He is awaiting a bond hearing before the District Court Commissioner. The Case Number in the District Court for St. Mary's County is
3Q00056108
.
Quade was charged on Feb. 28, 2000 with seven charges related to his sex offender conviction. On Aug. 23, 2000, he was found guilty by a jury of only one charge: Sex Offense, Third Degree. The other six charges were dropped by District Attorney Richard Fritz, according to the Maryland Judiciary Case Search database. Those charges included: Child Abuse:Custodian; Sex Offense Second Degree; Assault-Second Degree; Child Abuse:Custodian; Sex Offense Second Degree; Sex Offense Third Degree; and Assault-Second Degree.
Quade was sentenced to one year and 6 months, with credit for 53 days spent in jail awaiting trial. On Aug. 19, 2002, Quade was called back to court for a violation of probation hearing.
In all, Quade has 19 publicly visible entries in the Case Search database dating back to 2000. Four of those are traffic related.
BCI detectives publicly credited the following for their assistance in the investigation: Maryland State Police Criminal Enforcement Division, Calvert Investigative Team, Calvert County K-9 Search and Rescue Team, Southern Maryland Information Center, Maryland Coordination and Analysis Center, Naval Criminal Investigative Service, and the citizens of St. Mary's County.