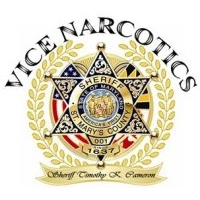 LEONARDTOWN, Md. (Aug. 8, 2013)—The St. Mary's County Sheriff's Office Vice Narcotics Division today released the following incident and arrest reports. The Division is an investigative team comprised of detectives from the St. Mary's County Sheriff's Office and Federal Drug Agents (HIDTA Group 34). The Division was established on September 1st, 2007.
SHOPLIFTING, DRUG SALES: Vice/Narcotics detectives began an investigation into various drugs being sold from a home in Great Mills. Investigation revealed the homeowner, James Raub Hall, 42, was stealing items from a local department store and returning the items to the store for a cash refund as well as trading the items for drugs. A second suspect, Benjamin Dermaine Hebb, 38, was allegedly selling drugs from that same home. A search and seizure warrant was obtained and executed by the St. Mary's County Sheriff's Office Emergency Services Team. Suspects Hall and Hebb were located inside the home. Detectives seized cocaine, psychedelic mushrooms, marijuana, Suboxone, two cellular phones and a digital scale. Also located inside the home were numerous items that had been stolen from a local department store which included a video baby monitor, car seat, a flat screen television and a Kindle Fire. Both suspects were arrested and charged accordingly and additional charges are pending a review with the State's Attorney.
PRESCRIPTION FRAUD: Manuel Joseph Moreland, 56 of North Beach, was indicted and subsequently arrested for Obtaining Prescription Medication by Fraud and Possession of a False Prescription. He was originally held without bond.
MARIJUANA: Antoine Markel Yates, 20 of Loveville, was identified as a distributor of marijuana. Undercover purchases of marijuana were made by detectives from Suspect Yates which led to his indictment and subsequent arrest.
Disclaimer: In the U.S.A., all persons accused of a crime by the State are presumed to be innocent until proven guilty in a court of law. See: http://somd.me/presumed-innocence. Additionally, all of the information provided above is solely from the perspective of the respective law enforcement agency and does not provide any direct input from the accused or persons otherwise mentioned. You can find additional information about the case by searching the Maryland Judiciary Case Search Database using the accused's name and date of birth. The database is online at http://somd.me/mdcasesearch . Persons named who have been found innocent or not guilty of all charges in the respective case, and/or have had the case ordered expunged by the court can have their name, age, and city redacted by following the process defined at http://somd.me/expungeme .