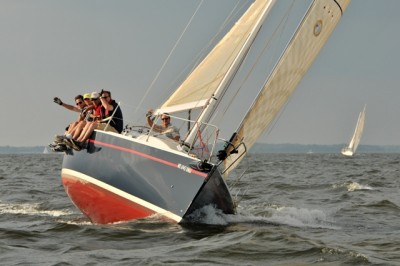 Pictured is Resolute, which came in tenth in the PHRF A2 class; Francis Albert is skipper (photo provided by PhotoBoat.com)
ST. MARY'S CITY, Md. (August 3, 2013)—On Saturday morning, sailing enthusiasts from up and down the East Coast sailed into St. Mary's City—from starting points in Annapolis, Md., and Dahlgren, Va.—for St. Mary's College of Maryland's Governor's Cup Yacht Race.
Doug Savage and his wife, Liz from Alexandria, Va., on Dark Star, had their fastest Gov' Cup race of 12 that they've completed. "We had good winds the whole night, all the way up to and across the finish line," said skipper Doug Savage. Dark Star came in ninth in the PHRF A2 class.
This year marked the 40th running of the oldest and longest race down the Chesapeake Bay. Click here to view the preliminary results of the Annapolis starting point, and click here for the preliminary results of the Potomac leg.